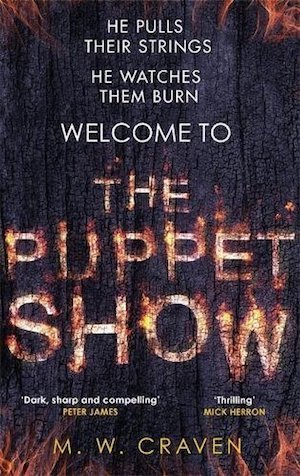 Written by MW Craven — Cumbrian writer Mike Craven burst onto the scene in 2015 with his CWA Debut Dagger nominated police procedural, Born in a Burial Gown, starring Avison Fluke, an intriguing character a little bit different to your typical detective.
Fast forward a few years and to a whole new series starring Sergeant Washington Poe. There's a buzz already building about Poe. Constable, the publisher, is giving Poe a major push. The hardback is issued in June with a paperback in 2019 and a television deal is already signed and in development. Book seller Waterstones says this is the thriller of the year so far. But is the fuss actually worth it? Or is this all marketing spin to generate advance sales?
There's a serial killer at work in the rural Lake District countryside. And not just any ordinary murderer. The Immolation Man, as he is being termed, is burning his victims using a concoction of chemicals which runs fast and hot. The setting where the bodies are being found is unusual too – ancient stone circles in remote locations. First, the victims are being kidnapped and held somewhere for weeks at a time before being despatched.
Currently suspended from the National Crime Agency pending the outcome of a previous investigation, Washington Poe is biding his time in an isolated farm building in Shap, Cumbria when Detective Inspector Stephanie Flynn turns up to engage him in the investigation. Poe isn't interested until Flynn informs him a third body has turned up, that of councillor Michael James who went missing two weeks ago. Crime scene investigators found a name burned onto the chest of the victim. And that name is his: Washington Poe.
Poe agrees to return to the NCA, but he's given the position of sergeant, one rank below his previous role of inspector. So now Flynn is his boss – their roles reversed. But Poe doesn't care. He's more of a do-er than a manager. Poe immediately comes across Tilly Bradshaw, an NCA analyst who developed the programme which helped analyse the badly burned body. Bradshaw is socially awkward, has multiple qualifications, yet is naïve as to how the world works and speaks without thinking. She is shunned by her colleagues but Poe recognises something in her and develops it. Poe and Bradshaw begin to follow the killer's trail. But Poe isn't ready for what he finds. The killer is much closer to home than he'd realised and he learns some harsh truths about himself along the way.
Categoricaly, yes, the fuss about The Puppet Show is absolutely worthwhile. Every aspect of the novel is that little bit different to the normal police procedural. Overall it is a top notch thriller with a breathtaking story and an utterly unique pair of lead players.
Characters are Craven's ace card. Avison Fluke, the author's first creation, was great and it is shame there are only two books in which he features. But Poe and Bradshaw aren't just a step on, they're a whole flight of stairs. Poe himself is excellent, he cares greatly about the case but has little time for colleagues who play politics. He ploughs his own furrow, regardless of the consequences for his own career. Yet it is the partnering with the eccentric yet brilliantly intelligent Tilly Bradshaw that is amazing. Watching Bradshaw's personality unfurl like a spring flower under Poe's tutelage is a delight. At one point Poe tackles one of the team who is openly rude and bullies Tilly. Poe tears him apart. It's a great, punch the air moment which builds a strong bond between the pair.
The story itself is excellently managed. The pace is high enough to keep you turning the pages but not wear the reader out with its intensity. The murders are gruesome but not sensationalised and the killer's reasoning makes a kind of twisted sense. The twist at the end is highly satisfying, Poe solves the crime but the conclusion, like the rest of the novel, is unique.
We've previously reviewed Craven's second Avison Fluke novel, Body Breaker which was also a top five of 2017 where you can find other great crime recommendations.
Constable
Print/Kindle
£9.99
CFL Rating: 5 Stars