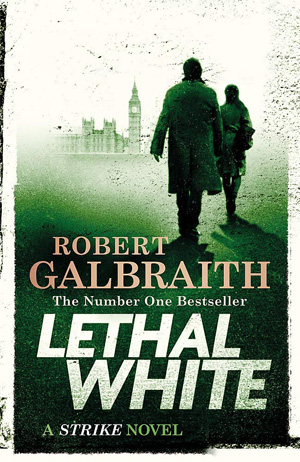 Written by Robert Galbraith — It's taken three years for JK Rowling's alter-ego Robert Galbraith to follow up on Career of Evil – has it been worth the wait? Some crime fiction fans are put off by the sight of a thick tome, preferring their reads to be short and snappy. Others rub their hands in glee – time to get deeply embroiled in a story!
Generally I stand in the latter camp, and when Lethal White thudded onto the doormat, a 650 page hardback makes quite a dent in the parquet, it was time to settle down and READ. This is the fourth in Galbraith's series featuring former Army Special Investigator-turned detective Cormoran Strike and his business partner, smart-as-paint Yorkshire lass Robin Ellacott, and it is her most epic to date. Prepare for a hugely pleasurable experience, because this book  is painstakingly plotted, engaging and gripping with a capital G.
The fun kicks off a year back, picking up where Career of Evil left off, as Robin and her fiancé Matthew finally tie the knot. Fans of the series know the couple's relationship has been rocky in the past, and today is no different. Matthew is upset that Strike has turned up for the occasion, while Robin is still smarting from the revelation that her husband-to-be got into her phone and deleted her call history. With it she lost all her recent voicemails and texts from her boss. It doesn't take a detective to work out that this is not a marriage made in heaven…
Jump forward a year and London is in the midst of preparations for the Olympics and Paralympics. Frantic last-minute preparations are irritating and inconveniencing the locals, who are also annoyed that they don't have tickets for the main events. Strike's upset that he didn't win tickets for the boxing in the ballot, but on the bright side the agency is still riding the wave of publicity he received from catching the Shacklewell Ripper and he's had to take on more freelance staff to cope with the work. Robin is off on leave, moving house with Matthew, when an unscheduled visitor piques Strike's interest.
Billy is obviously mentally ill, with wild hair, mad eyes and a nervous tic. He is haunted by a childhood memory in which he witnessed a child being murdered and buried in a dell. Billy's brother maintains the memory is false, but he wants to know for certain. His story touches Strike, who decides to help the obviously distressed man. However, another new case pushes Billy's plight out of the spotlight and is about to take Strike and Robin along a tricky and complicated path.
Minister of Culture Jasper Chiswell summons Strike to Pratt's, a gentlemen's club in a well-heeled part of London. Chiswell is right in the spotlight as London hosts the Olympics, and he's also the target of a blackmailer who happens to be Billy Knight's brother, Jimmy. Chiswell knows both men – quite a coincidence… and as we crime readers know, coincidences should never go unexplored. Chiswell is reluctant to divulge just what Jimmy Knight has on him and there's the added complication that he wants Strike to dig the dirt on Geraint Winn, husband of Della, the Minister for Sport. Looks like Strike and his team are about to be very busy…. especially Robin, who goes undercover in Chiswell's office in the hope of finding incriminating evidence about Winn.
This plot has more tentacles than a squid salad and is destined to hold your attention from start to finish. Not content with putting together a perfectly pitched mystery, there's the tasty side dish of Robin's rocky relationship with her husband, and the ever-present undercurrent of hidden emotions between Strike and his business partner. You're willing them to declare their feelings but will this pair ever get together? You'll have to read and find out!
If you're new to Cormoran Strike, last year's television series based on books one and two is a good primer. Rather like Titus Welliver in the screen iteration of Bosch, actor Tom Burke is a great fit for the role and as I read Lethal White I could see and hear him clearly. Same goes for Holliday Granger as Robin. Of course, it helps that the author writes with Technicolor clarity and has razor sharp skills when it comes to characterisation and dialogue.
Lethal White is a great read, one of those books that has you longing to set the rest of daily life aside so you can return to its embrace and discover what happens next. Let's hope we don't have to wait three years for the next one!
For more PIs our guide to the best private detectives in crime fiction. If you're missing Strike on TV, why not sample an Australian crime show or two? Here's our pick of the best…
Sphere
Print/Kindle/iBook
£10
CFL Rating:  5 Stars