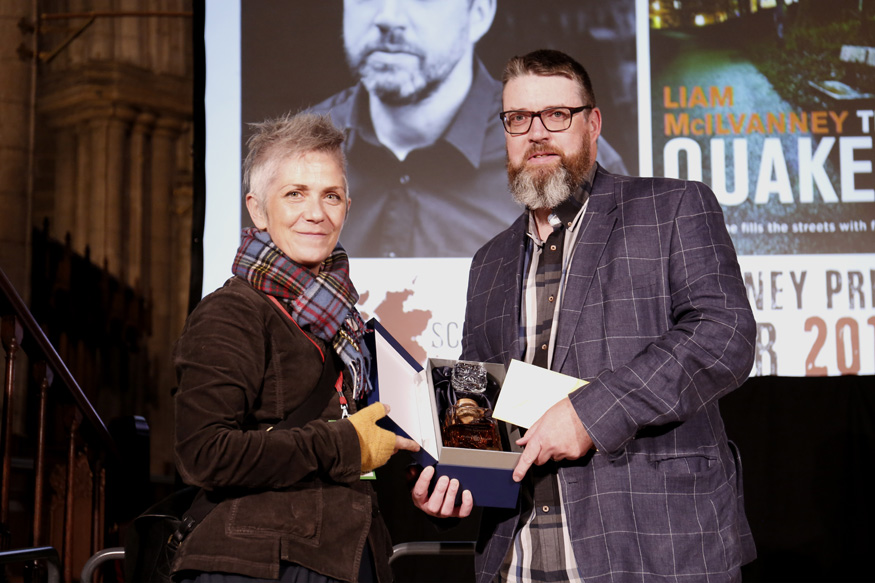 There was plenty of near bloodshed going on at the annual Caledonian shindig with the Fun Lovin' Crime Writers band murdering songs for a laugh, England crossed the border for a 6-3 victory over Scotland in the authors' football match and fake news triumphed in a Would a Crime Writer Lie to You? panel game.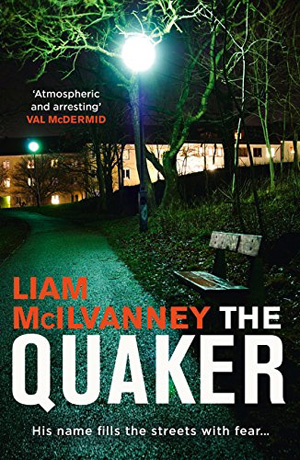 Held in Stirling from Friday 21 to Sunday 23 September, Bloody Scotland 2018 opened with a gala reception in the Church of the Holy Rude, where Liam McIlvanney won the McIlvanney Prize named after his late father William, for his book The Quaker. Pictured above, last year's winner Denise Mina handed the trophy to McIlvanney, who is based in New Zealand but sticks to his Tartan noir heritage. His father, the creator of Laidlaw, is known as the godfather of Scotland's crime genre. In The Quaker a serial killer stalks the streets of Glasgow and DI McCormack follows a trail of secrets to uncover the truth.
And a microphone…
Bloody Scotland is known for its fun and games where authors and readers come together to play. Last year's surprise hit was the Two Crime Writers and a Microphone – a live version of the podcast, which sees Steve Cavanagh and Luca Veste mull over their writing week, cast an acerbic eye over the latest crime fiction happenings and interview fellow writers in a hilarious and sweary fashion. This year's event was upgraded to the 700-seater Albert Halls and was a sell-out. But in a break with tradition the format was switched to Would I Lie to You style when guests Denise Mina, Val McDermid, Abir Mukherjee, Chris Brookmyre and others lied through their teeth, chaired by Mark Billingham. The consensus afterwards was that it didn't quite hit the spot, and the verdict was stick to what works.
Big names pulled in the crowds to more sell-out events – Ann Cleeves talking to Louise Penny and Alex Gray about her last Shetland book Wild Fire, which went straight to number one in eBook sales during the weekend; The Reykjavik Connections with Ragnar Jonasson, Lilja Sigurdardottir and Simon Cox; and for a rare UK appearance, Irvine Welsh gamely took on the last graveyard slot on the Sunday evening.
Analyse this
Away from the headlining events, the more introspective panels gave the greatest value to those seeking greater insight on the psychology of the crime fiction world. Real life psychologist Dr Kathy Charles put Craig Robertson and Lin Anderson on her metaphorical couch to analyse why they put their characters through so much. In Anderson's Sins of the Dead, Rhona Macleod is targeted by a killer and in Robertson's The Photographer, Di Rachel Narey hunts a serial rapist. Robertson admitted that he proceeded nervously when writing about the rape of women and was fully aware of the pitfalls in light of the #metoo movement.
The announcement of The Staunch Prize – to be awarded to the author of a novel in the thriller genre in which no woman is beaten, stalked, sexually exploited, raped or murdered – at the beginning of the year saw quite a backlash among crime authors. Continuing this discussion were Sophie Hannah, Alexandra Sokoloff and Jo Jakeman who debated whether novels should avoid violence against women or tackle it head on, with the view being mainly the latter. It was felt that the prize maybe meant well, but isn't a solution.
Diversity in crime fiction
In Breaking Barriers, Abir Mukherjee, AA Dhand, Sanjida Kay and Lilja Sigurdardottir discussed the challenges faced by BAME (black, asian and minority ethnic) authors. The panel included all three BAME authors booked to appear at Bloody Scotland. Some challenges pinpointed include low engagement with reading among Asian children, a London-centric and white middle class publishing industry, and how in some ways that the issue is a matter of social class rather than ethnic background. Sigurdardottir said Val McDermid is a fantastic role model for gay writers, but that many of them don't write from the gay character's point of view about being gay.
Bloody Scotland 2018 did illustrate the diversity of sub-genres and styles covered by the highly lucrative crime fiction umbrella. Cosy-ist MC Beaton described having to be politically correct as a form of puritanism, as she appeared with the TV star of her comedy caper heroine Agatha Raisin, the actor Ashley Jensen. The BBC's security correspondent Frank Gardner revealed how his fictional SIS agent can tackle terrorism in ways that his reporting can't.
Closing the festival, Irvine Welsh denied being a crime writer, although his novels contain brutal violence, drugs and corruption. He said that while 2000 to 2008 were deadly boring years, now that the world seems in greater jeopardy these are much more exciting times for writers, though probably not for people generally. He revealed he is planning a book with new characters and scenarios, set in London in the late 80s and 90s. How many crime tropes will feature?
Bloody Scotland again broke its record for sales and a bloody good time was had as writers from 14 nations entertained, with a lot of help from their readers.
For more crime fiction festivals, check out our Events page.