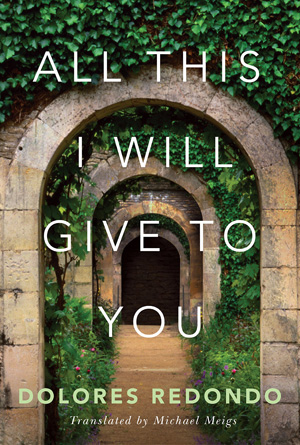 Written by Dolores Redondo, translated by Michael Meigs — The first thing that grabs you about Spanish author Dolores Redondo's latest novel is its unusual title. What does it mean? For most of the novel, it appears that more is being taken away from the main protagonist rather than given. Only as you near the end will the full significance of the title dawn on you.
All This I Will Give to You is a book all about family of blood and family of choice, inheritance and legacy, love versus duty. In many ways, it's not a crime novel at all, but a snapshot of Galicia, an region of Spain that arguably remains in thrall to rich landowners and the aristocracy. But of course, a murder does take place and an investigation follows. There are some nasty surprises and red herrings along the way, for we all know that Dolores Redondo can spin a good yarn. She's been one of Spain's brightest crime fiction exports in recent years, and in this book she continues her exploration of chafing family ties and tainted blood which made her Baztán trilogy quite unique.
Manuel Ortigosa is a writer whose very understanding and admiring husband Alvaro takes such good care of him that all he has to focus on is delivering his next novel to his publisher. But one day the police comes knocking on this door with that piece of news everyone dreads: Alvaro has been killed in a car crash. The accident took place far away from Barcelona, where Manuel expected him to be at the time on a business trip. This is just the first of the many lies that Manuel discovers Alvaro told him.
The man he thought he knew so well was descended from an aristocratic family in Galicia and had been paying regular visits to the family estate. Manuel is summoned there and becomes acquainted with Alvaro's formidable, unwelcoming relations. Despite the hostility he encounters at every turn, he tries to piece together the circumstances surrounding Alvaro's death with the help of a retired policeman and a childhood friend of Alvaro's, who is now a priest. The more he finds out about the dead man, the less he likes it…
The dead spouse harbouring secrets which the surviving spouse has to disentangle in order to discover whodunit has become almost a cliché in crime fiction. Here, it is given a bit of a twist. This is a same-sex marriage that the dead man's family is clearly not at all happy about. Without giving too much away, it is also, quite frankly, a relief to discover that the secrets implicate other people and go a little deeper than the victim having an affair. It may start out as small domestic betrayals, but it ends up being a long, hard, critical look at certain sections of Spanish society, including the Catholic church.
After her atmospheric novels set in the Basque country, Redondo has now moved to another equally beautiful and insular part of Spain, the autonomous region of Galicia in the northwest. The loving descriptions of the landscapes and vineyards contrast with the religious devotion and superstition encountered in the region, just like the icy reception by the family contrasts with the warm and generous nature of many of the locals Manuel meets.
If you prefer lots of action, the book will seem unnecessarily long-winded. There are certainly a few passages that could have done with some tightening, especially when the story seems obvious but the protagonists are incapable of seeing the truth. If you want to become completely immersed in another culture, however, or if you can't get enough of complicated family relationships, this is a good foray into Spanish crime fiction.
We have previously reviewed The Invisible Guardian and The Legacy of the Bones, the first two volumes in the Baztan Trilogy and we also interviewed the author back in 2016. For more atmospheric crime fiction set in Spain, try the work of Chris Lloyd, or the novels of Domingo Villar.
Amazon Crossing
Print/Kindle/
CFL Rating: 3 Stars