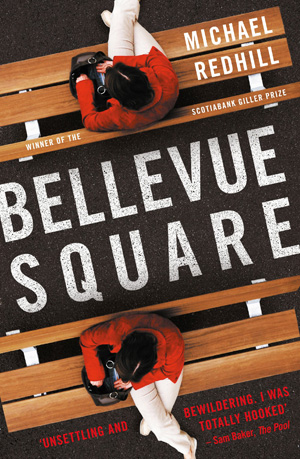 Written by Michael Redhill — As you eagerly turn the pages of this fascinating brainteaser of a novel by Michael Redhill you may find yourself suspecting that the first person narrator is not just allowing herself to slip into delusion and mental illness… she's already there! A compelling contemporary psychological thriller set in Toronto, Bellevue Square won the Scotiabank Giller Prize, Canada's most prestigious literary award and has just come out in the UK.
Narrator Jean Mason runs a downtown bookshop that she occasionally rearranges totally to suit herself. January to June she alphabetises the biographies by author, July to December, by subject. Her knowledge of her carefully chosen stock means she can cater to customers' whims, at least in the literary realm. But indulging her quirky clients can go only so far. When one of her regulars insists he's just seen her in Kensington Market with a short hair style, she assures him he's mistaken. To prove her she's wearing a wig, he makes a grab for her long hair. It's real.
A few days after this bizarre encounter, a stranger named Katerina visits the shop and again mistakes her for another person. She, too, requires convincing. Full of strange tales of Central American spirits, Katerina works in a Guatemalan café in Kensington Market and explains that Jean she could be the twin of a woman who shops there named Ingrid Fox.
Intrigued that she may have a doppelganger, Jean begins leaving the bookshop in the hands of her trusty assistant and browsing the market stalls in the hope of glimpsing the elusive Ingrid. She stakes out a bench at its heart, Bellevue Square, and begins to observe the comings and goings of the folk living and trading nearby. The richly described life of the square becomes the centre of the novel and of Jean's attention. Although Jean tries not to neglect Ian, her policeman husband, or her two sons, they can't help but notice her increasing preoccupation.
The Bellevue Square regulars are a park bench collection of drug addicts, scam artists, philanthropists, philosophers and vagrants. Michael Redhill gives them distinctive personalities and preoccupations that are occasionally comic, yet never cruel. As Jean gets to know them, she likes them and they her. She lets them know she will pay for information about her double and they come up with sightings and information, but should she trust it?
Finally, Ian insists on knowing where she's spending her days, and when she takes him there, his fresh and unsentimental eyes see a collection of loonies. "So this is how you've been spending your time? With these kinds of people?"
She wants him to meet Katerina. As they approach the café where Katerina works, it seems a murder has occurred. When the police realise Jean knew the dead woman, they want to talk to her, and she gives them her name: Ingrid Fox. People are pointing her out, and the police seem to think she killed Katerina. Did Ingrid, or possibly even Jean, commit the murder?
Jean is the narrator of this excursion into obsession, and her character is fascinating: witty, engaging, compassionate. At first you may hope her quest to find Ingrid is successful, that curiosity will be satisfied, and that she will then resume her normal life. But the more Jean tries to track Ingrid down, the more suspicious of her you become. As Redhill himself says, Bellevue Square "is a literary novel but has one foot in mystery and a couple of toes in psychological thriller." Jean's reality cracks and splinters around you in unique and unexpected ways. It's a great read, so don't miss it.
Interestingly, the Bellevue Square of the novel was a real location in Toronto. However, as the author indicates in the Acknowledgements, in the spring of 2017 the city's Parks, Forests and Recreation division had it redeveloped. "My regards to the City of Toronto for enthusiastically illustrating some of the themes in my work," writes Redhill.
For more crime with a literary slant try Graeme Macrae Burnet's award-winning His Bloody Project or Jonathan Lyon's spectacular debut Carnivore.
Little, Brown Book Group
Print/Kindle/iTunes
£9.99
CFL Rating: 5 Stars