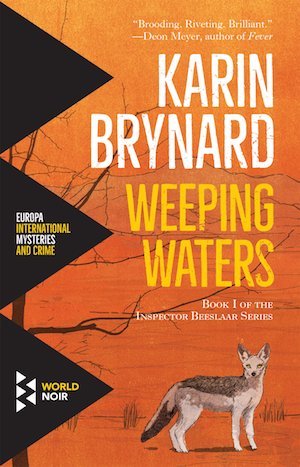 Written by Karin Brynard, translated by Maya Fowler and Isobel Dixon — South African crime fiction is going from strength to strength in both English and Afrikaans. Deon Meyer might dominate the landscape still with his pacey plots and thorough characterisation, but authors such as Roger Smith, Lauren Beukes, Mike Nicol and Malla Nunn are also frequent guests on our website, each with their own personal take on their beautiful but troubled country. Afrikaans author Karin Brynard is already a big name in South Africa, but has taken a little longer to find an English translator. However, if Weeping Waters is anything to go by, this could be the start of an addictive new series about crime in the Rainbow Nation.
Brynard is a former political and investigative journalist, and she really knows how to present controversial topics that will trigger hot debates among those living in present-day South Africa. Inspector Albertus Beeslaar has fled Johannesburg and the (barely hinted at) traumas of his past life to enjoy the peace and quiet of the flat farmlands of the Northern Cape, bordering the Kalahari Desert. Peace is illusionary, however, as he arrives during a period of stock theft that is plaguing the local farms, which are mostly the property of Afrikaaners. When a young artist and her adopted daughter are murdered on the farm she inherited from her parents, the other farmers demand instant action from the police. It is far from being an isolated issue – there are more than 100 farm murders every year in South Africa. The community no longer feels safe and they are trying to set up their own militia groups. They have already decided that her Bushman farm manager must be the culprit, and Beeslaar finds himself having to contain the racial tensions which are ready to erupt.
Sara, the murdered woman's sister, arrives to identify the body and sort out her belongings. Estranged from her sister in recent years, she nevertheless is compelled to find out what happened – to her, the murder feels far more personal. Could her sister Freddie have been murdered by a thwarted lover or a neighbour intent on taking over her land? Could the white community have turned against her when she started arguing the case for the Griqua, one of South Africa's mixed race ethnicities? Strangest of all, Freddie seems to have had a premonition of what was about to happen to her, as one of her paintings bears an uncanny resemblance to the murder scene. Beeslaar is slow to believe Sara: he is a bit old school and not always comfortable with the diplomacy required to manage all the different interests at stake. He finds himself accused of racism, accused of pandering to the new black leadership and betraying his white brothers. Additionally, he has to work with two rather inexperienced local policemen, Ghaap and Pyl, who are squirming slightly under his authority.
The author could not quite resist a lecture about the history of the Griqua people, which interrupts the narrative flow and is not strictly necessary for the plot, although I enjoyed the education in a nutshell. Nevertheless, this is a very promising start to a series that pulls no punches about the challenges of living in a complicated post-apartheid society, simmering with rivalry and tensions. You will enjoy the complex, believable and flawed characters and the hint of a backstory for Beeslaar which will hopefully be developed in future novels. You can see why this was the winner of the University of Johannesburg Debut Prize in 2012. The Afrikaans title, by the way, is even more hard-hitting. Plaasmoord means 'farm murder' and is a frequent headline in that part of South Africa.
We reviewed Deon Meyer's Fever here. For more novels describing racial and social tension, you might want to try Attica Locke's Bluebird Bluebird or Neely Tucker's Murder DC.
Europa Editions
Print/Kindle/iBook
£13.99
CFL Rating: 4 Stars