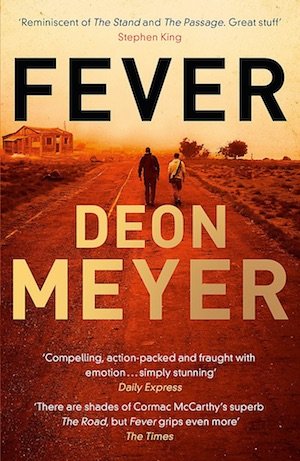 Written by Deon Meyer, translated by KL Seegers — Opening with the lines, "I want to tell you about my father's murder. I want to tell you who killed him and why," this leading Afrikaans author takes a good long while, almost 450 pages, to get to the actual killing of Willem Storm. Deon Meyer uses those intervening pages well, constructing a vivid picture of a character who is strong like a palm tree in a hurricane, because he can bend.
The strengths are essential because Meyer has envisioned a world devastated by the Fever – an infectious disease that spreads rapidly and catastrophically, before preventive measures or an effective treatment can be developed. Similar to the film 28 Days Later, a few people have a gene enabling them to survive, while even fewer live in places so isolated that the pathogen hasn't reached them. Just today, I heard an epidemiologist interviewed on the radio say, "We are simply not prepared for the next pandemic." The people in Meyer's novel certainly weren't, and 95 percent of them died.
Willem Storm and his son Nico hid for weeks in a remote South African cave and survived. With civilisation on its knees, the question for them is: what now?
Willem – a polymath equally comfortable discussing word origins or natural history or history or literature – has a vision for what should come next. The notion of property is now irrelevant, so he and his son take a truck and fill it with useful items they find as they traverse the countryside. Nico and Willem aren't the only survivors though, and food and water become scarce resources.
How people react in such a desperate situation says a lot about their fundamental values, and how characters behave in an apocalyptic novel says a lot about the fundamental values of the author. Willem Storm envisions a new society built on democratic principles, in which everyone's rights, regardless of colour or gender or former social standing, are respected. He finds a suitable location, and he and Nico drive around the countryside advertising for people of good will to come. Gradually, they do.
At first, when they're on the road, Willem teaches Nico how to be safe: "We trust only each other." As the new community begins to take shape, his fundamental openness takes hold. The residents name their community Amanzi, which means water.
But Nico is a teenager, torn between his father's idealism and conciliation (which he sees as weakness) and the aggressive values of a new arrival in the community, Domingo. Domingo has a past he won't talk about, works with military precision, and understands weapons. He consistently argues with the town councillors for more security precautions, because threats are real – packs of wild dogs, marauding motorcycle gangs, thieves and the general anarchy of the hungry and the opportunistic.
In a small community, every individual is vitally important. New arrivals bring new skills, and as the population builds capacity, the community starts to thrive. Still, because of Meyer's warning, "I want to tell you about my father's murder," a sense of foreboding hangs over the pages.
Describing a build-from-scratch society is an interesting challenge for writer and reader alike, and Meyer shines in presenting Amanzi's creation as an amazing adventure story. Fever may be 530 pages long, but it is almost impossible to put down.
Although Nico narrates most of the book, through the Amanzi History Project a great many other residents record their experiences, gradually building up what human resources professionals would call a 360-degree perspective on Willem, Domingo, Nico, and Amanzi itself, and revealing much about themselves as well.
You may be thinking this sounds more like an adventure story than a crime novel, and indeed for most of the book, that's the case. Only in the last 20 pages are the horrifying crimes revealed, and these are the least satisfying pages of all.
For another story based around an alternative history, try Ben Winters' Underground Airlines. Also see Deon  Meyer's 7 Days, reviewed here. 
Hodder
Print/Kindle/iTunes
£1.99
CFL Rating: 5 stars