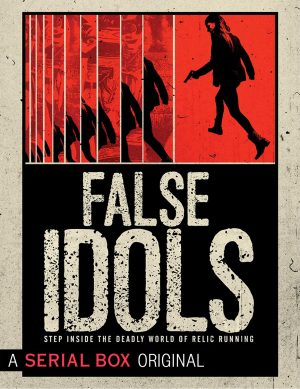 Publishing platform Serial Box has teamed up with Emmy-award winning Adaptive Studios to produce the serialised thriller False Idols, which you can both read or listen to like an audiobook. On 3 April, they are releasing the paperback edition of the story. Weekly episodes became available in serial form in both audio and print starting in January.
You can access False Idols through the Serial Box website, iOS app, and third-party retailers including Amazon. Episodes are downloaded to the device of your choice, and in the digital format you can switch back and forth between reading and listening with a single click.
As with any serial, it's the intriguing story that will keep you coming back. Raised in a Cairo slum, Layla el-Deeb moved to the United States to go to college. Now she's an FBI agent, back in Cairo, working on an illegal mission. Deep undercover, she's gathering evidence about the lucrative trade in stolen artifacts, which appears to be funneling cash directly into the pockets of the dangerous terrorist group the Muharib. Serial Box's three-person team of writers – Lisa Klink, Diana Renn and Patrick Lohier – give Layla plenty of difficulties, both professional and personal, as she pursues this dangerous case.
You can listen to a the first episode for free here.
Episodes vary slightly in length, but listening to one takes under an hour and a half, which works well if you can do something else at the same time, like a long drive. The strength and intrigue of the story makes the time fly. When time is short, you can read chapters in about half an hour.
The actor who does the narration is called on to do a number of accents, and she does so convincingly. The audio chapters also include a minimal number of sound effects, which are not intrusive.
The cost of the service is in line with other audio and print books – $1.99 per episode, with a discount if a whole series of 10 to 16 installments is purchased in advance. If you like both audio and print, it's worth checking Serial Box's growing line-up of mystery/thrillers for other stories of interest.