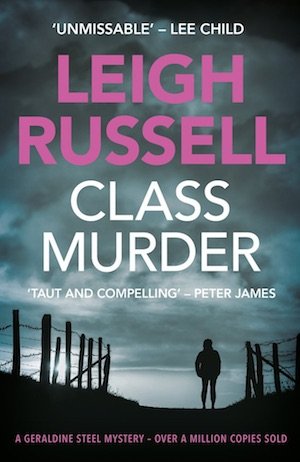 Written by Leigh Russell – Detective Geraldine Steel is back for her 10th case, but this time the former Met officer has been demoted from inspector to sergeant after breaking the law to help her drug addict twin sister. She has moved to York, where her former sergeant Ian Peterson is now her boss and she's finding it hard to cope with the role reversal and not being in charge. This means she fails to share vital clues with the team, as she attempts to ingratiate herself with her rather dim and fierce chief inspector, Eileen Duncan, who appreciates evidence, rather than Geraldine's impressions.
Just in case you are in any doubt just how Geraldine is struggling with her role reversal, it is spelled out ad nauseam as she mentions her situation in consecutive paragraphs and chapters. She bites her lip and has to remember she is a sergeant, that she has been demoted, their roles have been reversed and she will never lead a team again. Et. Cetera…
Despite Geraldine's predicament sometimes getting in the way of the momentum, the story opens well as a serial killer in the making traps and dispatches a mouse to please his mother after she praises the cat for bringing her a dead rodent 'gift'. The disturbed child kills his first adult at the age of 10 and grows up to perfect the art of execution. We learn all about how this overconfident killer is 'far too clever to be caught' as he shares his thoughts on the art of disguise and planning. He will never have to stop if he is careful.
His quiet smile and pleasure after he dispatches a young woman in York is chilling and he can't wait for his next murder.
You won't have to wait long as Peter, a classmate of the first victim, Stephanie, is stabbed to death. Like her, Peter's mouth is slashed open in a vicious and macabre smile. Despite the school connection between the two deaths the chief inspector resists the notion that they died at the hands of the same killer.
Geraldine drives to the village of Uppermill in the Saddleworth area – with its Moors Murders connotations – described as being in West Yorkshire rather than its actual location in Greater Manchester. This is where the victims grew up. When Geraldine interviews loved ones and former classmates she is met with mild hostility. Members of the class meet to create a strategy to protect themselves, but it is only the hysterical Leah who really believes they are targets and the others carry on walking about in the foggy Pennine village at night, oblivious to the danger. Would they really be this cavalier? When another classmate is killed, this time by shooting, the police and old friends of the dead can't ignore the connections.
The tension builds as we learn more about the killer's deadly plans and see Geraldine just a step behind. She's thwarted and the action is slowed down somewhat by long trips south to support her addict twin, who is taking her for every spare penny, and visits to her pregnant adopted sister.
She also has to contend with the unresolved sexual tension between her and her longtime friend Ian, who is being pursued by a junior and much younger colleague, who patronises Geraldine at every opportunity. Ian's loyalty to Geraldine is put to the test in the final scenes.
Like me, you might be suspicious when maverick cops keep putting their lives and the investigation at risk by going off-piste without back up or even telling the team what they are up to.
It's always a bit tricky reading a book based on your doorstep; I live half a mile from Fulford Road Police Station, where Class Murder is set. It therefore rankles as a bit mean that a thriving music venue and refurbished community pub next to the nick is cast as a scruffy boozer populated by off-duty cops.
We've reviewed previous Steel books Killer Plan, Dead End and Stop Dead. For another Yorkshire mystery try Helen Cadbury's Race to the Kill or Modern Crimes by Chris Nickson.
No Exit Press
Print/Kindle/iBook
£7.74
CFL Rating: 3 Stars