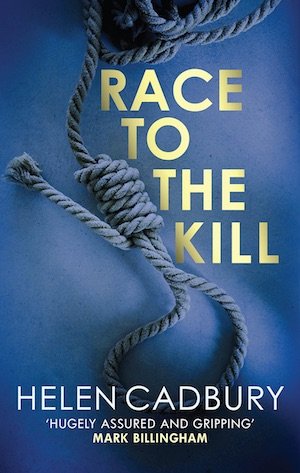 Written by Helen Cadbury — The publication of this third, page-turning novel in the Sean Denton series is bittersweet, coming three months after the death of York-based author Helen Cadbury, aged 52, and five years into her career writing crime fiction. Earlier this year the author was writing on her own blog about making her final edits in bed and her excitement at seeing the jacket.
The book is number three in her series about Doncaster-based police officer Sean Denton, who combats his dyslexia, and some issues with his confidence, but has other outstanding qualities of integrity and tenacity. Her first and her debut novel, To Catch a Rabbit, is set in York and Doncaster when Denton was a PCSO just starting out in his career. It contains themes of immigration, people trafficking, the exploitation of women and social issues.
Race to the Kill continues some of these themes. It begins during a long night shift in Doncaster, when PC Sean Denton and his partner PC Gavin Wentworth are approached by a dishevelled-looking woman, who is desperate that they follow her.
She leads them to the old Chasebridge High School, now used as a squat by junkies and homeless people, where they find the dead body of a Syrian refugee. From the get-go Denton is emotionally engaged as Chasebridge is his old school and he is hit by memories of his schooldays, of the crush of pupils in the corridors and having to avoid random kicks and punches from school bullies. For a moment he sees the headmaster at his lectern in the school hall, the swags of velvet curtains at either side of the stage, but he blinks to focus on the reality of the trashed squat and the blood at the murder scene.
The investigation, which points to the neighbouring greyhound stadium, finds Denton caught up in a world of immigration, drugs and sexual abuse, and one in which his private life becomes increasingly entwined.
There is a gripping plot and a subplot that also ties in a sexual assault case, another murder and a missing girl. However the characters drive the story, leading us through third person points of view from Denton; his half-sister Chloe, who he has recently met for the first time; and Sarah who works at the seedy dog stadium and gives us the inside track on some of the happenings there.
In his personal life Denton struggles as his father is dying through the drinking that is finally claiming his liver. Things have never been easy between him and his dad, but this makes the end harder to bear and he still cares for the 'old bastard', whose death will make Chloe his next-of-kin. His strained relationships with his dying father and Lizzie, his live-in partner, a brilliant and rather irritatingly clever crime scene manager, add flesh to his character and motivations.
There is an economy of style that doesn't over describe as the narrative gradually unfolds while Cadbury's characters develop and give up their secrets slowly. Race to the Kill is a masterclass in subtlety; a slow burn that gathers pace to the final sprint, like the dogs chasing the lure on the track.
When Denton is promoted from a uniformed PC to join the detectives there is a tug of sadness as he is set up for more novels that will now, never be written. He is dogged and determined and in Cadbury's assured hands he is likeable and bright and we care as he ventures deeper into dangerous territory.
Cadbury had deeply held convictions about social justice through her Quaker values that guided her writing and personal endeavours. In her fiction these translate into compelling stories that explore these themes, a tradition embraced by other crime authors, such as Henning Mankell and Ruth Rendell. They are about people and their thoughts, dilemmas and actions, so no soapbox preaching involved. The relationships between them twist and turn to knit seamlessly together by the end. A Race to the Kill is an authentic and assured swansong. That this is her last book is to be mourned.
We predicted Helen Cadbury would be one to watch, in 2014 when To Catch a Rabbit was published. For more tales featuring Yorkshire police officers try Peter Robinson's Alan Banks or Gil North's Sergeant Cluff.
Allison & Busby
Kindle/Print/iBook
£14.99
CFL Rating: 5 Stars