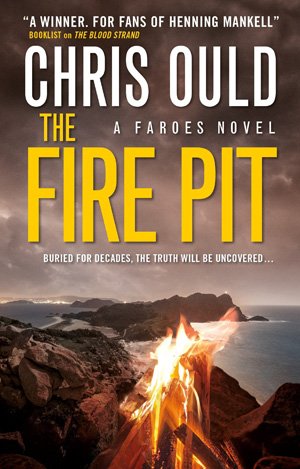 Written by Chris Ould — Book three in this series set in the Faroe Islands sees the British detective Jan Reyna trying to find out more about the suicide of his mother back in the 1970s. At more than 450 pages, it's a long read, but is it engaging enough to keep you turning the pages?
The Fire Pit begins with Reyna suspended from duties pending an internal inquiry into his conduct with the British police. However, this leaves him free to travel to Copenhagen and the Faroe Islands to continue with his quest. Reyna was born in the Faroes but moved to the UK where he was raised by his aunt and her husband after the death of his mother. Forty years earlier she spent time in a mental health institution in Denmark, followed by a stay on a Faroese commune.
Meanwhile, Danish Detective Hjalti Hentze, who is helping Reyna with his family inquiries unofficially, is investigating the discovery of a skeleton, suspected to be that of a Norwegian woman who went missing from the commune during roughly the same period four decades ago. The body of her young child is found nearby. His investigation is hampered by a scarcity of police officers, who are on leave after covering protests over the annual Faroese whale slaughter, the grindadrap or grind, the subject of book two, The Killing Bay.
Reyna's investigative style is reactive and pacy, driven by his emotional involvement in the case as he tracks down people who knew her four decades earlier. Hentze's approach is more methodical and measured and the pair occasionally come into conflict, while both following overlapping strands about what happened all those years ago.
As they begin to appreciate the horror of a past involving the abuse, rape, abduction and murder of young women, they must work closely to bring the guilty to justice. There are men culpable of doing evil and those who have protected them for decades.
Just to add to the complexity, Chris Ould introduces a third, minor investigation being carried out by a student researcher. You might benefit from keeping a notebook handy as across the cases a long list of witnesses, victims and storylines builds up. It's mainly set in the Faroe Islands and Denmark, with a brief visit to Edinburgh. Perhaps the decision to have so many characters comes from the author's background as a screenwriter, but without seeing faces it can be difficult to keep tabs on everyone and how they slot in. The narrative dashes between the accounts of the two main detectives which can be a little confusing as you have to concentrate on where the last narrative left off and remember who knows what.
There are some memorable characters, including Tove, the young researcher who puts her unusual skills to valuable use. She doesn't miss a trick in her internet research, her direct approach is refreshing, and her logic means she risks her own life to complete the task in hand. There's also a good account and insight into the lives and atmosphere of the Faroe Islands, which rely on distant Denmark for policing.
Will Reyna find out what happened to his mother? And when he does, how will this affect him? Read The Fire Pit and you'll find out.
You can read our interview with Chris Ould here. For similar books, try The Last Refuge by Craig Robertson, also set in the Faroe Islands, or Arnaldur Indridason's excellent Strange Shores.
Titan Books
Print/Kindle/iBook
£7.74
CFL Rating: 3 Stars