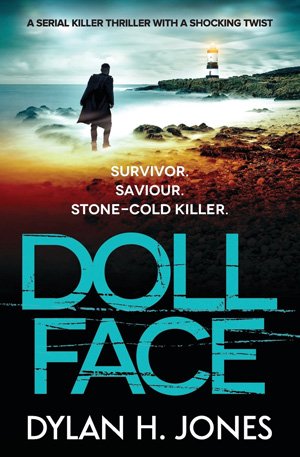 Written by Dylan H Jones — Anglesey is the scenic island jutting from the northwest corner of Wales and separated from the mainland by the Menai Strait. It's rugged sea cliffs and beaches offer a dramatic backdrop even before your average serial killer rocks up. It was Detective Inspector Tudor Manx's childhood home and he has been back for six months after a drop-kick transfer from the London Metropolitan Police Serious Crime Division.
He is dragged off an outing on the local lifeboat to attend a gruesome murder scene. The death of Sian Conway is shocking and is, horrifically, partially caught on her webcam. The killing is bloody and there is more than a hint of ritual with the mutilation of the body. Sian is found in the bath with her hands tied behind her back. There are tiny stab wounds in her upper thighs, her abdomen is laid open, and her liver removed.
The death has got serial killer written all over it. The pathologist does discover a tiny vial deep in the body containing a religious quote. The stab wounds have the hallmark of picquerism, a sexual interest in penetrating the skin. Attention soon falls on Conway's ex-husband, Liam Fowler, who is violent and aggressive.
Sian Conway worked for multi-millionare, Kimble McLain, a tech-entrepreneur with important local development plans. He is unveiling an ambitious project for a Menai Express Tunnel that will connect Anglesey to the mainland. It will be a civil engineering and architectural marvel. And it offers McLain a degree of protection given his philanthropic activities hold considerable sway with the local bigwigs.
Another death confirms Manx's fears they have a serial killer on their hands and the links to McLain deepen. Manx, full of misgivings, is sent off to consult with a profiling expert at Bangor University, Daniel Alvarez, at the behest of his detective chief superintendent, Vera Troup. It's becoming clear there is a background of abuse and a rampant religious fervour with this serial killer. Jones builds the tension and offers us a sinister, and patently unhinged, zealot who dons a doll's face and calls himself Lucy.
This is a compelling police procedural with likeable characters and Jones is building a rounded ensemble cast. There is the Falklands veteran, DS Maldwyn Nader, who still has PTSD lurking, and an enthusiastic young policewoman, Delyth Morris, nicknamed 'Minor' on account of her diminutive stature. Jones has a light touch and sprinkles the banter with humanity and dry humour without over working it.
The story unfurls, revealing layers of mystery, and it is deftly plotted. There's no doubting this is a serial killer tale but it is light on the anguished passages from the killer that often punctuate stories in this genre. You may well enjoy getting into the mind of a killer but Jones is careful to keep a balance. There is enough to tantalise and illuminate without reams of agonised psychobabble.
Manx himself wears the standard detective tropes like a comfortable old coat and it is easy to warm to him. He roars around in a 1974 Mk 4 Jensen Interceptor and smokes cigars. He is self-contained, something of a loner and prone to drinking. In this book, we get some hints on his reasons for returning to Anglesey but Jones leaves it lurking.
The writing is lean but there is still plenty of depth and the short chapters pull you through with building pace. This is the second book in the Tudor Manx series and follows Anglesey Blue. The story is just a little uneven but Jones is developing his craft and Doll Face shows how he has matured. Arguably, much of the content follows a well worn path for police procedurals and is not startlingly original. The quality is in the execution and Dylan H Jones has delivered a fine story within the genre.
If you are interested other books set in Wales then take a look at A Cold Cold Heart by John Nicholl. Harry Bingham's DS Fiona Griffiths series should also be on your list.
Bloodhound Books
Print/Kindle
£1.99
CFL Rating: 4 Stars