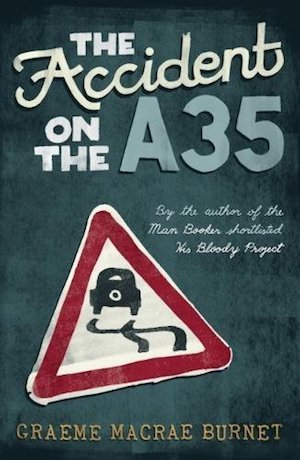 Written by Graeme Macrae Burnet — One November evening Bertrand Barthelme's Mercedes leaves the road and hits a tree. Barthelme is quite dead, his face ruined where he has smashed into the windscreen. It falls to Chief Inspector Georges Gorski to pick through the debris on a drizzly night on the A35 between Saint-Louis and Strasbourg. Barthelme was a solicitor in a quiet region of Alsace and Chief Inspector Gorski's first task is to visit the family and relay the news of his death.
He meets Lucette Barthelme and also Raymond, Bertrand's son. Neither seem particularly affected by Barthelme's death. Against his better judgement Gorski is persuaded by the attractive widow to do some gentle probing into Bertrand Barthelme's life. Why was he even on the A35? And why did large sums of money disappear from his account each week?
Raymond is still at school, a slightly effeminate teenager, just exploring the world and his sexuality, but who is mostly relieved at the death of his stern and repressed father. Raymond is beguiled by the philosophy of Jean-Paul Sartre and when he finds an address in his father's desk for Rue Saint-Fiacre in nearby Mulhouse he sets off to investigate himself.
Gorski is a quiet man, largely content with his role though his wife has left him taking their teenage daughter. He gently bobs from bar to bar drinking quietly, every social contact oiled with some kind of alcohol. He avoids confrontation and is a cool rationalist but the instinctive approach of his predecessor Jules Ribéry still tugs at him. Despite his reservations Gorski methodically worries at the case and finds himself lending a hand in a murder investigation in Strasbourg that happened in the few hours before Barthelme's accident. Gorski is flattered that his suave urbane colleagues from Strasbourg value his opinion into the strangulation of a woman in her flat but he can't shrug off the inconsistencies.
Just as Burnet presented His Bloody Project as a murderous tale discovered through family history research, here he pretends that his book is a translation of the manuscript L'Accident sur l'A35 that has come to light upon the death of Raymond Brunet. In the afterword Graeme Macrae Burnet, the 'translator', muses on the similarities between incidents in this book and in the Sartre novel read by Raymond Barthelme as well as the reality of the streets, places, and people in the book. This fiction/faction trope is a recurring theme with Burnet's books and it may grate with some but I relished the additional layer.
The book is also something of an homage to the master of French crime fiction, Georges Simenon. As well as the first name of Gorski there are small touches like the name of the street in Mulhouse found by Raymond – The Saint Fiacre Affair was the 13th Maigret novel by Simenon. None of this is necessary to enjoy the book. One of the elements of this tale that makes it so good is its simplicity. We only follow two characters, Gorski and Raymond, and there are no shock twists to maintain our interest. Yet, it's not dull and we are absorbed into their lives.
The Accident on the A35 falls somewhere in the middle ground between a police procedural and a literary mystery. It serves up two delicious character studies in its portrayal of confused, pretentious teenager Raymond contrasting with Gorski's weary endurance and polite but dogged persistence. The story is gentle but the mystery unfolds deftly and with a satisfying inevitability. The characters and their experience of life as they untie this enigmatic knot gripped me for the entire book.
Gorski has previously appeared in The Disappearance of Adèle Bedeau and Burnet has now written another novel that burnishes his credentials as a Man Booker prize shortlisted author. It highlights the flexibility of the crime genre to accommodate literary works of the very finest standard. I'm looking forward to the next Gorski already. It's a late entry but this is one of my books of 2017.
Graeme Macrae Burnet has detailed his own crime classics for us and if you want to go back to Georges Simenon himself then consider Maigret's Dead Man.
Contraband
Print/Kindle/iBook
£9.09
CFL Rating: 5 Stars