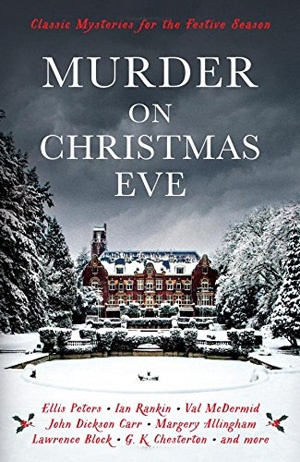 Edited by Cecily Gayford — Following Murder Under the Christmas Tree last year, this is the second collection of mysteries for the festive season produced by Profile Books. The appeal of such seasonal anthologies? Well, it represents a safe choice of Christmas present for the die-hard crime lover in your life. And for us crime fiction aficionados, it might be a way to introduce and convert friends and family to the genre.
This volume will appeal even to die-hard fans of noir, because it is not all tinsel and Christmas carols, cosy little puzzles with a humorous twist of mince pies and carol singers. Instead, you will find a broader range of themes here than in most other anthologies. There is a nice base of Golden Age writers on either side of the Pond, such as Margery Allingham, GK Chesterton, John Dickson Carr and Michael Innes. Introduce a nearly forgotten author like Marjorie Bowen, who wrote predominantly in other genres. Add the more modern but stylish and erudite flavours of Ellis Peters, Julian Symons and Lawrence Block. Finally, sprinkle with a dash of Scottish realism care of Ian Rankin and Val McDermid. If that isn't a recipe for a successful Christmas pudding, I don't know what is!
The common thread running through all of these stories is the puzzle element. These are all stories to make you scratch your head and wonder what could be going on, and perhaps even discuss them with your nearest and dearest in front of a roaring fire after an expansive Christmas dinner. They are most certainly not dark tales of despair or flashes of fast action which we might enjoy at other times of the year. Nevertheless, there is earnestness and even a rumble of social injustice running through Ian Rankin's story, which sounds very topical at a time when universal credit is being criticised and debated in the British Parliament. The struggle for justice is even more vicious and personal in Val McDermid's contribution, A Wife in a Million.
Most of the stories, however, delight in mischievously placing well-known detectives in preposterous situations: imagine Rankin's Rebus taking part very reluctantly in a Christmas murder mystery and Margery Allingham's Campion sipping tea with a little old lady in a remote country cottage on Christmas Eve. Lawrence Block has great fun lampooning crime authors and book collectors in his story about a missing manuscript and a detective heavily influenced by Nero Wolfe. Marjorie Bowen, better known for her historical romance fiction and horror stories, is present with a mystery that features a little of both, about a sulky, rich patient who claims his wife is poisoning him.
Two of the stories have elaborate and complex solutions: GK Chesterton's Father Brown tries to solve the puzzle of an apparently cursed family who die off one by one, while John Dickson Carr teases us with misleading clues in the kind of story, which has been imitated by other writers since. They are perhaps the most ambitious stories in the collection. By way of contrast, the first three stories, by Ellis Peters, Julian Symons and Michael Innes, are less successful and feel somewhat dated, but they are still fun and quick to read. What's not to love about a mystery-solving tomcat, a Santa with a grudge at a Santa Claus Club and a painting which comes alive?
All in all, this is a great way to explore the work of authors you might not have tried reading before and a sure-fire way to keep yourself and your friends entertained between Christmas and New Year.
For single-author Christmas collections, see our review of last year's story collection by PD James. Or find more Christmas-themed reads here.
Profile Books
Print/Kindle/iBook
£2.60
CFL Rating: 4 Stars