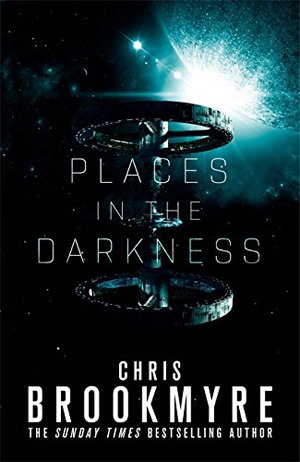 Written by Chris Brookmyre — In this sci-fi crime in space thriller, Chris Brookmyre leaves the earthly delights of Scotland for the mean streets of the CdC – Ciudad de Cielo or city in the sky – a space station where there had never been a homicide.
That is, until the prologue of Places in the Dark and one of the most unusual, strange and beautifully described murder scenes in fiction. Glistening organs and intestines from the dismembered corpse dance like motes of dust in sunshine, in zero-g the gentle ballet is elegant.
We cut to the arrival in CdC (also known aptly as Seedee) of Alice Blake, a puritanical and buttoned up lawyer for the Federation of National Governments who arrives to head up the CdC operation and secretly investigate police corruption. There's a hostile political reaction from several quarters on the 80-year-old space station. There's a lot for the fed Alice to take in as she travels up the elevator to the core of the station, home to 300,000 scientists and engineers who are building Earth's first inter stellar craft… and you may experience information overload yourself.
Through her eyes we learn about the technology, the lens that is worn to identify people and things and can record people's actions and commit them to data and the optogenetic meshes inserted in the citizens' skulls that transfer knowledge. You just know the uploaded information without having to look it up on your phone. Alice is reassured that false memory can't be transferred, but of course, we know that an individual's memory could be edited for sinister purposes – surely hacking must be even more sophisticated than now in this new world?
Alice is thrown together with Nikki 'Fixx' Freeman, a hardboiled cop with the city's private police force, the Seguridad, with her own methods of keeping the peace. She's a former LAPD investigator and up to her neck in the gang culture of protection rackets, prostitution and the black market. She's smart, it's her manor and Alice needs her, despite her realisation that Nikki can't be trusted.
Nikki can't stomach Alice's self-righteousness and mistakes her lack of streetwise skills for naivety, but Alice is effectively her boss.
Moral and social issues are explored along with the very identity of who we are in this time of advanced neuroscience. The pair are put in harm's way in the seedy underbelly of the city amongst the drinking dens, sex clubs and fighting cages. Both women try to outwit each other, while on the same mission to solve the murder and the bigger picture of who is really behind a huge threat to the mission on the station and all who sail in her. Their conflict, determination to bust the truth and tricky relationship are the strengths that give this book a heart.
It's not long before Alice crumbles with the insight that she came to CdC hoping to see the future of humanity, but she's seeing the same old ugly side of our nature that has always existed. In our recent interview with Brookmyre he says the book is largely about the conflict between the desire to improve ourselves as a species and the dangers of denying human nature. Alice sees this but remains positive no matter what is thrown at her. There's always the feeling there is more to her than meets the eye and as for Nikki, nothing would be a surprise. She can be relied upon to be one step ahead of us and the dirty tricks and games as the body count rises.
This is hardboiled stuff with a keen intelligence and black humour lurking inside; a cracking crime novel with strong characters that has boldly gone where few have gone before. Brookmyre is thinking of a series, so let's hope we can hop back on the shuttle to Seedee again.
If you enjoy a sci fi mystery mix you could try Resurrection Express by Stephen Romano, though it isn't set in space, or go seriously off-piste with The Office of Lost and Found.
Orbit
Print/Kindle/iBook
£12.91
CFL Rating: 5 Stars