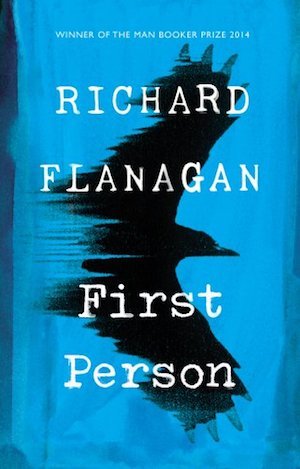 Written by Richard Flanagan — Can this be true? Has the 2014 Man Booker Prize winner Richard Flanagan written a crime fiction novel? Well, yes and no. First Person does have mystery and crime at its heart, but it refuses to play by the rules of traditional crime fiction. Perhaps that is to be expected of this Australian author, who over the course of his career has experimented with something different in each of his novels. They vary broadly in style and subject matter but the one constant has been that Flanagan is not afraid to tackle uncomfortable topics like death, prisoners of war, racism, alcoholism, domestic violence and terrorism.
First Person is a mixture of literary crime fiction and psychological thriller. It tells the story of mediocre Tasmanian writer Kif Kehlmann, who dreams of writing a literary masterpiece some day. However, with a wife and child – and twins on the way – he feels obliged to accept an offer of $10,000 to ghostwrite the memoirs of one of Australia's most notorious con men, Ziggy Heidl, who is in prison awaiting trial. It's supposed to be a straightforward job: daily interviews with the man, a quick write up, three weeks of work and back in time for the delivery of the twins.
Heidl proves to be a slippery, elusive customer, who cannot even confirm his date and place of birth. He takes great pleasure in baiting Kif with promises of revelations about his links to the CIA, drug running and weapons deals… only to then deny everything. He fobs Kif off with enigmatic phrases and faux philosophy, then rushes off to lengthy appointments with his lawyers. The publisher is getting impatient, Kif fears he will be out of a job soon and the whole experience is turning into a nightmare. It's a childhood friend who got him this gig, a friend who took a wrong turn and ended up working for the con man. When this very friend starts warning Kif to keep his distance from Heidl and to never tell him anything about his personal life, the poor young writer realises how much danger he and his family are in.
This imminent sense of doom and gloom is heightened by the overwrought language that Kif Kehlmann uses, even though he is telling us the story many years after it took place. He never quite tells us just what that much-feared dark outcome will be, merely foreshadows it throughout in long, apocalyptic paragraphs in which he compares himself to Dr Faust and Ziggy Heidl to the devil. He fears that he is being changed by Ziggy's lies. He sees the businessman as a metaphor for the death of the Tasmanian countryside, the end of the publishing industry, the failure of capitalist economics and so much more.
The two main characters will really stay with you as they engage in their fandango of fact-finding and fact-avoiding. In today's climate, it is impossible not to think of people in power who resemble Heidl with his self-serving version of the truth and his hastiness to dub things 'fake news'. But Kif does not escape the writer's sardonic wit either. He is a mediocre writer indeed and we can laugh at his unsuccessful attempts to copy Chandler's style.
To my complete surprise, I discovered that the novel is based on a true story. Flanagan was indeed commissioned in his youth to write the autobiography of Australia's greatest con man, John Friedrich. He committed suicide just a few days before he was due to appear in court and before Flanagan had the chance to finish the book. Many of the most surprising details in the book, such as tricking investors with empty containers, are absolutely true. Yet there are plenty of playful deviations from the truth, plenty of speculation and sly asides, which make us wonder just where the line between fact and fiction, truth and interpretation, good and evil can be drawn. This is a surprising, inventive page-turner of a novel.
For other psychological thrillers which make light work of genre boundaries, check out the latest books by Chris Brookmyre, Michael Malone, Louise Beech or Anthony Horowitz.
Chatto & Windus
Print/Kindle/iBook
£13.99
CFL Rating: 4 Stars