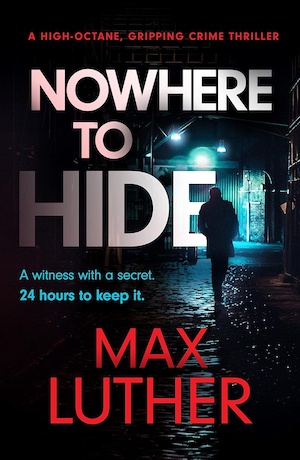 The lone wolf has an irresistible pull for some crime fiction lovers. In action thrillers like this, the protagonist can be as unconventional as the author likes, which means this is an area where the genre is free to grow and develop. It feels like there is a renaissance going on and debut author Max Luther is the latest to ride the wave with his hero Alex Drayce. Opening a new front on Reacher, already under fire from the likes of Ben Koenig's Fearless, David Gilman's Betrayal and KJ Dando's Lies After Death, Alex Drayce is a freelance bodyguard who protects… with a vengeance.
Contemporary London. The streets are mean, dirty and dark thanks to the Marlowes, a gang headed by diabolical brothers who make the Krays look like choir boys. It all begins on a cold January evening. A trio of men are holed up in a derelict mansion. Two minders and a key witness in the upcoming gangland trial of the decade. They put up with the cold, dank conditions because this location is safe – or so they think. A four-by-four rolls up the driveway, another in its wake. With clear instructions that nobody gets out, the assault team wreaks havoc, the men inside have little chance against huge firepower.
A couple of hours later, these killers are now on the trail of Sarah Bennett – now the only surviving witness. They're breaking in the front door, she's got to run and quick. No time to think, she dives straight out of a window. She's alone out there now.
The big question is how the killers found the witnesses in separate locations. The only possible answer is that the UK Protected Persons Service has a mole. The team operate out of the National Crime Agency HQ but they don't feel they can trust the Met either. Too many links to the underworld. With everyone at the PPS under suspicion, the detective in charge, Julie Adler, takes a radical course. She knows a man who owes her a favour. A man who has the survival skills that might just get Sarah to court.
It just so happens Alex Drayce will soon be available for a new job. His current contract involves babysitting the eight-year-old son of gangland boss Steven Lynch while a Turkish crew move in on his patch. Lynch isn't smart enough to settle the bill with Alex and his top man Talbott is in trouble as he tells Alex to get lost. In fact, he's got the boys together to warn Alex off – bad move. 
Alex, a former cop, could use a job working for the good guys. He has his demons – his wife, also a cop, was killed in the line of duty. With Sarah on the run and on the streets, Alex's first task is to find her before the hitmen. He owes Julie so he agrees to do it and thanks to Julie, he has the technology to track Sarah's movements. However, he's operating blind as it's national security and very hush-hush. He doesn't know who the enemy is or why Sarah is running but the moment he catches up with her he realises she's surrounded and this job could be over before it starts unless he intervenes.
A cat and mouse chase ensues, with 24 hours to stay alive. The relationship between Alex and Sarah is shot through with an intensity but is always grounded. Both have a fascinating past that is gradually revealed. The reason for the bounty on Sarah's head is not as simple as you might guess, which gives this thriller satisfying depth. Throw in corruption and blistering action and you have a winning formula.
When it comes to action, it's full on. The first chapter opens with guns blazing, chapters two and three change scene but follow in the same vein. If that doesn't get you on board, well, high octane thrills are probably not for you. The relationship between Alex and Sarah develops nicely, both opening up about the past, rounding out their characters. Of course, it's all very over the top. No big city is quite this violent, but it's so much fun.
Max Luther has lent on the Krays legend to some extent and it's a useful way of grounding what is essentially a contemporary story. That said there's a lot of style and pace.
Sometimes you just want a read that channels an explosive vibe, a fresh feel, has oodles of energy and gut twisting action. There's also the satisfaction of some pretty nasty bad guys getting their comeuppance. No spoiler, Alex will be back for more next year. This no nonsense thriller is a terrific debut.
Canelo Crime
Print/Kindle
£1.99
CFL Rating: 4 Stars
Using these associate/affiliate links helps support our site.