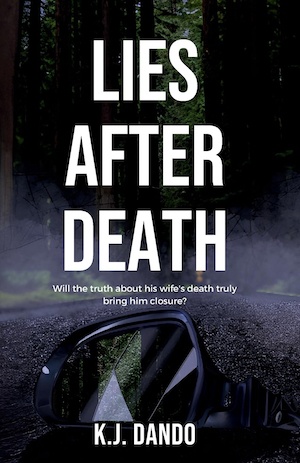 Lies After Death is a crime debut for KJ Dando, someone who has had various jobs and has served in the British Army in the Balkans and Iraq. It's this army background that seems to funnel into his first novel the most. His main character, Tom Crane, learned the skills he now uses as a fixer in the army, and has also worked security for the high and mighty at locations around the world.
Crane has amassed a small fortune in these latter roles, but money can't buy the one thing he needs, which is to be at peace with the loss of his wife, Beth. Five years prior to this story taking place, Beth was run off the road by a black SUV on a country lane between Cardiff and Castell Coch in South Wales. Nobody has been apprehended for the crime and Crane desperately needs closure.
We get an idea of Crane's morals early on when he's asked to help cover up a hit and run accident by the wife of an important politician. This is the sort of thing he won't fix and we get to see how quick thinking and decisive he can be in reversing the situation on some rich, powerful and entitled people.
Crane starts receiving messages from an anonymous source who claims to know who killed Beth. He's pointed towards a Cardiff nightclub owner called Luke Maddocks. At the same time, his deadbeat brother, Dylan, pleads for his help extricating Crane's 14-year-old niece from some unsavoury drug dealers. Both Maddocks and the dealers get a shakedown from Crane, whose hand to hand combat skills are very effective, although he immediately makes himself some powerful enemies who are far more likely to use violence than the aforementioned politician's family.
More or less a lone wolf, rogue male type character, Crane does have a few allies. He works with a high level hacker called Ricky, a character type seen in many action thrillers these days, capable of tracking phones and vehicles remotely, accessing financial data and even moving money around. Ricky tries to temper Crane's, erm, temper, when he gets riled. There is Chloe, Crane's niece, whom he is getting to know again after several years out of touch with his brother's family. And there's Ella, Beth's friend, whom Crane has suppressed feelings for.
Either from his training, from how he's written, or both, Crane is a methodical character. He uses his experience and skills, plans his moves, makes sure he's ready for everything. There are several fight scenes and Crane's technique is always explained, usually in the context of foiling enemy blows and causing maximum damage with his own. He's disappointed at one point when he doesn't break someone's hand. However, this mechanical aspect carries through into other, more mundane activities. His post is listed along with what goes into the recycling and why. When he eats out, his menu choices are itemised and rationalised. Thankfully he doesn't do any laundry.
Three things become clear as he hunts for his wife's killer. The first is that he sees the world in rather black and white terms, though he does seem partially conscious of this. The second is that he has a dark side. If he decides somebody will pay for their crimes, well, you can guess what's going to happen. The third, which has the potential to bring incredible tragedy to the story, is that he's being played. These three factors dial up Crane's lethality.
Crane is a Welsh holy avenger, reminiscent of Jack Reacher or Evan Smoak in many ways. Like the Reacher and Orphan X books, parts of the storyline are pretty far fetched but on the whole KJ Dando's story does feel well grounded. The Welsh terrain makes it distinctive. When you get past the excessive detail in the early parts of this novel, the action dials up nicely. Sometimes you can see the conflict ahead but even so anticipating Crane's clash with his enemies is part of the thrill. The prose is straightforward, emphasising the action and keeping the story on its trajectory rather than building atmosphere – which is fine.
The twist at the end doesn't just serve to fool and excite you as a reader, it challenges Crane and the way he sees the world. It moves him on in ways he doesn't expect which makes Lies After Death more satisfying to read. With what he discovers, and some new enemies he's made while taking on Cardiff's criminal underworld, leave ample scope for a sequel and it will be interesting to see what KJ Dando does next.
Welsh crime fiction is on the up, click here for more.
Cahill Davis
Print/Kindle
£4.99
CFL Rating: 4 Stars
Using these associate/affiliate links helps support our site.