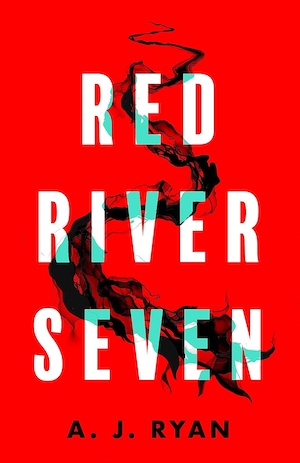 Anthony Ryan is a successful fantasy author, cleaving more towards the 'grimdark" style of Joe Abercrombie and George RR Martin. For Red River Seven he has switched styles and written near-future dystopian novel that crosses into action thriller territory. Seven strangers wake up in a boat at sea to find that humanity's survival is at stake…
The seven individuals have certain things in common. They are all amnesiacs with no personal memories; they all have scars across their foreheads and kidney regions, indicating recent surgery; and all have the name of a famous writer tattooed on their forearms.
Huxley wakes to the sound of a gunshot. A man sitting close by has killed himself. An examination of the corpse reveals the same scars, an automatic pistol, a set of army fatigues and the name Conrad inked to his arm. The boat is small, and the sound of the gunshot alerts the others – Rhys, Pynchon, Golding, Dickinson and Plath are what they've been tagged. An examination of the boat reveals there is no GPS and no steering equipment. However, there are knives, night-vision goggles, rations for three days, a first aid kit plus handguns and rifles.
It's clear the group have been put together for a mission of some kind. Conversation between them doesn't reveal anything personal but some of their individual backgrounds begin to come in to focus. Pynchon is familiar with the weapons suggesting a military past. Huxley has an analytical mind and believes himself to be a detective of some kind. Rhys has had some medical training and Golding is possibly a historian.
A computer monitor lights up, indicating their position outside the Thames Estuary and the group receive instructions through a satellite phone. The voice at the other end sounds computer-generated and refuses to answer any questions. Instructions are brief and to be followed to the letter. They must proceed up the river, though the boat is on autopilot and is going that way anyway, and await further instructions. If anyone should begin to recover their personal memories, they must be killed.
Having established the set-up, AJ Ryan wastes no time proceeding with his story. The cloaking fog, the lack of trust between the team members, the obscure nature of their mission and the fact that the recovery of personal memories is quickly followed by physical mutation and violence, all adds up to a tense, almost paranoid read. Action follows action as the team have to overcome obstacles in their path, such as wrecked boats or hostile mutants, as they move up the Thames towards what they guess may be their final task. Ryan feeds us little clues as to what has happened to civilisation and it's satisfying watching the team work together using their skills to solve the problems in front of them.
Some of the author's choices do hold the book back in certain ways. The characters are all amnesiacs, which means we never really get to know about them; their hopes and fears, why they make the decisions they do, what makes them them, in effect. As a result they are a little one dimensional and almost interchangeable. The decision to concentrate on just three makes sense in this context. Also, Red River Seven is not an especially thematic read, or even at all, really. Once the cause of the crisis is revealed, there's little consideration of civilisation's role in its own downfall, or what a better future might look like and how it might be achieved.
However, it's a little unfair to judge a book on qualities it was never interested in providing. Put unrealistic expectations to one side, strap in, and let AJ Ryan take you on an exciting, sometimes scary thrill ride.
Also see Blind Spots by Thomas Mullen.
Orbit
Print/Kindle
£5.49
CFL Rating: 4 Stars
Using these associate/affiliate links helps support our site.