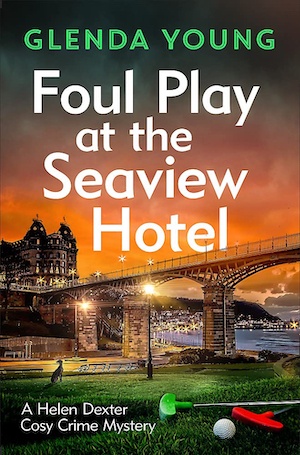 Seaside landladies are the stuff of British folklore and the butt of many a 1970s comic's jokes. They're depicted as tough, unwielding, no-nonsense types, who delight in cutting corners and have little or no sense of humour.
Thankfully, Helen Dexter, the heroine of Glenda Young's Seaview Hotel series, set in the English north eastern holiday resort of Scarborough is none of those things. She is a widow, trying to keep the business running after the sudden loss of her husband, Tom. At the end of the last novel, Curtain Call at the Seaview Hotel, Helen was on the up and celebrating a four star accolade for her little hotel.
As Foul Play at the Seaview Hotel opens, we find her on the front step of the establishment, valiantly trying to screw the brass plaque that came with her award onto the wall by her front door. But it looks wonky, and that's how Helen feels too; out of sorts and not really sure why. Her mood isn't helped with the inconveniently early arrival of a motley crew of professional crazy golfers. Is there even such a thing?
They may sound a little eccentric, but this tight knit team of putting legends are here for a big competition and dead set on winning it from their closest rivals, who happen to be staying next door with Helen's own bête noire, snobby seaside landlady Miriam. Over the years the pair have had more than a few spats, with Muriel always looking down her nose at the Seaview, a place she considers inferior to the Vista del Mar.
So it comes as a big surprise to Helen when Muriel comes knocking at the Seaview's door and asking for a favour – she's overbooked, and wants Helen to put up the captain of the rival team. The name of Ricky Delmont has already been bandied about by Helen's guests as a nasty piece of work; now she will be able to form her own opinion of the man as she welcomes him through her front door.
Sadly, it's soon apparent that Delmont more than lives up to his reputation of being a first class pain in the bum. What has Helen let herself in for? Add to that the sudden departure of Jean, her friend, prizewinning breakfast chef and stalwart of the Seaview, after a row between the pair, and Helen is soon ruing the day she ever decided to keep running the hotel after Tom's death. And who the hell has decided she wants a party for her 50th? It's enough to make her want to go and lie down in a darkened room. Then Ricky Delmont falls down dead on the first tee of the crazy golf course hosting this year's big championship and things get even worse. Time for Helen to play her Miss Marple act again.
Fans of entertaining cosy crime will feel right at home with this light-hearted series, filled with wholly relatable characters, clever plotting and, of course, lovingly created seaside locations. Anyone who knows Scarborough will easily recognise it through Young's descriptions, and those who don't are in for a refreshing blast of ozone! There are many laugh out loud moments within the covers of Foul Play at the Seaview Hotel, but also some touchingly poignant ones that had me grabbing for the tissue box. So a pleasing mix of light and shade.
Some cosy crime writers can be accused of laying on the whimsy a tad too thick, but with her background in historical saga writing Glenda Young knows just where to find the sweet spot and this series and veers well clear of the twee and predictable. It helps that she obviously finds it easy to spin a cracking good yarn. So don't let the cosy tag put you off – this is a most enjoyable read!
For more seaside intrigue, try Uncle Paul by Celia Fremlin.
Headline
Print/Kindle
£3.99
CFL Rating: 5 Stars