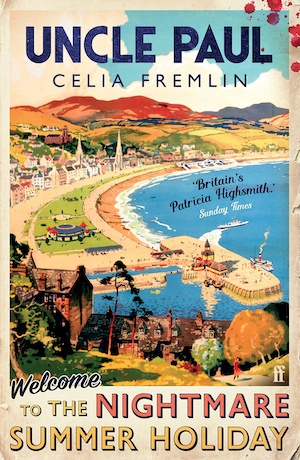 Celia Fremlin's Uncle Paul is an engrossing, slow-burning psychological thriller that skilfully blends suspense, family dynamics and the infuriating complexities of human relationships. Originally published in 1959, its gripping narrative and insightful exploration of the psyche ensure that it remains surprising and impactful despite certain aspects of the story now appearing a tad dated.

The unflappable and almost pathologically competent Meg is summoned from London by a telegram from Isabel, her slightly older sister. Arriving at Southcliffe, the quintessential British seaside town where Isabel, her two sons and her new husband, when he can get away from the office anyway, are holidaying at a slightly run-down caravan park, Meg finds her sister in an even more harried state than normal.

However, to Meg's surprise, Isabel doesn't require help with her own mundanely taxing domestic troubles. Rather, she wants Meg to intervene in the latest drama involving their much older half-sister, the rich and highly vexing Mildred.

Mildred has recently left her second husband (again) and taken refuge in a rented cottage on the outskirts of Southcliffe. The issue, which immediately horrified Isabel but somehow entirely escaped Mildred, is that the cottage Mildred is renting is the same property in which she spent her honeymoon with her first husband, the eponymous Uncle Paul.

While it could be pure coincidence, Isabel is convinced that something far more sinister is afoot: Uncle Paul has spent the last 15 years in prison, having been convicted of bigamy and plotting to murder Mildred. The sisters haven't kept track of Uncle Paul since his sentencing but it's likely that he's due to be released any time… and Mildred has let slip to Isabel that she heard footsteps prowling round the cottage at night.

Despite not considering her behaviour in renting the cottage to be in any way odd, Mildred is frightened. She's convinced that it was Uncle Paul's footsteps she heard and that he's back to take revenge on her for turning him in to the police all those years ago. While initially disconcerted to hear of Mildred's fears, Meg quickly decides that her sister is being overly dramatic once again.

Still, she can't quite get the idea of Uncle Paul returning for vengeance out of her mind. The claustrophobic atmosphere of the caravan and wider resort add to the oppressive weight of memories from the past and, against her better judgement, Meg gets swept up in her sisters' paranoia. Could Uncle Paul really be back?

Celia Fremlin's masterful approach to building atmosphere and tension is the standout element of Uncle Paul. She slowly ramps up the tension, introducing slightly off-kilter characters and somewhat peculiar situations to disorientate Meg as she reluctantly starts to agree with Mildred and then is forced to continuously second-guess her assumptions as events progress.

The pacing of the story is perfect, with Meg's apprehension consistently building and then repeatedly being dissipated as yet another plausible explanation appears for yet another seemingly implausible occurrence. As she at first unwillingly considers the possibility of Uncle Paul's return and later compulsively hunts for evidence that he is back, Meg falls ever deeper into the twisted psychological labyrinth that Fremlin has crafted for her.

Aside from Meg being an engaging and relatable protagonist, the other characters in Uncle Paul are also vividly depicted. Fremlin displays a sharp eye for detail and sometimes brutal characterisation in populating the caravan park and hotel in Southcliffe with an eclectic group of people who seem highly likely to be found in a 1950s British seaside resort, particularly one that is playing host to a mystery.

The exploration of family dynamics is another strength of Uncle Paul. Fremlin delves into the complexities of the relationships among the sisters and between them and their loved ones, exposing the underlying tensions and conflicts that often exist within families. The portrayal of the strained relations between Isabel and her new husband, as well as the uncertain bond between Meg and the Bertie Wooster-esque Freddy, add depth to the narrative and reinforce the notion that anyone could be harbouring secrets.

Given its original publication date and late 1950s setting, one minor drawback of Uncle Paul is that some aspects of the book feel a little dated, particularly the rather wordy dialogue and the sometimes troubling attitudes towards female characters. However, the wordiness doesn't really detract from the story's intrigue and the attitudes are arguably period appropriate, perhaps adding to the authenticity of the characterisations.

In Uncle Paul, Fremlin – who has been dubbed 'the grandmother of psycho-domestic noir' – showcases her exceptional ability to craft a truly gripping psychological thriller. With its suspenseful narrative, well-developed characters and thought-provoking exploration of the human psyche, it's an undeservedly forgotten classic of the genre that is certainly worthy of rediscovery.
Read our Classic Revisited article on The Hours Before Dawn by Celia Fremlin.

Faber & Faber
Print/Kindle
£8.49

CFL Rating: 5 Stars