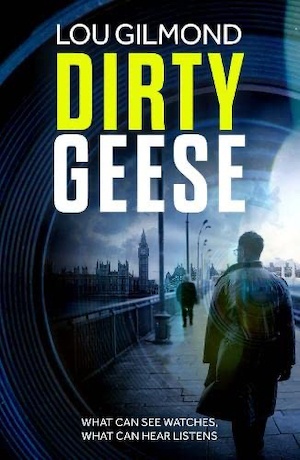 When Mrs Joyce Newbury brings her boss, Percy Dvořáček, his morning coffee and warmed up chocolate muffin, it's not received as positively as usual. Possibly because the British minister for personal information has a large hole in the back of his head and is quite dead. The apparent cause? Death by suicide with an antique pistol.
It is revealed that Dvořáček was attempting to pass a new personal data bill by forging the signature of the chief whip, Esme Kanha, on the document. What Kanha's office did not notice right away was that he'd inserted an additional clause in the original bill and turned it into legislation. This was prior to a four-day drinking binge, during which Dvořáček drunk-dialed Esme and claimed he was forced to do something against his will.
Meanwhile, Prime Minister Ewan MacLellan needs a scapegoat and the dependable, diligent Harry Colbey is conveniently installed as Dvořáček's replacement. Harry is a man of little importance, disliked by some MPs due to his thoroughness, honesty and ethics. The prospect of a new job involving mountains of paperwork, late-night entertaining, managing civil servants and political shenanigans leaves Harry cold. There's also the minor issue of getting the crucial privacy bill through parliament before the election. Frankly, Harry would rather be retiring somewhere in the South of France, but at least his wife Clarissa will be pleased with his promotion.
An ambitious social climber who tirelessly networks at the tennis club, Clarissa has little time for her job as Harry's personal secretary – there are more important matters to attend to. Harry feels he'll never live up to his wife's expectations, especially now that she's started socialising and planning extravagant overseas holidays with the prime minister's wife.
Clearly there's more to Harry's sudden promotion than meets the eye. Particularly suspicious is the PM's desperation to get hold of Dvořáček's black book – and not just to conceal Dvořáček's extramarital affairs. The PM not only underestimates Harry, but also his whip Esme. Both perceptively catch on that the PM is conducting underhanded dealings with a French company that specialises in quantum computing and artificial intelligence. Why would Alcheminna Systems be entrusted with the country's voting system?
Harry and Esme find a common adversary, forming an unlikely alliance. In them, debut crime author Lou Gilmond has created two diverse and interesting characters who have the potential to become series regulars, and it seems this will be the case as more books are planned.
Set in the near future, Dirty Geese tackles two issues that are very now: the double-edged sword of artificial intelligence and the eternal problem of political corruption. Harry notices a quote on Dvořáček's desk that reads, "Quis custodiet ipsos custodes, Minister?" Who guards the guardians? Indeed an unsettling thought. If there aren't any gatekeepers, those in authority are free to abuse their power as they see fit. Fortunately here the two main characters, Esme and Harry, intervene and save the day. Dirty Geese is the first novel we've seen where members of parliament become investigators.
The constant presence of AI creates a foreboding atmosphere throughout – it's not only about data collection from private citizens, but also the creation of digital clones. Right at the beginning, a delivery drone hovers outside the murdered minister's window, looking into the room. Any digital device – a mobile phone, television, drone or smart speaker – with an app installed enabling it to listen, becomes a data privacy risk. The well-known argument resurfaces: AI can enhance security and protect us from terrorism, for example, but to do so effectively it must invade our privacy. What if the information collected ends up in the wrong hands?
At its core, Dirty Geese is an original, well written political thriller. There is quite an emphasis on legislative detail early on, but once it gets going it makes for exciting reading. UK readers will be more familiar with country's political processes and the scenarios described will seem even more unsettling because it's closer to home. A complex, thoroughly researched and informative political thriller with a timely social undercurrent.
Also see James McCrone's Bastard Verdict.
Fairlight Books
Print/Kindle/iBook
£9.19
CFL Rating: 4 Stars