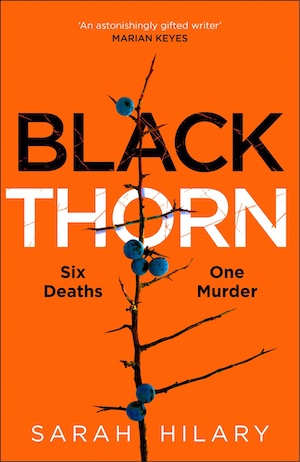 Many people dream of living in an idyllic place, enjoying comfort and security in a gorgeous new home with all mod cons. But be careful what you wish for… Sarah Hilary's new standalone paints a grim picture of achieving those goals – because sometimes, there are unknown horrors lurking in the shadow-filled nooks and crannies of paradise.
Blackthorn Ashes is a prestige development, sitting pretty on an unspoilt section of the Cornish coast. The first phase is complete and a whole bunch of spanking new properties now have proud owners. As the book opens, a number of them have gathered for a barbecue. What a wonderfully welcoming picture!
But all is not as it seems, and when an agitated man on crutches limps into the midst of the festivities, it becomes clear that the super shiny brochure view of Blackthorn Ashes is more than a little rose tinted. Luke Dearman ended up in his present state after falling in his garden where, he maintains, a crack has suddenly appeared. Luke has already been recognised as the neighbourhood whinger, so no one is really taking a lot of notice as he shouts the odds. Except, that is, for Agnes Gale.
Agnes is the daughter of Adrian, who is building the clifftop community with the help of Trevor Kyte. He's so proud of his work that Adrian has moved his family into one of the houses – his 13-year-old son Christie and wife Ruth plus the aforementioned Agnes, who is pushing 30 and recently moved back from London after splitting up with her girlfriend.
Christie loves Blackthorn Ashes. After all, the fabric of every house that's built contains a brick that has his name on it. He also loves spending time with Trevor, who is a bad influence if ever there was one. Agnes, on the other hand, steers clear of Trevor and has a bad feeling about the new development. She is autistic, and her heightened sensibilities tell her that there's something rotten in the state of Blackthorn.
Trouble is, no one else will listen to her – that is, until six people die, thanks to the shoddy workmanship inside their prestige properties. Five of them succumb to carbon monoxide poisoning… while the sixth? Ah, that'd be telling.
Sarah Hilary is a writer of proven talent – her debut, Someone Else's Skin, opened the series featuring DI Marnie Rome and won the Theakston's Crime Novel of the Year in 2015 – and she demonstrates it with bells and whistles attached in this completely engrossing standalone.
As Agnes's world falls apart, the early expansiveness of a new, top-of-the-range housing development shrinks, creating an atmosphere that is both disturbing and claustrophobic – much like the tatty old caravan where the Gale family is forced to live when Blackthorn Ashes is dramatically evacuated, its residents forbidden from returning.
If the houses are crumbling, then Agnes stands solid like an ancient monolith. Her life is a mess and relationships within her family are cracked and close to collapse, but somewhere deep inside her is a core of steel, making her determined to find out what on earth has been going on. She's helped in her quest by Errol, who lives with his gran in a caravan nearby and is another unique, engaging and brilliantly rendered character. It is in his company that we catch glimpses of the real Agnes.
Black Thorn finds Sarah Hilary right back at the top of her game, melding a darkly disturbing sense of place with some pinpoint-accurate characterisation and a plot that keeps you guessing, and guessing again. At its epicentre is the wonderful Agnes, one of my favourite crime fiction creations since MW Craven's Tilly Bradshaw. This one's a real cracker – I advise you to grab a copy post haste.
Find out more about this new release in our interview with Sarah Hilary.
Macmillan
Print/Kindle/iBook
£7.99
CFL Rating: 5 Stars