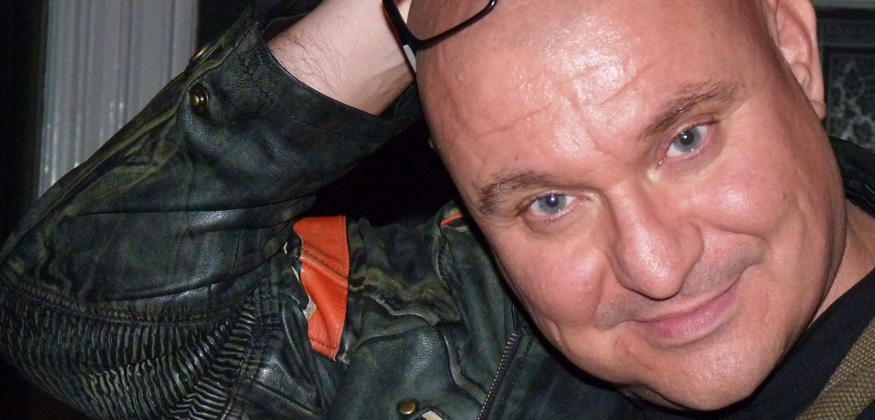 Mike Craven spent a decade travelling the world in the army before returning home to do a social work degree and becoming a probation officer. Now he's a full-time writer, with a series of books about Cumbrian DI Avison Fluke under his belt. He's since embarked on a new series featuring DS Washington Poe of the National Crime Agency's Serious Crime Analysis Section and his unlikely right-hand woman, civilian analyst Tilly Bradshaw and it's causing quite a buzz. First there was the highly-rated The Puppet Show in 2018, and we've recently reviewed book two: Black Summer. We caught up with the author to find out a little more about him and his work.
Can you tell us a little about Black Summer?
Black Summer is the sequel to The Puppet Show and it takes place over a 14-day period during the build-up to a once-in-a-generation summer storm. Poe finds himself in trouble when a cold case rears its head. When he was a Cumbrian cop he helped put away celebrity chef, Jared Keaton for the no-body murder of his daughter. Unfortunately for Poe she walks into a police station alive and well. But he knows he's really in trouble when she disappears again, with most of the evidence pointing towards him being involved. And when he's in trouble the only person he wants having his back is Tilly Bradshaw. Together, the unlikely duo try to answer the only question that matters: how can someone be both dead and alive at the same time?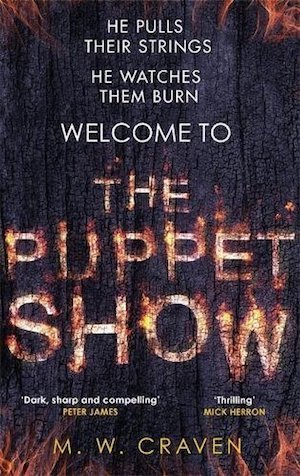 The first in the series, The Puppet Show, is in the running for several awards. What do you think has caught the readers' imagination about the book?
I've been blown away by the response to The Puppet Show. I've won the Cumbria Life Culture Awards Writer of the Year because of it and it's been shortlisted for the Lakeland Book of the Year. It's also been longlisted for the Crime Writers' Association Gold Dagger and has just recently been shortlisted for a Dead Good Reader Award.
I'm not sure what has caught the reader's attention – other than a truly brilliant couple of covers – but I'm not complaining. I would hope that Cumbria is something fresh to read about as there's not much crime fiction set here and those books that are tend to be more of the psychological type and set in picture-perfect villages. But there's another side to Cumbria and that's where I like to put my characters.
And speaking of characters, I think I got lucky with Poe and Tilly – and it was luck. A third of the way through The Puppet Show and I still didn't have a name for Poe. At that point he wasn't so grumpy and Tilly wasn't so naïve and innocent. But when I misheard someone say The Washington Post, I knew I'd found my name and when I worked out its provenance (can't say what it is as it's a spoiler) Poe became far darker than I'd originally written him. To counter this I made him sarcastic so he wouldn't be unlikeable and I rewrote Tilly to be the sweet, innocent character readers seem to really enjoy reading. And then there's Edgar the springer spaniel. I do get the feeling that while I can do whatever I want to Poe and his boss, Flynn, if I ever give Tilly so much as a splinter or Edgar anything other than a wagging tail I'd be hung, drawn and quartered. And in Cumbria, we still do that.
Have you been surprised at the love readers are showing for Poe and Tilly?
I have, yes. And it's lovely. Although I've never said – and I never will – whether Tilly's on the spectrum or not, I get emails from all over the world from mums and dads who have children who are on the autistic spectrum, thanking me for making her behave and talk the way their sons and daughters do. When I'm asked – and along with what's happening with the TV series, it's easily my most asked question – I say that each reader has to make up their own mind. And, as an autism professional told me quite recently, we're all on the spectrum somewhere anyway. But it is funny the way readers have engaged with Poe and Tilly. Put #TeamTilly or #TeamPoe onto Twitter and have a look at what you find. Mind blowing.
But… I'm also unsurprised and that's because I look forward to writing the scenes when they're interacting more than all the others. When I think of something I get genuinely excited and can't wait for readers to get to it. Case in point, there's a scene in the fourth book, not due out until 2021, where Tilly explains the rules of Muggle Quidditch to Poe. I loved writing that scene and I know both #TeamTilly and #TeamPoe fans are going to love it too.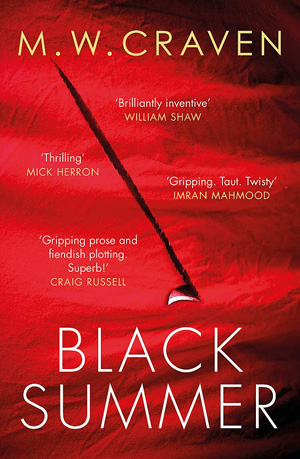 Cumbria is almost an extra character in the Poe and Tilly series. How do you create such a sense of place?
No trick here. I just observe where I am and remember where I've been. I live in arguably the prettiest county in the UK and it's not hard to get excited about it. A five minute drive and I'm in the most breath-taking scenery you've ever seen and in amongst some of the most immersive history in the world. We have 63 stone circles in the county – way more than anywhere else – but that's not it. We were once a Roman stronghold, most of Hadrian's Wall is in Cumbria and we have medieval castles and forts that rival any in the world. The trick is to tame it down a bit actually. Make it seem a bit more ordinary than it actually is.
After many years of working in the probation service, what prompted you to turn to crime writing?
I was ill in 2003-04 and took up writing again as a way of trying to come to terms with what had happened to me. Initially I wanted to write a biographical account of it all but I quickly decided that giving what happened to me to a fictional character was a much better way of dealing with it. And by making the character a detective, who's also trying to come to terms with it, I was able to approach the crime fiction world from a slightly different angle. Hence my first series, the Detective Inspector Avison Fluke series, features a cop who's lied about the side effects of his treatment so he can return to work before he really should. It worked well and was shortlisted for a CWA Debut Dagger in 2013, with the first novel, Born in a Burial Gown, published by Caffeine Nights in 2015.
My experience as a probation officer hasn't hurt me obviously but it hasn't helped – other than giving me credibility – as much you might think. Maybe for the Fluke series, which was slightly grittier, but not as much for the Poe series, which has more over the top stories with much larger than life characters inhabiting them.
If you could choose to write in another genre, what would it be and why?
Fantasy. I'm an eclectic reader but usually have a fantasy book on the go at any one time. I'm actually writing a fantasy book as we speak – Buckle Jones and the Sarcastic Shrunken Head – although it'll be a while before my agent gets to see it . . .
Are you a precise plotter who sets aside time each day to write or do you prefer to see where the muse takes you?
Bit of both. I always know what the crime is, who's committed it and why. I tend to plot out the details of that, including any technical aspects I might need, in quite some depth, but then I tend just to throw Poe and Tilly or Fluke and Towler at the problem and say, 'Go on, then solve it.' That's the fun bit as you never know where it'll take you.
What's your must-have when working on a new book – maybe it's endless cups of tea? Particular playlist? A favourite notebook?
I have to have music on, usually punk or heavy metal, and I have to be at my desk. I envy authors who can write anywhere but I can't do it. I'm a full-time author so try and stick to a routine – I write Monday to Fridays, normally 10 to six, with breaks for admin and social media commitments, etc. My agent, editor and Springer Spaniel do their level best to disrupt this but I'm fairly disciplined.
And I always start my new book on 1 December. That way I figure that by the time Christmas comes around I'll be 20,000 words in and can think about where I want to go with it over the break. It also means that by and large I'm finished before a) the edits come back on the book before, and b) the festival season really gets going.
Are you a crime fiction lover? Who are your favourite authors?
I am. I read about 150 books a year, which sounds a lot but isn't compared to some of the bloggers and readers I come into contact with.
I love Michael Connelly, Carl Hiaasen, Dennis Lehane, Don Winslow, Stephen King and Joe R Lansdale from the States and Mick Herron, Lee Child and Craig Russell from the UK. There are also some genuinely talented authors who maybe aren't as well known as they should be like Amer Anwar, AA Dhand, William Shaw and Chris Whitaker. They are the authors who are writing the stuff that blows me away.
What's coming up next for you?
I'm really busy right now. Little, Brown has acquired the rights to my Fluke series and I've been re-editing them all (and it's strange going through stuff you wrote five or six years ago). Born in a Burial Gown and Body Breaker will be republished on 9 January next year with new covers, fresh lines and copy edits, etc. Quite excited to see what Poe fans make of Fluke. Most readers of both hope they meet one day. Steeleye Stan, a character from the Fluke series who uses a ball bearing instead of a prosthetic eye, has appeared in the latest Poe book . . .
I have Poe 4 (untitled) to finish and submit and I have the line edits on Poe 3 (The Curator) to work through.
In the background of all this, Studio Lambert, the TV production company who optioned The Puppet Show, seem to getting closer to having it commissioned . . .
And of course on 1 December I'll be putting pen to paper (figuratively speaking, I use a computer) and starting Poe 5.
Photo by Gary Barton.