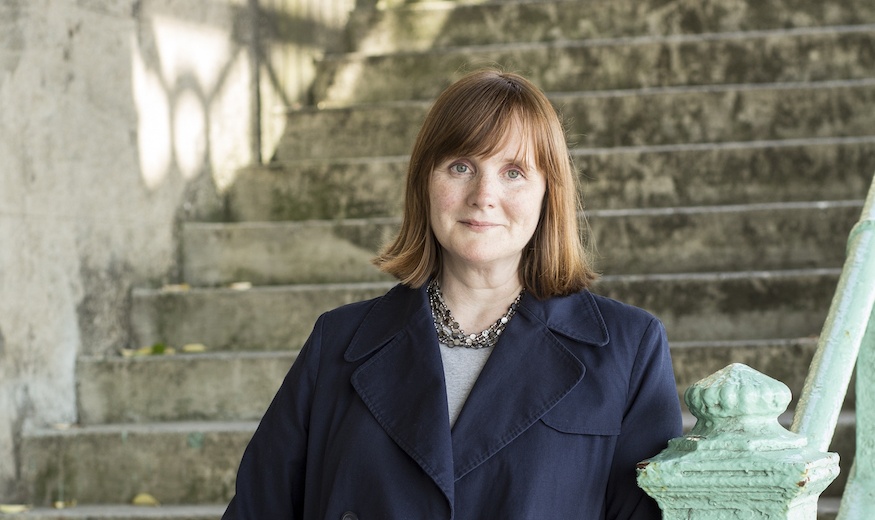 We first met Sarah Hilary in 2014, with Someone Else's Skin – her crime debut, which introduced us to London-based DI Marnie Rome and ended up winning Theakston's 2015 Crime Novel of the Year. The series eventually ran to six books, but then Hilary turned her attention to standalones, with her first, Fragile, published in 2021. Now she is back with Black Thorn, a psychological thriller set in the south west of England due for release on 13 July 2023. It seems like the perfect time to invite the Bath-based author in for a Crime Fiction Lover interview session to find out more!
Can you tell us a little more about Black Thorn?
Black Thorn is a thriller set high on the cliffs in Cornwall, where a paradise housing project turns into a deadly nightmare for six families. Of the survivors, one young woman, Agnes Gale, is determined to uncover the truth of what went so horribly wrong. As she digs deeper into the mystery, Agnes discovers everyone is keeping secrets, including her own estranged family. It is a story about the dangers of seeking paradise, and the cost of its loss.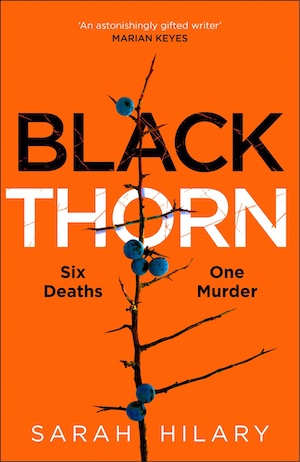 What will crime fiction lovers love about this book?
Three things, I hope. The twists – which keep coming right up until the end. The characters – good, bad and ugly. And the setting – I've long been a fan of crime novels set at cliff edges or close to water. Black Thorn is purposely set on the threshold where land meets sea, and I've made this as beautiful, tense and unnerving as possible.
Agnes Gale is a memorable protagonist. What inspired you to create her?
Agnes isn't the first autistic character I've created. Noah Jake in my DI Marnie Rome series was autistic, although I never used that word to describe him. However, she is the first who is openly acknowledged as having the condition. Autism is widely misunderstood, I feel. I'd contend there are many, many autistic characters in fiction – Sherlock Holmes is an obvious example – but few who are described using the word 'autistic'.
I wanted to write a protagonist who didn't shy away from naming her condition. Autistic people make great detectives, partly due to heightened sensory perception but also thanks to extraordinary empathy, the habit we have of constantly questioning and our intuitive understanding of masking and disguises. I don't believe in autism as a superpower, and Agnes certainly doesn't possess that but she is the first person to recognise something terrible is unfolding, and the last person to give up searching for answers.
The action takes place in Cornwall. What made you choose the setting?
Cornwall is the setting for one of my favourite thrillers of all time, Rebecca. It's also a place of folklore, myth and legend, full of burial sites and secrets. There is, for me, a great lure to liminal spaces: the proximity to the sea, threat of coastal erosion and so on. People who make their homes in places like these learn to live with impermanence and that, I feel, is fertile ground for a crime writer.
Black Thorn has been described as 'claustrophobic and unbearably tense'. Did you set out to write a dark and sinister book?
All my books tend to fall on the dark side of crime fiction, although there is humour and lightness in the story too. I certainly made a conscious effort to build tension, as I feel crime readers love a story that pulls them in and holds them close. Contrast this with the scorching sunshine of a Cornish summer, the glittering promise of a Scandinavian-style paradise, and our natural instinct to hunker down and protect our own when threatened, and that's where the story's claustrophobia and suspense is generated.
You began your crime fiction journey with a series of novels and Black Thorn is your second standalone – which do you prefer writing, and would you ever commit to another series?
I've enjoyed both. My Marnie Rome series has a special place in my heart as those were my first published books. Some stories are standalones, and some extend beyond a single novel, so for me it always comes down to the story and how best to tell it. I do have an idea for another series, however, so watch this space.
What are you reading right now and what other crime authors have influenced you and your style?
I'm reading Beware the Woman by Megan Abbott which is just extraordinary. The crime authors who have influenced me include Dick Francis, Mary Stewart, Patricia Highsmith, Celia Fremlin, Thomas Harris and Fred Vargas.
What's next for you?
I've just submitted my next book, Sharp Glass, which is another standalone. It's too soon to talk about it in detail but I really hope readers will have as much fun reading it as I've had writing it.
Black Thorn is out on 13 July. Order yourself a copy using one of the buttons below.