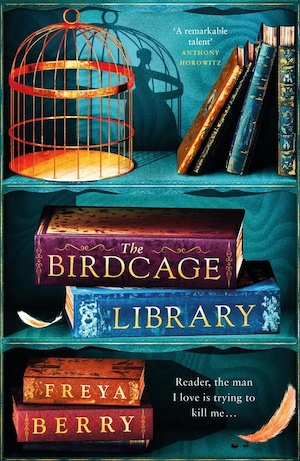 Former Reuters journalist Freya Berry made a big splash last year with her exceptional debut thriller, The Dictator's Wife. Inspired by the lives of women married to powerful men, it became a Between The Covers pick on BBC Two and a critical and commercial success. This gothic story set in the 1930s is a surprising change of direction for the author, though clearly she was undaunted by the challenge. The one constant is that it has a strong and complex female protagonist.
It's 1932. Emily Blackwood is 23 and has a Scottish background. She's both an adventurer and a talented botanist, establishing a reputation for herself by exploring the far reaches of the world. Forced to return from Papua to London for financial reasons and to care for her ageing father, she receives the offer of a job in the wilds of west Scotland. Castle Párras is located on a remote island and is owned by recluse Heinrich Vogel. He comes from a monied German family and created a successful business in New York with his brother but the venture ended when tragedy struck the family. Now his brother is dead and Vogel lives out of the public eye.
It turns out Vogel has an extensive taxidermy collection and wants Emily to catalogue the animals. He claims he wants to sell them to provide for his nephew Yves – the one surviving member of his family, who visits every summer. The job is simple, but given the uncertainty of Vogel's age he says the task must be completed quickly to put his affairs in order. During her time at the castle, Emily must obey the same rules of isolation Vogel applies to himself. Another rule is that one tower is off limits. He claims it has been condemned as too dangerous to use.
All of this is a story, and it's not long before the astute Emily realises she has been summoned on false pretences. When confronted, Vogel admits that he sought out Emily specifically, that her past and his are connected. She has knowledge that can assist him; something she discovered on her travels — but he is evasive about what exactly. Eventually Emily forces Vogel to tell the story of his brother Charles, who came here after his wife Hester died in a fall from the Brooklyn Bridge.
Vogel says Charles betrayed him, stealing something that belonged to both of them, hiding it here in Scotland. Emily is here to help search for that treasure among the stuffed animals. When young Yves shows up he joins Emily in her efforts. She negotiates a finder's fee, a fixed period for the task, and the search is renewed.
What Emily discovers is far more than the valuable treasure trove Vogel is hunting within the castle walls. It involves The Birdcage Library and the diary of Charles's wife Hester. Emily is now involved in uncovering the Vogel family's past and is soon confronting her own secrets as well. An entirely different game is afoot in this mystery within a mystery.
This is a gothic thriller with a touch of romance and plenty of danger as Emily uncovers a series of intriguing nuggets from the past. One small caveat – without explaining to the point of spoiling your enjoyment, there is some sleight-of-hand used on the part of the author, a small but deliberate element of misdirection that's dramatic but unnecessary. However, the essence of the mystery works very well and this is an enjoyable and entertaining read with a bit of depth and an easy rhythm that pulls you into the story. 
A curious piece of real history is woven into an inventive and entertaining tale that inhabits a credible remote rural Scottish landscape. The Birdcage Library is very loosely inspired by the real life adventurer Freya Stark – apparently Berry's father met her in the 1970s. Readers with an interest in botany and exploring will find the detail of the story fascinating. It demonstrates that Berry has range and a natural storytelling ability as well as the skill to conjure a dark mood, playing on the claustrophobic feel of the closed circle mystery.
Emily as a richly drawn female scientist reclaims a little of the past that women have often been expunged from by the male chroniclers of our scientific history. The lead character is utterly convincing and you are with her in her quest from the very beginning. If this is the kind of voice that Berry can create, it will be interesting to see where she goes next.
For more gothic mystery see The Clockwork Girl by Anna Mazzola.
Headline
Print/Kindle
£7.99
CFL Rating: 4 Stars