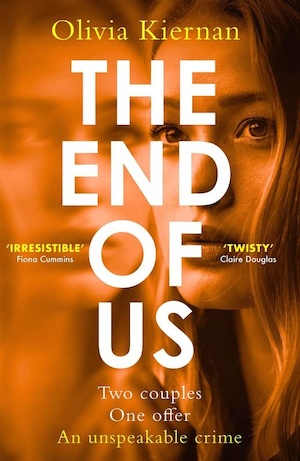 An author never quite knows what we readers will take to and Olivia Kiernan's tough, compassionate protagonist DCI Frankie Sheehan of the Dublin Garda has garnered plenty of fans. With The End of Us, the author steps away from Frankie's four novels of pain and triumph to produce something very different. This standalone feels like an idea that has percolated in the background for a long time – a passion project that could only be realised outside the police procedural series. What we have is a complex psychological thriller channelling a Patricia Highsmith vibe, Kiernan's first set in England – SW19 to be precise.
We are always a little wary of stories about well-heeled characters and the travails they bring upon themselves; it's not easy to empathise. Of course, those troubles soon emerge here. Dr Myles Butler's career is in the ascendency, and he lives la dolce vita with his psychiatrist wife, Lana, in a gated community in Wimbledon Village. They got there with the help of the bank of mum and dad, specifically Lana's parents, something that irks Myles. He wants to feel like a self-made man, and his push for financial clout has led to some risky investments.
Now the Butlers are close to bankruptcy but, being a bit of a coward, Myles isn't keen on telling free-spending Lana. His hand is forced when the creditors begin to circle.
Then charismatic Gabriel and Holly Wright move into the close. The couples soon become good friends. At a dinner party, after a few glasses of wine, the Butlers confide in the Wrights about their financial problems. Gabriel, thinking aloud, says there's a possible solution and for a cut of the money it could be arranged. What he suggests is an insurance scam involving faking Lana's death and collecting on the policy. Lana would have to disappear until it was all over but what other options do the Butlers have?
Everyone laughs it off, no one actually says, "Yes let's do it," but the idea festers away. Then one day Lana doesn't come home, the police have found a body and it all begins.
Myles initially applauds himself for the plan he didn't come up with. The insurance money is going to solve all his problems. He has some niggling doubts about what happened and about where Lana is but can live with them for now. However, his paranoia dials up when Detective Sergeant Hunter arrives on the scene. Hunter is suspicious. A thorough policeman, he asks lots of questions and applies subtle pressure to Myles which has him second guessing himself.
Now the doctor is worried. Did they cover their tracks properly, is he behaving like the grieving husband, and where is Lana? He starts to wonder if there's more going on than he realised but, of course, he can't approach Gabriel and Holly to ask about his wife. The not knowing gets harder as time goes on.
Frankie Sheehan is easy to like whereas none of the characters here solicit much natural sympathy. One of the most remarkable things about this novel is that Kiernan still gets us to care. Myles is self-obsessed and greedy, the kind of person you might meet at a party and then spend the rest of the evening avoiding, yet we can't help but empathise and become involved in his plight. As a psychological portrait of a man way out of his depth it's pinpoint accurate and insightful. It's fascinating watching him unravel. The story leans lightly on Strangers on a Train and, while Kiernan offers us a very modern story, it's clearly an homage to classic psychological thriller writers like Patricia Highsmith, Margaret Miller, Celia Fremlin and Dorothy B Hughes. Or at least it's in that tradition.
This is a deliciously suspenseful noir novel in which the twists are seamless executed. In other crime novels they can become a distraction – but not here. The clever, unpredictable denouement is masterly and fitting. There's an intricately woven plot and this, more than her previous very good work, indicates how strong a storyteller Kiernan is. Clearly, she has branched out from the police procedural subgenre with style and skill. Who knows what's to come but it will be interesting to find out.
We think Kiernan has upped her game here. This is an engrossing and intriguing page turner. There's an atmosphere of menace, the essence of a really good psychological thriller, and that keeps us readers on edge. If you like psychological thrillers that have that classical feel but are right in the moment, if you love Ripley and Gone Girl, then this is for you. Totally captivating and richly satisfying – an exceptional piece of work.
Riverrun
Print/Kindle
£4.99
CFL Rating: 5 Stars