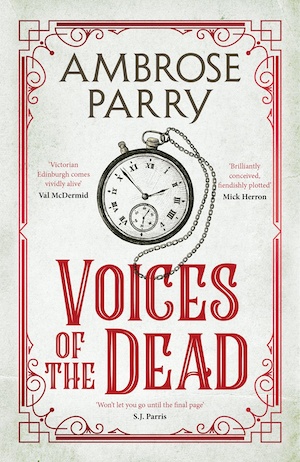 Chris Brookmyre and his wife Dr Marisa Haetzman took that old adage of 'write what you know' to heart when they came up with The Way of all Flesh, first in a series of historical crime novels set in Victorian Edinburgh. Brookmyre, after all, is a multi-award-winning crime fiction author, while Haetzman has been a consultant anaesthetist for more than 20 years and has a degree in the history of medicine.
Their collaboration has now reached book four in Voices of the Dead – with all three previous novels making the shortlists of top crime fiction awards. Would a new arrival like me be at a disadvantage here?
I'm happy to report that the answer is no. The latest instalment of the series featuring Dr Will Raven and would-be medic Sarah Fisher can definitely be read as a standalone, the authors deftly sharing the back stories of the two without any sign of the dreaded info dump that can slow down the pace of a book.
As Voices of the Dead opens, a faceless, nameless killer is setting fire to an equally anonymous person who is lying prone on a theatrical stage. The who, where and why will become ever more important as this tale unfolds.
In Edinburgh, Will Raven is struggling to come to terms with the pressures of married life. His pregnant wife is urging him to set up his own practice, while the constant whining of Raven's young son is simply getting on his nerves. As a consequence, he retreats ever more into work, and jumps at the chance when his friend Dr Henry Littlejohn calls him away from home on an urgent errand – a human foot has been discovered in a cupboard at the Surgeons' Hall, and it is not a simple anatomy specimen. Who does the severed appendage belong to? And where is the rest of the body?
When further remains are found, carelessly part-buried on top of a coffin in a fresh grave, the identity of the victim becomes clearer. She is the wife of a man well known on the local stage. The race is on to find her suspiciously absent actor husband, Laurence Butters, a master of disguise.
Meanwhile, in a city increasingly in thrall to the dubious 'skills' of so-called mediums who claim to be able to talk to the dead, Sarah is drawn into the equally shadowy world of mesmerism. Raven dismisses it as quackery, but the more she uncovers about this hypnotic practice, the more Sarah is convinced that it has some merit in the world of medicine. She thinks it could provide her with a way into a therapeutic field that's not closed off to women, if only she can convince mesmerist Dr Malham, recently arrived from the USA, to teach her.
Raven and Sarah are both stubborn, ambitious and well drawn characters, whose life experiences are determined by the limitations of their sex and upbringings, but in this book it seems the friends are set on a collision course and neither one of them is prepared to back down. Both are destined to come out of this story with changed attitudes and altered paths – and following that character progression is one of the real joys of the book.
Another plus is the beautifully wrought historical background that brings the period into vivid focus without overwhelming the central narrative. Voices of the Dead offers a fascinating insight into life in the 1850s, with Haetzman's History of Medicine degree being put to very good use in explaining the ailments, procedures and treatments offered in that period. This includes chloroform, which only began to be widely accepted as an anaesthetic after Queen Victoria used it at the birth of her eighth child.
I'm off to hunt down the other three books, while hoping it won't be too long before Brookmyre and Haetzman get together to continue the story of Raven and Sarah. If you're a fan of historical crime fiction, I suggest you add this series to your must-read list!
For more crime set in Edinburgh, try Doug Johnstone's series featuring undertakers-turned-private-detectives the Skelf family, starting with A Dark Matter.
Canongate
Print/Kindle/iBook
£8.54
CFL Rating: 5 Stars