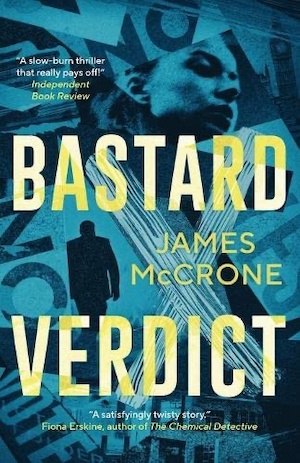 Thriller author James McCrone must have had his crystal ball turned up high back in 2014 when he wrote the first in his four-part series of political thrillers, Faithless Elector. Now we are up to the fourth novel, Bastard Verdict, and it paints another frightening picture of the way electoral politics might devolve in the current ruthless climate.
This time, he focuses his story around the 2014 Scottish Referendum on independence and its veracity… or not. Voters who said 'Yes' wanted to leave the United Kingdom ; those who said 'No' wanted to remain in the Union. There were arguments and strongly held views on both sides in Scotland, but powerful forces in London wanted Scotland to stay, and a few well-positioned men were not above some pretty dirty tricks to make sure the vote went in their favour. Now, though, as a second referendum on this same question is anticipated, the behind-the-scenes cabal is afraid its earlier machinations are going to be uncovered.
Into this political minefield strolls McCrone's protagonist, Imogen Trager, an FBI agent on leave in Scotland for a year to do some research on referenda politics. You'd think that her exposing the Faithless Elector case would have put her in the Bureau's good graces. Quite the contrary. She's been shunted to a backwater post in the election integrity unit and her bosses are only too glad to ship her off across the Atlantic.
McCrone expertly establishes the story's setting in several of Scotland's major cities and a small town, betraying an intimate knowledge of the terrain and the culture, the pubs, Glasgow's gangster vibe. His use of Scottish dialect is just enough to make you feel right there with Imogen as the cat-and-mouse game begins.
Of course, out of her home country, she can't legally investigate anything, even when her new university colleagues hint strongly that something was amiss in 2014. Not to mention, she's explicitly warned not to muddle, or is that meddle? But, does she follow these orders? Of course not.
With two mysterious deaths on the same night – a Glasgow academic concerned about election integrity and his source of inside information about problems with the 2014 vote – Trager finds the urge to investigate irresistible. And, the more she looks into that past vote, the more danger she's in. She's an appealing and complex character who cares about the fallout from some of her indiscretions and has to battle the need to get information with the imperative that she not reveal too much to people she doesn't trust.
The election tampering in Bastard Verdict is complicated, but not difficult to follow. Back in 2014, the plotters developed an ingenious plan. As the date for the referendum approached and the spread between likely 'yes' and 'no' votes narrowed, they put it in motion. Ironically, Trager's analysis suggests that No would have prevailed, even without the criminal intervention, but of course, the plotters couldn't be sure of that. As is true in so many cases, the cover-up turns out to be more disastrous than the crime itself.
Now, with a new referendum on the horizon, the London cabal is more than ready to launch a deadly round two. Trager has teamed up with two fellows she believes she can trust, and they will be lucky to stay one step – even one half-step – ahead of the opposition. It makes for an exciting read, because the plotters have the resources of MI5 at their disposal. A single cell phone call is high-risk for Trager. This high-tech aspect of the story is especially well done, ramping up the tension.
Democracies require a lot of faith in the process, and McCrone consistently identifies ways that that process can go off the rails. While I don't believe it's yet Quite This Bad, the trend line of electoral trickery, obfuscation and even violence is unfortunately in the wrong direction. Consider yourself warned.
Also try Central Park West by James Comey or State of Terror by Hillary Rodham Clinton and Louise Penny.
Faithless Elector
Print/Kindle
£14.41
CFL Rating: 5 Stars