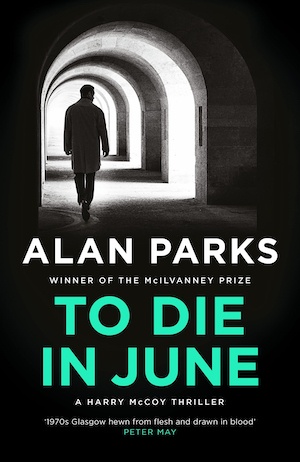 Alan Parks is rapidly setting the benchmark for dark Scottish crime fiction. Last year he won an Edgar with Bobby March Will Live Forever and the McIlvanney Prize for May God Forgive. Now that we've arrived in June 2023 and the sixth Harry McCoy has appeared – another murder for the Glasgow detective to solve.
It's the summer of 1975 and a crimewave is ramping up the heat on Detective Inspector Harry McCoy as he is transferred on temporary secondment to Possil police station. What his colleagues don't know is that McCoy isn't just an extra pair of hands to help with mounting tension on the streets. He's there to investigate corruption at the station. A series of post office robberies in the district seem to be so well planned that perhaps the thieves are getting a little help from the local cops.
Alongside this assignment, the crimes come thick and fast, severely testing McCoy, who is still recovering from the ulcer that put him in hospital last year. He may need the odd libation or two, but he's a cop who cares.
When the body of a down-and-out man is discovered in an alley off Argyle Street, McCoy recognises the face of Govan Jamie. At first it looks like a heart attack but Jamie isn't the only street dweller found this way. No one else seems to care but it's personal for McCoy because his father is one of those lost in this community – out there somewhere. We discover someone is poisoning vulnerable homeless people and for McCoy it becomes about justice, not necessarily the law.
Meanwhile, a distressed woman, Judith West, walks into Possil station claiming her nine-year-old son was taken from his bed in the night. She's from a conservative religious background; The Church of Christ's Suffering seems to put lots of emphasis on the suffering part. She has no photo of the boy as this isn't allowed. McCoy sets the wheels in motion for a missing child inquiry but when they track down Reverend West, the woman's husband, he claims that his wife is mentally ill and says the boy died in a miscarriage.
Harry gets raked over the coals for wasting police resources but he's not so sure Judith wasn't telling the truth.
To add to the fun, McCoy's old pal Steven Cooper and his sidekick Jumbo turn up in Possil. The childhood friend, now a gangster, a constant thorn in his side and reminder of the past, is looking to expand into rival territory. It's another headache for the beleaguered cop.
To Die in June draws you into its setting from page one, the grey streets redolent with detail that feels right and speaks to the time and place. Glasgow has the depressed feeling of a city in post-industrial decline. It's an exposé of the city's other side, where violent and/or discarded people dwell. McCoy is deeply flawed, often his own worst enemy, but you love him for standing up to authority and believing that everyone deserves justice. His scepticism makes him a good police officer in a world that's compromised, riven and brutally corrupt. The story may be gritty and pessimistic but we have McCoy providing some hope of redemption, a measure of decency to see us through.
This series is as good as British police procedurals get, a match for Rankin and Rebus and, as we've stated before, Alan Parks is every bit an heir to William McIlvanney. You want to spend time with McCoy but the mysteries and intertwined dramas are intriguing and finely crafted too. Parks has a real talent for creating characters, even those that live for only a few pages in our imaginations. They have depth and presence, which makes you care.
As with 1930s Glasgow in Robbie Morrison's Edge of the Grave, Parks gives us a picture of the city in the 70s. It's harsh and violent but the writing comes from a place of love without being weighed down in nostalgia. This is a great read, as are all the McCoy novels, and occasionally there's a touch of humour to lighten the load.
It all happens over a few weeks, which adds to the tension and leaves room for the next novel to sit in July 1975 should the author wish. This is historical writing but of course it's within living memory for a lot of people. In his chat with Dr Noir, Alan Parks talks about being child at the time his novels are set – and reading them, it's clear he knows the streets, the dives and the local people as well as anyone writing about them. Just this: more please!
Canongate
Print/Kindle/iBook
£3.99
CFL Rating: 5 Stars