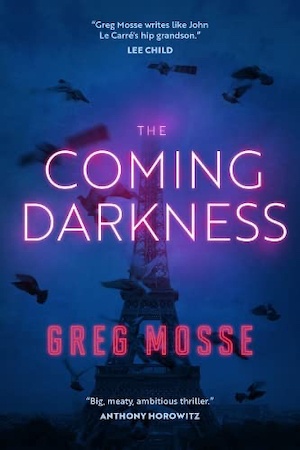 Debut author Greg Mosse is the husband of bestselling historical thriller writer Kate Mosse. Clearly they both like blockbuster conspiracy thrillers and writing about France. Whereas Kate Mosse writes about the past, Greg Mosse's debut is set in a near-future dystopia. We can probably expect a new wave of dystopian fiction as writers reflect on COVID but there's a lot more than our recent crisis underpinning this tale.
It's 2037, the world faces apocalypse. Most fear it, some see it as a chance for renewal. Just about everything has deteriorated from today's low starting point of pandemic, global warming, political and religious strife and terrorism.
Alexandre Lamarque of the French external security service, the DGSE, is tasked with hunting down eco-terrorists and preventing attacks on vital energy services and supply lines. Power sources, generators and fuel line terminals are based at secret locations to protect them from attack. After a warning from an undercover colleague, Alex is expecting terrorists to attack the Martha bunker just outside Marseille.
A curfew is in place so when a car pulls up that night it can only be trouble. The two occupants – a man and a woman clad in black – appear to unload an IED and then break into the generator facility. Alex thinks they are probably amateurs, there's a lot of student protest in this area. When he strikes the pair are cornered and rather than surrender the woman kills her partner and then commits suicide. Zealots, not amateurs.
Alex is growing disillusioned with the state's response to terrorism and protest. This kind of operation saps his will and he's not sure it's having any effect. The French state will deploy all tactics, in the name of doing good, from covert surveillance and infiltration to extra-judicial killings. Alex wants to resign but his boss at the ministry persuades him to stay by blackmailing him over his mother's deteriorating health recent behaviour. Alex begins to realise he's under surveillance himself. He's not even sure if he can trust his girlfriend, Mariam, or his old mentor, Dr Fayard. However, the security situation is deteriorating and Alex is fighting an as yet unseen enemy across the globe. 
Following the long-running war in Libya, the North African country was divided into three provinces. A coup has destabilised the government of Cyrenia and president Mourad has to be rescued from the rebels. Meanwhile, in Paris a series of brutal child murders connected to a cult is sign of a growing doomsday philosophy promising renewal after the world burns. The threat is far more serious than the student protest and pocket cults Alex has been dealing with. Nothing less than the future of the world is threatened. The darkness is coming…
Mosse's concerns about climate change place this novel firmly in the zeitgeist. He has created a world that reflects on temperature rises, conflict, scarcity, pathogens and pandemics. Societally, he looks at dangerous fundamentalism and uncertainty increasingly dividing people. This is a crossover novel that mixes murder with political intrigue and near future sci-fi. 
The story starts slowly. Given in short bursts, the different strands of the story can be a bit confusing. The imagined world, rightly, takes a back seat to the personal story of Alex and those around him but the geopolitical landscape they inhabit is not easy to grasp. The questions it generates but does not answer until the story is well underway can be distracting. 
Once The Coming Darkness gets going it's fast and absorbing, action-packed and loaded with a dark conspiratorial atmosphere. The central character, Alex, the insider with the jaundiced eye and with humanity the system hasn't worn down, is a fascinating creation. This is ambitious and inventive storytelling, an impressive debut though not wholly successful. Nevertheless it augurs well for future – Greg Mosse has an original take on the dystopian novel.
Moonflower Books
Print/Kindle
£5.99
CFL Rating: 3 Stars