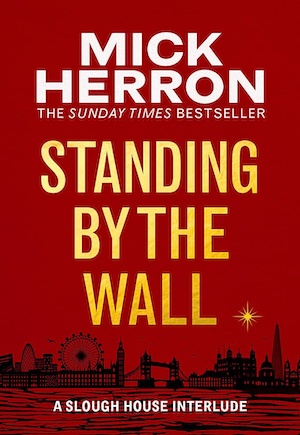 Just in time for Christmas, Mick Herron has written a new Slough House short story. Published in the UK by Baskerville, and in the US by Soho Press, it is titled Standing By The Wall. Soho Press is including it in a book of short stories by Mick Herron under the same title.
It's Christmas in London and Jackson Lamb has a job for Roddy Ho. Molly Doran has sent Lamb a photo from the files. Ah, the memories! It's a picture of Jackson Lamb back in his Joe days posing with Molly and a third person. Is it a threat? A warning? Ho's task – simple enough – is to digitally crop out the third party and return it to him. Lamb has one more alteration made – you'll have to read it yourself to find out what – before posting it back to Molly. Is Lamb's reply a sign of battle lines being drawn? With his sense of humour, it's sometimes hard to tell.
Nothing is resolved – Standing By The Wall isn't so much a self-contained story as a teaser for the next novel, The Secret Hours, coming in September 2023. However, it does sound like a major new story arc is set to begin and also entices with the welcome return of two fan favourite characters to the series. Standing By The Wall, both the story and the collection, are available now.
Previous stories by Mick Herron such as The Drop, The Catch and The List have been novella length, whereas Standing By The Wall is shorter, taking about 30 minutes to read. You can order a copy using the button below, or see our guide to the Slough House series here.