Ever since we started Crime Fiction Lover back in 2011, the site has been devoted to discovering crime fiction from all round the world.
Early on, we were reviewing the likes of Henning Mankell and Jo Nesbo. From Scandinavian crime fiction we expanded our translated coverage to include French, German and Italian books, going further and further afield. Today, we can look at the shortlist for our Best in Translation Award for 2022 and feel proud – six novels, six different countries!
Our aim here is to highlight the achievements of these authors and their translators, to give you little more background on each book, and to invite you to vote on your top crime in translation over on our online form.
Can't wait to find out who the winner is!
Fish Swimming in Dappled Sunlight by Riku Onda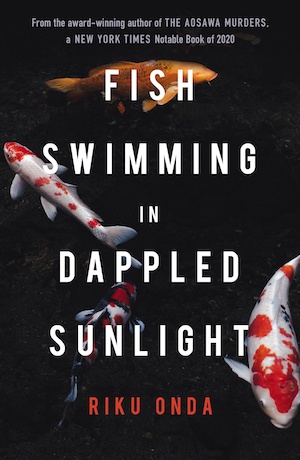 Translated by Alison Watts — Japanese author Riku Onda brings us a deeply touching and atmospheric story about Aki and Hiro – a sister and brother who suspect one another of engineering the death of their guide while on a mountain hike. The different ways in which each perceives the tragedy are peeled away chapter by chapter, in the disorientating setting of their empty flat. Each is set to move away, but each wants the other to confess. Angsty psychological crime fiction, flawlessly translated; indeed it feels like the story takes place under water. See our full review.
Order now on Amazon
Turf Wars by Olivier Norek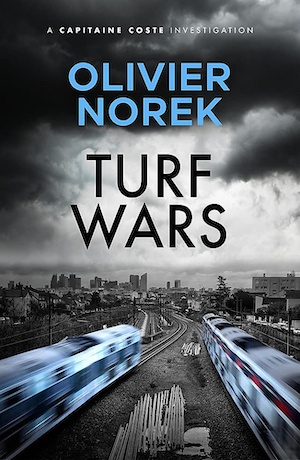 Translated by Nick Caistor — The 93rd Arrondissement – AKA Seine-Saint-Denis – is one of the toughest neighbourhoods in all of France. Malceny, a fictional area within SSD is a drug trafficking hub and it's the setting of Olivier Norek's gritty and highly realistic police procedural. With the death of gang leader Sayid Laouari, a new kingpin must rise, leading to the turf war of the title. And to bring order, if that were even possible, is the incorruptible Captaine Victor Coste. Brutal, gripping, full of despair and corruption – sometimes Turf Wars makes it hard to tell right from wrong. Read our review here.
Order now on Amazon
Even the Darkest Night by Javier Cercas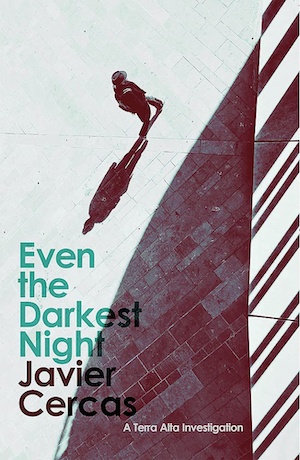 Translated by Anne McLean — Oh my God, this book starts with the discovery of a couple who have been tortured to death. It's just not the kind of thing you find in the remote parts of Catalonia, where Even the Darkest Night is set. However, lying low in Gandesa is Melchor Marín, a former convict, now a cop, and the kind who handles the toughest cases. There are few leads but in this thrilling Spanish crime novel we have an officer willing to risk everything for justice – even when his superiors want him to step back. Crime fiction lovers have fallen for Javier Cercas after reading this one.
Order now on Amazon
The Old Woman with the Knife by Gu Byeong-Mo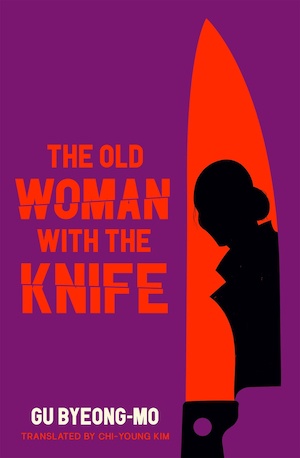 Translated by Chi-Young Kim — A woman assassin who kills with blades and is reaching retirement. What a great idea for a crime novel, and with it the South Korean author Gu Byeong-Mo questions all sorts of attitudes and assumptions in Korean society – which isn't quite as orderly and egalitarian as it seems on the surface. Hornclaw, as she's called, is still active but a young whippersnapper called Bullfight reckons her time has come and is stalking her, sabotaging her jobs. There's something not right about this fella… Will Hornclaw survive into retirement? Read it and find out – you won't regret it. For more detail see our review.
Order now on Amazon
The Reptile Memoirs by Silje Ulstein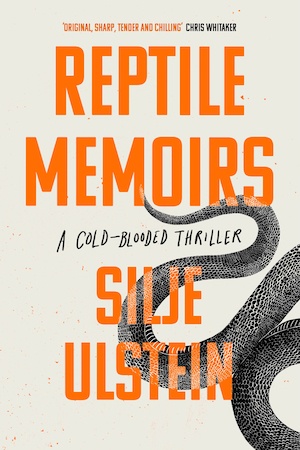 Translated by Alison McCullough — This is the first novel we've come across in which a snake is one of the narrators, justifying the tagline 'a cold-blooded thriller' which appears on the cover. In Kristiansund, Norway, an 11-year-old girl disappears after an argument with her mother. Three local police officers start investigating. But then we meet Liv, a woman who thinks she identifies with her ever hungry, ever growing pet python, Nero. How will these two narratives collide? The Reptile Memoirs looks at trauma and, perhaps, how not to deal with it. It's not your usual Nordic noir either, as you'll discover. Read our review here.
Order now on Amazon
The Dark Flood by Deon Meyer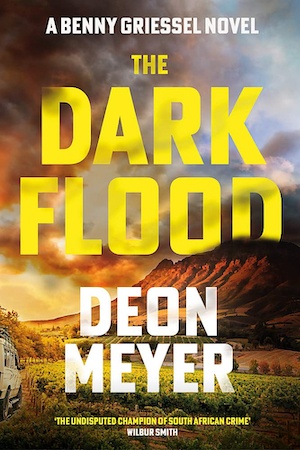 Translated by KL Seegers — Writing in Afrikaans, Deon Meyer is South Africa's most celebrated crime author and his 14th novel sees the return of Benny Griessel. Griessel and partner Cupido have been trying to expose massive political corruption – a reality in South Africa – but are sent to Stellenbosch to find a missing student and hacker called Callie de Bruin. Organised crime, corruption, fraud, inequalities – Meyer deals with a wide range of themes in his very realistic depiction of a Stellenbosch mystery. You can't go wrong with one of his novels. Read our review here.
Order now on Amazon
If you haven't voted in the Crime Fiction Lover Awards 2022, please do so here.