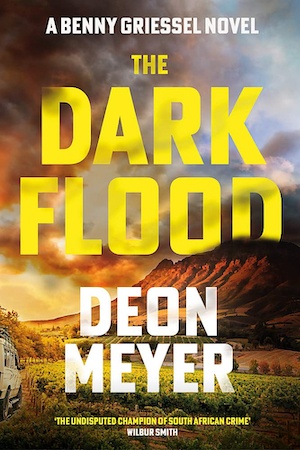 Translated by KL Seegers — The infamous police detective and recovering alcoholic, Benny Griessel, is back in South African author Deon Meyer's 14th crime novel. This time the setting is Meyer's home town, Stellenbosch, and real life events and fiction merge into a compelling, rip-roaring crime story peppered with dry South African humour.
The Dark Flood picks up where The Last Hunt left off. Benny and his partner Vaughn Cupido were aiming to expose large scale government corruption, stepped on some powerful toes and broke a few rules. Now, their careers in an elite crime unit called The Hawks hang by a thread. Their jobs are their lives and when the possibility of demotion to the police station in Laingsburg – a one-horse town in the Karoo – is on the cards, the future looks dire. But someone in the police force is on their side and instead Benny and Vaughn are dispatched to Stellenbosch, a historical town 40km north of Cape Town, wedged between the mountains and vineyards.
Meyer's depiction of Stellenbosch is spot on, from the persistent traffic and parking issues to income disparities. Here, the super-rich live a few kilometres from those in the dirt poor Kayamandi township. Somewhere in between are the thousands of students who call this beautiful town their home and playground for a few years.
When one of them goes missing, his mother insists that he's not like the other students who occasionally disappear after a weekend's drinking and partying. Callie de Bruin doesn't have a girlfriend, in fact he has hardly any friends at all. He's a computer programmer who managed to hack into the university's system. Maybe Callie isn't as innocent as his mother thinks?
Despite getting off lightly, Benny and Vaughn are annoyed. Instead of hunting for real criminals, they are looking for a spoilt white kid who is probably off on a road trip somewhere. Callie's disappearance seems like a waste of tax payers' money. However, when they gain access to security cameras at Callie's residence, they identify as a gang member the person who uses Callie's access card to get into his room. Suddenly the case looks a lot more serious.
Meanwhile, shortly after a colleague is gunned down in broad daylight at the Waterfront, a popular tourist attraction, Benny receives an anonymous note which hints at corrupt policemen within the force. Are these events connected and how can Benny and Vaughn weed out the bad cops without putting the lives of themselves and their girlfriends in jeopardy?
Elsewhere, estate agent Sandra Steenberg is desperate to sell some property. Her family's financial situation is alarming due to the sad state of the property market and she's keeping it from her university lecturer husband. When she's offered the prestigious property of notorious skirt-chasing con-man, Jasper Boonstra, she sees a way out. But it might come at too high a price.
Boonstra is as villainous as they come. Most South Africans will recognise the character, who is clearly inspired by the real-life swindler, Marcus Jooste – who conned thousands of people out of their money, including their pensions, and also deceived many intelligent and important businessmen. Details such as his girlfriend's luxury pad, the location of his farm in Jonkershoek and the international company he worked for are uncannily similar in the story.
The Dark Flood includes a wonderfully vivid depiction of the Stellenbosch setting and the multiple references to its neighbourhoods and restaurants warmed this reader's Stellenbosch heart. Benny Griessel has become such an integral part of the town, you'll even find a Benny Griessel burger at The Vrije Burger. In the novels, Benny is a pushover for a good burger and occasionally goes out to eat with Vaughn, despite Vaughn having to watch his weight. Meyer pokes fun at the concern a few years back that police officers were becoming obese and had to shape up or ship out.
State capture – South Africa's systemic political corruption – is a core theme, however corruption on a local level is just as rife. Greed and status drive the individuals in The Dark Flood to act selfishly, oblivious to their impact on others. Misogyny and sexual harassment are also dealt with here – the character Sandra Steenberg is exposed to sexism on a daily basis from her boss, Charlie, and is harassed by male clients.
Humour plays an important part in Meyer's writing. Most of the more colourful sayings and humorous utterances are from Vaughn, who is a Capetonian down to his flabby core. His dialogue is crammed full of Afrikaans swearwords and local lingo. But don't worry, there is a glossary at the back, even though it doesn't perfectly convey the emotional weight of some of these phrases. Nor does it detract from the flow of the narrative.
Meyer's short, punchy chapters keep readers on their toes, but sometimes make it hard to focus on the overarching storylines. The expansive cast of characters, many with Afrikaans nicknames coined according to their appearances or mannerisms, could confuse, but fortunately most add interest and some light comic relief.
The Dark Flood is everything you would expect from a Deon Meyer novel. It's clear why his books have been translated into 127 languages. He knows how to craft an engaging and clever plot through multiple threads without losing the attention of his audience. The Dark Flood grips, entertains and satisfies. It comes recommended, even if you're not a Stellenbosch local.
For more South African crime authors, try these.
Grove Atlantic
Print//Kindle/iBook
£11.49
CFL Rating: 4 Stars