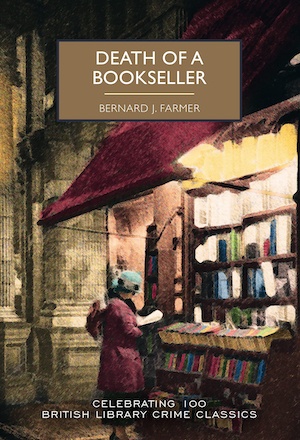 Death of a Bookseller, the 100th title to be published in the British Library's sublime Crime Classics series, marks a welcome return to print for Bernard J Farmer. As Martin Edwards notes in his informative introduction to this new edition, copies of the previously long out of print title have been much sought after by collectors of classic detective novels over the years, not least because of the central role played by books, booksellers and collectors in the mystery. In fact, the 1956 novel is not just notable for the insights it offers into the world of bibliophiles, it is also an unusual mashup of a detailed police procedural and an outlandish gothic horror story.
The second of four detective novels that Farmer wrote featuring his series detective Sergeant Jack Wigan, Death of a Bookseller opens on an August night in 1954 as Wigan is making his way home from Late Turn duty in London's Sun Police District. Spotting a seemingly drunk man swaying in the middle of the road, Wigan stops to render assistance and, finding the man to be polite and coherent despite being somewhat inebriated, agrees to escort him home. The fact that Wigan reflects on how "a 'drunk' is not wanted in the 'nick' unless he or she is violent or incapable" is one of many interesting insights into policing and the attitudes of police officers during the mid-1950s that Farmer works into the novel.
The man introduces himself as Michael Fisk and explains that he deals in rare books. He has been out celebrating following his discovery earlier that day of John Keats' personal inscribed copy of Endymion, which he should be able to sell for around £200 – just shy of £6000 in today's money. When Wigan congratulates him and expresses the opinion that book collecting sounds like a genteel hobby, Fisk is quick to point out that booksellers and collectors alike can be cutthroat in their pursuit of literary treasures: "Do you know, Sergeant, there are men and even women who would cheerfully kill me to get what I have found today?"
Little believing Fisk's warning, Wigan is nevertheless intrigued by the idea of collecting books as a way to unwind and the two strike up a friendship, with Wigan visiting Fisk's home a few times a week to discuss books and have his latest finds assessed by an expert. While Wigan doesn't manage to stumble on a find to rival the Keats volume, he does uncover a crime that's right up there with the most difficult Scotland Yard has ever had to tackle: One night, he pays a call on Fisk and discovers his friend stabbed to death in his library, blood pooling on his desk around an occult volume that he appeared to have been reading at the time of his murder.
Although Fisk was a well-known but not always popular character in the book collecting world, none of his rival runners, collectors or dealers immediately stands out as a likely killer. With the police unsure how to proceed due to the lack of evidence and suspects, Wigan is seconded to CID to help with the case, the hope being that his knowledge of book collecting will allow him to ferret out the murderer.
The fact that Wigan is tasked with infiltrating London's rare and second-hand book industry allows Farmer to work his bountiful knowledge of the trade into the story. For instance, Wigan spends a great deal of time pounding the pavement on Tottenham Court Road as he trails from one book dealer to the next, looking for people who knew and might have had reason to kill Fisk.
Farmer does a great job of recreating the mania and tension that grips the committed runners and collectors as they elbow each other out of the way while searching through piles of newly arrived books. Aside from his detective novels, Farmer also wrote a biography of GA Henty, so it comes as no surprise that many of the bookish conversations Wigan becomes involved in concern the collecting of Henty's books.
In fact, one of the keenest Henty collectors is wealthy American Dithan Dand, which also allows Farmer to bemoan via various characters that many of the country's greatest literary works are being purchased by foreign collectors. It's an interesting bit of social commentary on the fact that the post-war United Kingdom was not prospering financially in the same way as the United States. Unfortunately, there's also a far more unpalatable moment of social commentary involving Dand when one of the other characters refers to him using racist language. Somewhat similarly, when attempting to gain favour with a different wealthy American customer, one of the dealers makes an unpleasant reference to slavery, which the customer is quick to call him out on. While Farmer makes it clear that both instances are aberrations, they are jarring.
Wigan's work among the eccentric runners and dealers doesn't only allow him to broaden his knowledge of book collecting – fairly quickly he lands upon a viable suspect in Fisk's murder. Cantankerous runner Fred Hampton is known to be down on his luck and to have recently had an altercation with Fisk, and when Hampton is caught in possession of the missing Keats, it seems the police have finally got their man. Yet, while his colleagues are keen to 'screw Hampton down' for the murder (which former police officer Farmer is quick to explain is not the same as wanting to 'fit Hampton up'), Wigan doesn't believe that he's guilty and so quietly continues the investigation.
Farmer goes into plenty of detail as to the steps involved in the police investigation and it's interesting to contrast (fictional) policing in the mid-1950s with policing today. There's plenty of fruitless legwork involved and a lot of hope is pinned on members of the public responding to notices placed in magazines. Fortunately, the public involved in this case are quite observant and have good memories. While the evidence gathered doesn't convince Wigan of Hampton's guilt, it is enough for the police and prosecuting service to bring him to trial, which adds an extra level of tension to Wigan's investigation. Indeed, he has to work quickly to clear Hampton's name while it's still possible to save him from the hangman. As Martin Edwards notes, this aspect renders an otherwise rather gentle story akin to the kind of 'clock race' thriller written by American master of noir Cornell Woolrich.
As Wigan doggedly pursues the truth, Death of a Bookseller shines an unflinching light on both the book trade (rather humorously) and the justice system (rather distressingly) of the 1950s. He encounters a host of well-drawn, interesting and strange characters over the course of his investigation, leaving him with no shortage of suspects. There seem to be plots within plots and schemes within schemes, with Fisk's murder being only one aspect of the dodginess, meaning that Wigan has plenty to untangle in order to get to the heart of the puzzle mystery, and that's without factoring in the possibility that Fisk might have been trying to raise the Devil on the night he died.
Also see These Names Make Clues by ECR Lorac and The Methods of Sergeant Cluff by Gil North.
British Library Publishing
Print/Kindle
£8.19
CFL Rating: 4 Stars