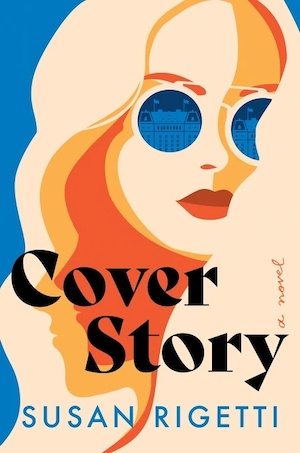 Like a clever jigsaw puzzle, Susan Rigetti's crime fiction debut, Cover Story, about a world-class financial swindler and con artist gives you a lot of pieces, and it takes a while for them to start fitting together, allowing the full picture to emerge.
The story is told mainly through the diary entries of New York University drop-out Lora Ricci as she embarks on one of her life goals – becoming the editor of an important fashion magazine. Her other goal is to be a famous writer, and she plans to work hard at both. She's taking the first step, having secured a summer internship at the fashionista watering hole, Elle. Lora's diary entries are written in the sort of breathless, pep-talky style totally appropriate to who she is, enthusiastic but inexperienced. Though she does have one dark secret. Her parents don't know her grades had plummeted, she lost her scholarship, and dropping out was her only choice.
The book leads off not with the diary, but with a short memorandum to the file from Agent Jenée Parker of the FBI's New York field office. It was written in response to a tip from an editor at Elle suggesting that one of the magazine's employees isn't who she claims to be. Cat Wolff makes an instant impression on everyone, especially Lora. Daughter of an Austrian renewable energy magnate, she has money to burn and lives in a lavish suite at the Plaza Hotel.
The FBI memo is more than ample warning about Cat, and emails from her to her younger brother regarding fake documents, Bitcoin transactions, the purchase of Instagram followers and the like keep you alert.
Why does someone with Cat's connections and sophistication – even criminal tendencies – need to cultivate an unsophisticated, if well-meaning, young woman like Lora? There's no question that Cat has some scheme in mind in which Lora will get the short end of the stick, but what is it? And how badly will she be hurt? She obviously takes advantage of Lora with respect to the writing they are doing. Lora writes the short stories and Cat, who has the contacts and the agent, puts her name on them.
You're also privy to Cat's multiple exchanges with credit card companies, banks where she's seeking loans and venture capitalists she's trying to entice to fund a fashion project. Most immediately pesky are the hand-written notes from the Plaza's front desk – at first nicely, then firmly – requesting payment of her massive bill. You worry that Lora may somehow be stuck with that bill. At this point, you'd put nothing past Cat.
Cat – who calmly leaves $100 tips for the maid, blithely takes Lora out for dinners and champagne, pays for a ski holiday in California for the two of them – reminds me of a duck gliding across a pond. She looks serene but all the while her feet are paddling furiously out of sight.
You're never allowed to forget that Cat is on the verge of being found out. The FBI agent, Jenée Parker, has numerous terse exchanges with a colleague from the US Attorney's Office as they try to unravel Cat's various financial swindles. But Cat is a master of obfuscation, and Rigetti seems to be saying that we're all subject to being fooled by a clever and determined manipulator. While she has a goal, the getting there means the most to her. It's a type of adrenaline addiction that's hard to combat with ordinary means.
It's certainly something of a relief when Lora finally starts waking up and realising that living in the Plaza with Cat, who swears her to secrecy, who disappears hours and days at a time, who is just a little 'off,' may not be quite what Lora thinks she is. And, she may not have Lora's best interests at heart. Lora's affectionate parents did try to warn her, but she wouldn't listen.
There's a lot of good humour and affection in Cat's and Lora's relationship, despite Lora's growing suspicions, and you can't help hoping it will all work out for the young woman somehow. She may be living a glamorous life at the Plaza, but she still doesn't have any income.
This is a quick read and highly entertaining, and I suspect that, as the authorities close in, the scope of Cat's scam will take your breath away.
California-based author Susan (Fowler) Rigetti was the technology op-ed editor at The New York Times, and worked as a software engineer in Silicon Valley – good background for Cat, who boldly harnesses the deceptive potential of the Internet. She came to whistleblower fame for a blog post and book about her experience as a Uber software engineer, and was named Person of the Year by TIME and the Financial Times in2017. The unaddressed sexual harassment, management's chaos-inducing sexism and political oneupsmanship she documented led to to serious reexamination of tech industry culture and practices.
Another gifted scam artist appears in the title story of Laura Lippman's Seasonal Work and Other Killer Stories. For more crime fiction involving journalists, click here.
William Morrow
Print/Kindle
£11.99
CFL Rating: 5 Stars