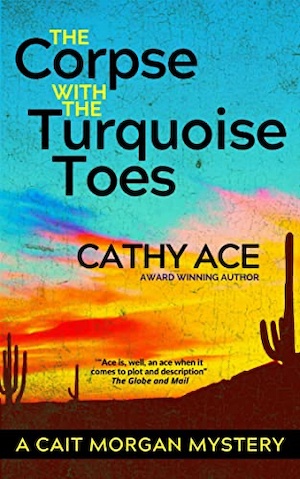 In The Corpse with the Turquoise Toes, the 12th cosy mystery featuring Cait Morgan and Bud Anderson, Cathy Ace delights in derailing yet another holiday for her devoted detective duo. An internationally renowned criminal psychologist and a retired homicide detective, respectively, Cait and Bud are more than accustomed to crime and criminals invading their professional lives, but they can't quite seem to give up on the dream of achieving a relaxing vacation in an exotic location without having corpses falling at their feet.

This attempt to get away from it all and enjoy some luxurious relaxation sees the pair travel to Phoenix, Arizona and then on to the Sonoran Desert, where they hope to enjoy an indulgent week or so as guests at the Desert Gem resort. The trip is a gift from ageing rocker Sammy Soul and his ex-groupie wife Suzie, who are eager to repay Cait and Bud for saving their daughter Serendipity's life some years back in their hometown of Kelowna, British Columbia, in The Corpse with the Iron Will.

Chef Serendipity is launching a new restaurant, backed by her wealthy parents, as part of the Desert Gem complex, and Cait and Bud are meant to be honoured guests at the opening. While the two of them are looking forward to the chance to unwind in the tranquil desert setting, Bud in particular is concerned that the trip might entail more than they've bargained on. After all, Desert Gem isn't a regular resort. It's run by followers of the Faceting for Life movement, of which Serendipity is a member, and Bud is a little worried that attempts may be made to recruit him and Cait to the cult.

Of course, Cait and Bud soon have far more problems than merely joining a cult to occupy them. While they're still en route to Arizona, they receive a text from Serendipity telling them that there's been a death at Desert Gem but that everything is still okay for the restaurant opening. It seems odd but feasible, and certainly not a definite sign that they're about to become embroiled in yet another murder mystery.
Then they learn that the dead woman was Linda Karaplis, one of the founders of the Faceting for Life movement, and that the circumstances of her death suggest something unusual was going on, although the remaining Facetors haven't bothered to inform the police or medical authorities.

Things aren't looking good for Cait and Bud's relaxing holiday, especially as the two Facetors sent to collect them from Phoenix and take them to Desert Gem seem decidedly jumpy and defensive when they learn that Bud is a former cop. When they all arrive at the resort and find that there's been another death – Linda's adult son Oscar has apparently died in a fall while out walking in the desert and mourning his mother – it quickly becomes clear that Cait and Bud are going to have to don their deerstalkers and get their sleuth on once again.

While Bud is reluctant to get involved and insists that the proper authorities must be notified about both deaths, Cait relishes the opportunity to poke about the resort and see what secrets might be hiding behind its pleasant adobe walls, especially as doing so will allow her to gain insights in the minds of people who would willing join a cult like Faceting for Life. There's nothing she likes better than a chance to unravel a mystery, whether it concerns an actual crime or the intricacies of someone's psyche, and The Corpse with the Turquoise Toes provides a number of opportunities to do just that.

Both Cait and Bud are great characters, whether acting alone or in combination, and it's always a lot of fun to follow them over the course of their investigations. This time round, even before the deaths are factored in, they're rendered somewhat off balance by the cult. All the hugging and bowing and rictus grins just don't ring true, and Cait soon comes to believe that there's something uncanny afoot. This clash of cultures means that there's no shortage of suspects, although Norman and Elizabeth McGlynn, the Facetors who collected Cait and Bud from Phoenix, manage to stand out as being particularly suspicious even among their fellow cult members.

Cathy Ace always excels at creating a sense of place and her descriptions of Desert Gem, the Sonoran Desert and Arizona more widely are truly compelling, bringing to life the sights, sounds and temperatures of each place. The fact that Cait and Bud feel like fish out of water both in the desert and among the overly tactile Facetors adds to the sense of unease that hangs over the resort following the deaths of Linda and Oscar, highlighting the urgency they feel about ensuring the deaths are properly investigated. As there is no shortage of suspicious characters, there is also no shortage of possible reasons why Linda and Oscar might not have met their ends naturally.

In The Corpse with the Turquoise Toes, Ace has crafted another taut puzzle for Cait and Bud to solve. Alongside the murder mystery itself, the highly atmospheric story weaves together contemporary concerns, Native American mythology, international cuisine, thwarted romance and cult-based craziness, leaving the daring detective duo with plenty of avenues to follow in their quest for the truth.

If you like the sound of Cait Morgan's twelfth adventuresome outing, be sure to also check out The Corpse with the Granite Heart and The Corpse with the Crystal Skull, two earlier novels in Cathy Ace's series of thrilling whodunits.

Four Tails Publishing
Print/Kindle/iBook
£3.80

CFL Rating: 4 Stars