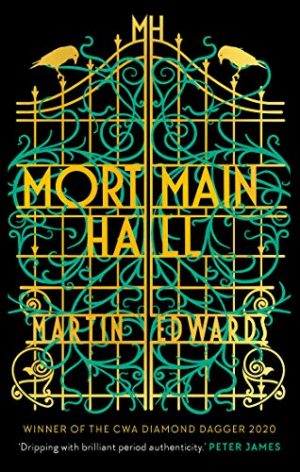 Right from the title, you know the stately Yorkshire family home Mortmain Hall will play a pivotal role in this classic mystery. The legal doctrine of mortmain, after all, refers to owners' attempts to control the fate of their property after their death. As you can imagine, the influence of mortua manus – the dead hand – opens succeeding generations to all sorts of mischief.
In 1930, when this tale takes place, plenty of mischief swirls around Mortmain Hall, perched on high cliffs near the end of a (lonely, of course) promontory that reaches into the stormy North Sea. Most innocent of the mansion's occupants is the family heir, Felix Dobell, who lost a leg in the Great War and is in an advanced state of decline. Still, he hasn't lost the ability to dote on his caretaker, the doughty Nurse Cope with her never-seen but idolised lover. The nurse, meanwhile, is loathed by his freedom-loving lesbian wife, Leonora, and the ill-feeling is mutual. Leonora writes books on crime and takes a keen interest in cases where she believes justice went awry.
Three, possibly four, such cases preoccupy the characters in this story. There's a young woman who Leonora believes murdered her wealthy husband and a man who may have murdered his mistress. In both cases, the perpetrator managed to cast the blame on a third party, one who was hanged by the authorities and the other who supposedly did the deed himself, leaving a convenient suicide note. The third of these possible miscarriages occurs early in the book, with the trial of a stocking salesman who staged his own death so as to escape an avalanche of woes; he is saved from the gallows by a last-minute surprise witness who supports his alibi. Covering the trial is young newspaperman Jacob Flint.
Flint has a past association with Rachel Savernake, daughter of a renowned if disliked judge, now dead. And did the judge's demise make a fourth case of 'perfect murder'? Early on, you see Rachel trying to save a man she believes marked for death, but he does not heed her warnings. Her actions indicate she is an extraordinary woman with access to information that may be dangerous. She, too, has an intense interest in miscarriages of justice and forms an association with Leonora Dobell based on their common interest.
Through their acquaintanceship, Rachel is invited to a house party at Mortmain Hall where the other guests are the now-wealthy young murderess, the man who murdered his mistress, and the recently acquitted stocking salesman.
Rachel is a hard character to relate to, as she keeps her feelings firmly in check. It's her brilliant mind that is always at work. Reporter Flint, the book's other main character, is the opposite. He's the one whose emotions you can read and who is likely to blunder pell-mell into tricky situations. He's a smart, keen observer. There's a tremendous amount of plot in this book, and lots of characters. Thankfully, many of them possess physical or behavioural idiosyncracies that help you keep them straight.
Ponder why author Edwards named the Dobells Felix and Leonora – Leo when she's wearing a man's suit and tie and on the prowl for women in the London underbelly, notably at a members-only club, The Clandestine. Flint gets himself in there and, inevitably, wishes he hadn't.
Very many mystery-thrillers strike me as having a terrific premise or plot idea, but falling short in the telling. This book, oddly, had the opposite effect on me. The telling was masterful, as you'd expect from an author who's won so many awards over the years. I just couldn't warm up to the old-fashioned 'get everyone in the drawing room so Rachel can explain the plot I could never have figured out' approach.
Perhaps to forestall the 'I could never have figured out' quibble, Edwards provides a four-page Cluefinder at the end, noting the page numbers where various facts are revealed. One of these facts is established on page 19 and resurrected on page 243. That's a lot of pages to remember something rather slight! Edwards says Cluefinders were used from the late 1920s on, in novels by both American and UK authors, and including it was an entertaining idea.
Another time, perhaps, I would have been more charmed by this throwback to the English country house mystery genre, and devotees of that style will find this a delight.
If you're one of them, also try Peter Swanson's Rules for Perfect Murders or The Corpse with the Crystal Skull by Cathy Ace.
Head of Zeus
Print/Kindle/iBook
£7.37
CFL Rating: 3 Stars