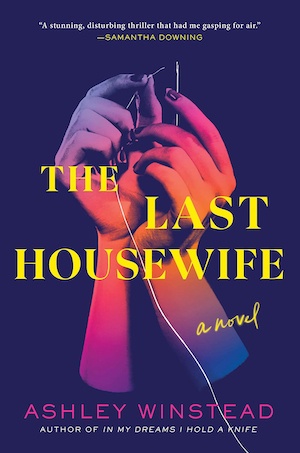 On the surface, Shay Evans has it all; a more than comfortable middle-class existence funded by financier husband Cal; free time to enjoy the Texas countryside and the space to work on her writing. The reality is somewhat different; Shay quit her job at The Slice six months ago and has barely written a word since. Her husband is frequently away from home and Shay can't just escape the feeling that Cal wants a trophy rather than a partner. Her highlight of the week is listening to Transgressions, a true crime podcast hosted by her childhood friend Jamie Knight. The truth is it has taken Shay some time to put her past behind her.
In flashbacks, recollections and podcast interviews with Jamie, throughout the book we go back to Shay's time at Whitney College in upstate New York. She chose Whitney for its liberal reputation and considered herself progressive. There, she makes friends with two other girls, Laurel Hargrove and Clementine Jones. The three need to find a fourth girl in order to take a suite of rooms and settle on Rachel Rockwell, a reserved student who doesn't really have any close friends of her own.
Rachel introduces them to her father, who takes an increasing interest in the girls, buying them gifts, taking them to expensive restaurants, but also subtly grooms them. Don Rockwell isn't a fan of feminism. To him the idea that women could have it all isn't just a myth, but a dangerous lie designed by men to trap women in impossible situations. Isn't it kinder, more respectful in fact, for men to allow women to choose either a career or a family, he asks.
Before long the girls are trapped in a cult, barely attending university, serving Don and his friends, providing for his every whim. Clem, always the strongest of them, makes an attempt in their senior year to escape, but hangs herself from one of the campus streetlights that night. Shay and Laurel manage to escape shortly after in time to graduate.
In the years since graduation, Shay and Laurel haven't spoken. Shay is shocked to hear on the podcast that Jamie is investigating her death. Laurel, too, has been found hanging from a campus lamppost, and Jamie has already made the connection between the deaths. He ends the episode with a request for any of Laurel's friends to get in touch. The police have made a preliminary judgement of suicide, but Jamie is suspicious and is not satisfied.
Shay gets in touch and flies out to New York to meet Jamie and investigate further. They discover Laurel had been attending an exclusive bondage club called The Split Tongue. Shay agrees to visit and pose as a submissive woman to see what she can find out, even though it means putting herself back in a painful psychological place which she had hoped never to revisit. From there, Jamie and Shay go deeper into their investigation of Laurel's death and find a link between the local S&M scene and a more widespread patriarchal cult that makes Don's little group look like child's play.
You may have heard that The Last Housewife is a dark thriller. That's an understatement – it might just be the most harrowing book I've ever read. That's not just a consequence of the story elements, which include rape, suicide, murder and sadism, but also as a result of the author's skilful writing.
The Last Housewife is about as far away from the softcore titillation of the 50 Shades series as it's possible to get. This is a serious exploration of trauma, and of the place where consent stops and abuse starts. Even Shay's budding relationship with Jamie feels uncomfortable given her present mental state.
The Last Housewife is as powerful as anything I have read this year, and a privilege to have read. Just be aware of how deep the waters are before you jump in.
Also see our reviews of Good Neighbours, Sleepless and Dear Child.
Sourcebooks Landmark
Print/Kindle/iBook
£8.03
CFL Rating: 5 Stars