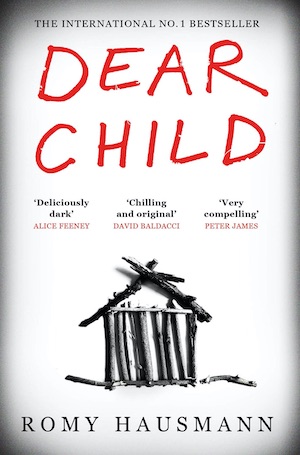 When Supreme Court Justice Potter Stewart famously declared "I know it when I see it," he was referring to obscenity and whether or not the Louis Malle film The Lovers could be categorised as such. I have much the same relationship with psychological thrillers. An exact definition of this most popular of crime fiction sub-genres escapes me, but such books do share some general commonalities. They usually take place in settings we're familiar with, there's conflict between friends or family members, one or more unreliable narrators (usually as a result of mental illness rather than deceitfulness), and an emphasis on outrageous plot-twists.
How, then, do authors make their books stand out with hundreds of psychological thrillers published every year? The German author Romy Hausmann has managed it, and yet her book could be said to share all of the features I've listed above.
We have a domestic setting, which is an isolated cabin in the woodland outside Cham, a town near the Czech border. No ordinary cabin, this one has a chemical toilet, no mains gas or electricity, and is sealed tight. The air is recycled, and if the machine should break down, the family living inside will suffocate within a few hours.
Mama and her two children never venture out. Papa goes out to work, locking the family inside, but returns each evening. The latest iteration of Mama is Lena, a 23-year-old student from Munich who has been missing for about four months.
Her daughter is Hannah, a 13-year-old who is clever and resourceful but thinks in a very literal fashion and has difficulty understanding the thoughts of others. Perhaps this is because she is neuro-atypical, perhaps it's a result of her upbringing. Perhaps it's both of these things. Her younger brother is called Jonathan but he won't feature much in the novel. The cat, Fraulein Tinky, rounds out the family.
The novel is composed of chapters headed with the names of individual narrators. Lena and Hannah tell most of the story, and have their own reasons for being unreliable. The third narrator is Matthias, a middle-aged married man from Munich, whose daughter Lena has been missing for over 13 years. He is desperate for her safe return, while his wife Karin is more realistic and just wants closure. Their different ways of coping with this tragedy have driven them apart.
As for the plot twists, well there are many, and I don't want to spoil them for you. This is the kind of book you are best not knowing too much about before reading. However, Dear Child is much more than the sum of its parts as outlined above. The characters, especially Lena and Matthias, are very well observed and compelled me to read on, even though this is a dark, dark book. Those twists I refer to, are not artificial, but feel almost inevitable as the story unfolds, and shed light and give depth to the novel's characters, as well as making for an increasingly tense read. An unfussy translation, by Jamie Bulloch, rounds off a consistently excellent novel.
There is no shortage of psychological thrillers to choose from, but one of similar quality, and with a similar set up, is Mick Herron's This Is What Happened.
Flatiron Books
Print/Kindle/iBook
£2.99
CFL Rating: 5 Stars