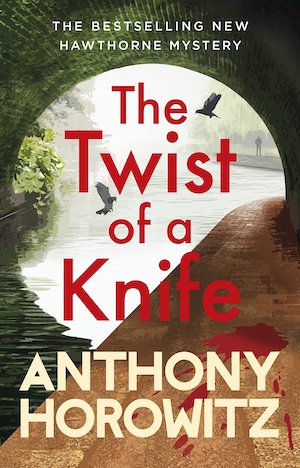 Book four in Anthony Horowitz's clever Hawthorne series feels like a non-starter. It begins with Horowitz, who is not only the narrator but is an active participant in the story, telling Daniel Hawthorne that he's not interested in writing another book about the former Metropolitan police detective. He has other literary fish to fry, including his real life novel The Moonflower Murders, and his play Mindgame has completed a national tour and is about to open in the West End of London.
Fortunately, because you're holding a 373-page novel, you know that it definitely is not a non-starter. Instead, a deliciously intricate mystery is about to entangle you in a sticky web of lies, half-truths, misdirection, buried secrets and venomous anger.
The play is at the heart of this tale. In the real world, it was performed in 1999 in Colchester and London, and was published in 2000. Here, it is Horowitz's latest work and he's buzzing prior to its London run. How will it be received by audiences and the critics? The opening night at the Vaudeville goes well but with nerves still jangling the after party in a Turkish restaurant is ruined by the smarmy Sunday Times critic Harriet Throsby. She and her daughter Olivia waltz in, rub the company the wrong way and then disappear into the night.
It gives Horowitz, the actors and the director, Ewan Lloyd, a bad feeling and they head back to the theatre for something stronger. As the whisky is passed round, lead actress Sky Palmer's phone buzzes and on it is Harriet Throsby's review. Quick as an assassin, she has plunged her journalistic knife into Mindgame and given it a good twist… or three. Everyone is angry.
Knock. Knock. The next morning Horowitz awakes late with a hangover and at the door are DI Cara Grunshaw and DC Derek Mills, the plodding police from the nearby nick. Horowitz is arrested for the crime of stabbing Harriet Throsby to death that very morning in her Victorian home on Regents Canal. The police have a dagger identical to one given to Horowitz by Ahmet, Mindgame's producer, as a thank-you. His fingerprints are all over it and they have a hair they believe to be his from Harriet's clothing. When forensics come through, Grunshaw believes she has a slam-dunk conviction.
And what a beautiful set-up Anthony Horowitz has given us, because in those opening pages he alienated the person best placed to get him out of this – Daniel Hawthorne.
Of course, Hawthorne twists the idiomatic knife too, reminding the author of this recent rejection. But just as it starts to feel excruciating, Hawthorne steps up to the plate, extricates Horowitz from custody and begins his own investigation. The pair is back in business and if you enjoyed The Word is Murder, The Sentence is Death and A Line to Kill you'll find The Twist of a Knife equally immersive.
This is a very English novel, taking us deep into the West End theatre scene with all its eccentricities. The buildings, the people, how the business works… it all forms a convincing backdrop to the work at hand and the author renders this in a fascinating and often humorous way. We are here, of course, because everyone in the crew had a motive and each had received a dagger just like the one found at the scene. Jordan Williams, the lead actor in Mindgame, proclaimed that he'd kill Harriet upon reading the review. Another actor, Tirian Kirke, is about to go and work with Christopher Nolan on Tenet. Could Harriet have jeopardised that role?
Producer Ahmet and his assistant Maureen have seen their play assassinated. And this is not the first horrible review director Ewan Lloyd has had from Throsby. Even the company's accountant, Longhurst, had motive and opportunity.
Hawthorne, like Sherlock Holmes to Horowitz's Watson, is a step ahead of everyone, including Grunshaw and Mills. His computer-hacking neighbour, Kevin, has crashed the system at the forensics lab, buying them valuable time to find out what really happened. All the history between Harriet Throsby and the various members of the company is where the real reason for her murder may lie and soon Hawthorne and Horowitz are in the Wiltshire countryside finding out about the murder of a schoolmaster 20 years prior, which Harriet wrote about and which could be linked to her death.
It's a very complex case but you're unlikely to forget any particular detail because Horowitz writes in such a convincing, knowledgeable and downright interesting way. The pages turn and the possibilities dance with the characters in your head, mixing with real world aspects of the author's work and personality in a way that will send you to Google. Did that really happen? Is it fiction? Ah, it's metafiction?
At. Its. Finest.
The novel climaxes beautifully – in just the way a crime fiction lover would want – when Hawthorne assembles the play's company, Throsby's husband and daughter, Horowitz and the two coppers. He then breaks down the crime, why it took place and whodunnit in perfect Poirot fashion. He even mentions this as a cherry on top when Horowitz thanks him afterwards, telling him it will make a great ending to the book.
Genius. Just genius.
Century
Print/Kindle/iBook
£9.99
CFL Rating: 5 Stars