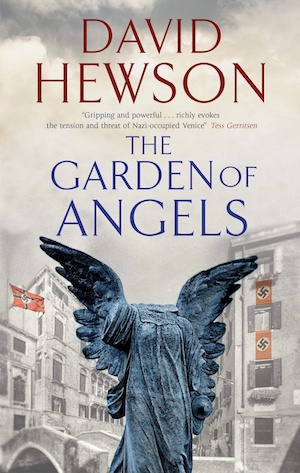 As the last survivors of the horrors of World War II pass on to the next world, are we in danger of forgetting the Holocaust and therefore its salutary lesson for humanity? That's the question that underpins this novel and it's why the dual timeline works so well in David Hewson's latest engrossing mystery.
We begin in the present. Nico Uccello is 15, his mother is dead, his father absent, and he is being raised his grandfather Paolo and the housekeeper, Chiara. The Uccello are a prestigious old Venice family. Their velvet cloth business is facing tough times. Like the city itself, it is crumbling.
Nico is suspended from school after an attack on a new American student. Carmine, a young Jewish boy is laid into by Maurizio Scamozzi, who shouts about the new Italy and the purity of the Venetian people. Nico watches the attack, unwilling to help the victim. When Nico tells his grandfather what happened Paulo decides it's time for Nico to learn about his family history. He hands the boy an envelop containing a series of letters, a story in five parts.
This takes us back to November, 1943. With the Allies landed in the south and Mussolini deposed, the Germans have control of the north, including Venice. Paolo is 18, an orphan to allied bombing, and sees the body of a woman being dragged from the lagoon. In the crowd are German soldiers and a policeman, Luca Alberti.
Despite obvious signs that Isabella was raped and murdered no one intends to investigate. Isabella was a Jewish market trader until they stole her business and made her homeless. When the local priest, Fr Garzone, and the Jewish community leader, Dr Diamante, protest Alberti says it was an accident. A known drunk fell into the water and drowned.
The Jewish population are still surviving in Venice because there is no transport available to ship them to the death camps. However, the German SS Commander Ernst Oberg has demanded a list of all Jews in the city from Dr Diamante. It is only a matter of time. Oberg is aware that Isabella's killer is one of his men but not prepared to do anything about it. He has other priorities and the police are under his command.
Alberti has been tasked with finding two Jewish partisans. Brother and sister Vanni and Mika Artom are on the run from Turin and are believed to be hiding in the city. A specialist in tracking down Jewish resistance fighters, Bruno, has been drafted in to help in the search.
After being approached by the resistance, Paolo agrees to hide the siblings. Both he and Chiara face execution if discovered. Vanni is recovering from an injury and resting up but Mika is out for revenge. She has no intention of cowering in a hidey-hole; she intends to act. The Artoms have a revelation for Paolo about his father's past and as they are stuck in the city he must choose how far he wants to get involved with the resistance. The pressure from German HQ in Salò to catch these rebels is mounting.
This is as much war story as murder mystery but the two marry very well and it's totally gripping. The modern time line allows Hewson to ruminate on the lasting legacy of history, whether humanity and empathy can outlive experience. Nico is about to understand why the Holocaust is very personal for him. The Italian Civil War, 1943-45, was complex and Hewson handles that expertly though for the most part the story wears its research lightly.
These are very believable, ordinary characters finding the extraordinary within themselves in the worst of times, affirming the human spirit. It's a straightforward story that sheds light on a lesser known part of the War and gives us a feel for time and place, though perhaps it could be richer in atmosphere. This is a heartfelt, empathetic story and it's certainly among Hewson's best. A very readable thriller, a story of courage, resistance and love in the maelstrom of war.
For more World War II crime fiction, click here.
Canongate
Print/Kindle/iBook
£3.79
CFL Rating: 4 Stars