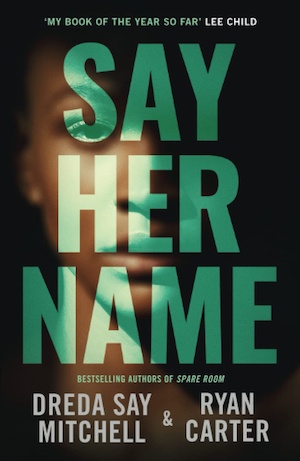 Unlucky for some, 13 could be a good number for therecently married writing duo of Dreda Say Mitchell and Ryan Carter as they publish their 13th novel together. Say Her Name is an absorbing psychological thriller with a bit of a family history angle to it. The opening isn't an instant grabber but once we get into Eva's fascinating story, she's the driver for the novel and things soon hot up. Her search for her birth mother opens a window on a tragic past and sparks real danger in the present. A thought provoking plot is well complimented by a smooth easy storytelling style.
It all starts with a North London funeral. Eva is devastated by the loss of the woman who gave her a mother's love, Mummy Cherry. Eva was adopted by Cherry and her partner Carlton 'Sugar' McNeil after a time in a home. She was abandoned by her birth mother as a baby and she is desperate to know why. Finally Eva can open the door on her past without fearing its effect on Mummy Cherry.
As a bi-racial woman Eva has often wondered about her birth parents. Now a doctor in her late-20s, she has to tell Sugar she intends to look for them. Events get in the way and a lot of what follows comes from the very credible lack of family communication after a huge row between Eva and Sugar – each is trying to protect the other but not getting it right.
When Eva visits Sugar he is chatting to a former colleague, John Dixon, now a senior policeman. She can't help overhearing their conversation about a missing persons case. Sugar, long since out of the police, still wants the matter investigated but Dixon tells him to let sleeping dogs lie. Eva is curious, can't help feeling this somehow important to her but she never gets to ask him about it.
When she finally talks to Sugar it becomes a blazing row about Ronnie, a woman who has moved in as housekeeper. Ronnie has doe eyes for Sugar and Eva jumps to conclusions. She's jealous that Ronnie has access to Sugar's private den as a cleaner. This is somewhere neither she nor Cherry were ever allowed to go. Eva sneaks in behind Ronnie and discovers walls filled with photos and evidence, all relating to the disappearance of four young black women 30 years earlier. Their names are Veronica, Hope, Amina and Sheryl. However, after their argument Sugar throws Eva out of the house.
Eva's husband Joe suggests using a DNA test kit as a start to finding her mother. This reveals Eva has British, Nigerian and Sierra Leonean origins. Her search leads to a man who claims to be her father and wants to meet. Initially their contact is tense but Eva bonds with half-sister Tish. Her dad, Danny Greene, is a rich white man from Weybridge. Eva is drawn to him because he promises to help find her mother.
Eva knows she has to reconcile with Sugar but when she tries she stumbles in on a burglar ransacking his private room. Wary of what Sugar is hiding, Eva keeps her own secrets. Soon Eva's suspicion that she is part of whatever happened all those years ago are confirmed but what is her connection to the missing women and how is Ronnie involved?
The mood of the story darkens as Eva's innocent attempt to find out about her birth mother leads her into profound danger. As the elements of the story come together a web of lies and misunderstandings is revealed. The story is told across two well-balanced time lines, now and 30 years ago. When Eva is narrating, the story is very immediate, she's a strong character however that intensity lessens when the telling shifts to the third person. The build up to the denouement is steady and tense and it's a moving and hard-hitting ending.
There's an important theme here about the value placed on lives and whether black lives matter as much to society and the authorities, particularly the police, as they should. It reflects on recent murders where, for example, victims from different racial backgrounds were not afforded the same coverage in the press despite having been murdered in similar circumstances. The novel is clear in condemning this discrimination and the authors want us to think about this important issue, though the narrative never loses sight of the fact that the principle aim of a thriller is to entertain by calling on the heart and head at the same time.
There's a nice touch where Eva references her heroes, Mary Seacole, Cleo Laine and Toni Morrison among them, which reflects on the value of role models in society. Say Her Name is not as dark as I expected and perhaps that will endear it to a wider audience. A very readable and interesting London thriller with family history at its core.
If this appeals check out our review of Trap Door by Dreda Say Mitchell or for a different take on cosmopolitan London A Good Day to Die by Amen Alonge.
Thomas & Mercer
Print/Kindle
£2.99
CFL Rating: 3 Stars