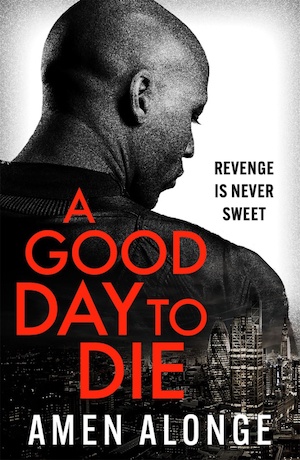 The man with no name returns to the London's streets after 10 years away and bodies start dropping here in Amen Alonge's debut novel, A Good Day to Die. This action laden thriller is populated with fascinating characters and the best of them is the loose cannon anti-hero himself, Pretty Boy. This breathless book by an author of colour will surely be one of the crime sensations of the year, pumping new life into the British gangster novel with a body count you'll need an abacus to keep up with. And yet there's a gritty realism here too, every situation that ends in mayhem or murder has a logic that is undeniable and a basis in reality.
This is London, 2012, and Pretty Boy is back in town after a decade on the run. We don't know where he's been only that he's got coke to sell and old scores to settle. Things have changed, though, and he has no idea of the maelstrom he's about to dive into. For instance, Pretty Boy doesn't know that Meiling had her diamond bracelet stolen by Gordon Brown and Tony Blair at a charity function a couple of years ago – well a couple of thugs wearing masks of the politicians, anyway.
It's none of his business but it's about to become his problem. Meiling's husband is Michael Downing, gangster turned local politician, who retains every scintilla of the viciousness that earned him the nickname Killer Mike. He wants that bracelet back and the heads of the thieves who stole it.
Pretty Boy rings his old mate Topper, now running his own little drugs empire, going by the name Snowman. He has to keep out of sight to maintain the element of surprise later but he visits Topper's HQ, a fortress with its own air flow system because the windows that don't open for security reasons. Topper pays a premium for Pretty Boy's coke – cash plus a diamond bracelet worth way more than the A grade product.
Pretty Boy finds a fence through anther old pal, Oleg. Sheik Farrukh is a diamond dealer prepared to pay £350,000 for the jewels but Pretty Boy will have to wait for the money. Naturally he wants it in cash. He can't believe his luck but as soon as he leaves Farrukh the merchant is on the phone to Downing. Soon his right hand man on it, an ex-copper with a number of particularly vicious criminals in his address book.
There's a brilliant confluence of stories as the plot unfolds and a cast of original and intriguing cosmopolitan characters, including two Nigerian ex-special forces killers, bent coppers, tough-nut gangster, weasels and assorted innocents caught in the cross fire. All with Pretty Boy at the centre of the storm. A Good Day to Die also makes serious point or two about the dark side of London, poverty, growing up with no opportunities, vulnerability to gangsters and the life that entails, but it's all very subtly played.
Pretty Boy has tracked down his ex, Rebecca. She's still with club owner Yellow but is up for a reunion. So the couple are together when the trio sent to retrieve the jewels and kill Pretty Boy turn up. Brothers Tariq and Khalid enjoy violence but Tony is also with them and they will insist on mocking his stutter. Everyone loses their focus, things get confused, messy and violent. Now the bodies start to pile up. If Pretty Boy is to survive he needs to figure out who set him up and why someone wants his head on a plate. And don't forget he's got his own revenge agenda to see to afterwards…
Pretty Boy is a little bit like Clint Eastwood in his spaghetti Western days. We don't know his real name. Riffing on Red Harvest and Yojimbo, more than one house will fall as Pretty Boy goes about his business. Scores are settled, opportunities taken and graves filled.
A Good Day to Die is a thoughtful and insightful novel and the continuous action feels explosive – often quite literally. The writing is elegant, there's a love of language and the plot superbly crafted. The themes are contemporary and thought-provoking and there's even a decent slice of humour to round things off. In short there's a bit of everything here.
It's a crime novel that will take you on an odyssey across London from north to south, east to west, rich to poor – a journey that reveals a love to the city and its magnificent diversity. The tension in the plot is maintained in masterly fashion and the level of excitement is fever pitch. A classy debut, the opener for a series that promises to be riveting.
If you liked JJ Connolly's superb Layer Cake and Viva La Madness, take the next step with Amen Alonge's A Good Day to Die.
Quercus
Print/Kindle/iBook
£4.99
CFL Rating: 5 Stars