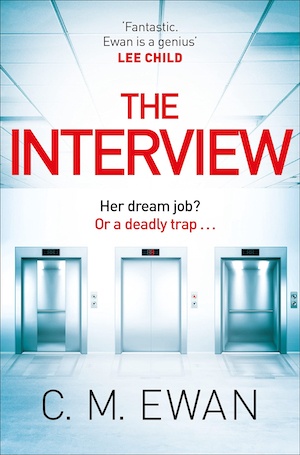 Job interviews are a nightmare, aren't they? The last one I attended started off just fine, even though it was scheduled for 5pm on a Friday. Everything was going OK but then the recruitment expert asking the questions started to get very passive-aggressive with his enquiries. Soon he was shaming me into completing a psychometric test and it was making me antsy. Then he left the glass cube – you know, one of those activity-based working pods in the middle of an open-plan workspace – locking me in.
Everyone else had gone home and there was no way out. So I nervously sipped the filtered water from the carafe on the table and wondered what the hell was going on.
Nightmare…
Actually, I haven't been to a job interview in over a decade but I felt like I was right there in the cube alongside Kate, CM Ewan's main character in The Interview. The result is that I don't think I want to go to another job interview anytime soon.
After suffering a breakdown and taking a career break, Kate is hoping to kickstart her working life once again with Edge Communications in their swanky offices. The company is located in one of those new glass, metal and concrete skyscrapers in the City of London. It's called The Mirror because it's clad in mirrored glass that reflects all light and lets nobody see in. On the 13th floor, Joel's interview has turned into a kidnapping and it's about to escalate from there.
But why? Well, if we said too much it might spoil things but Joel is far from being the recruitment consultant he claims. And Kate has secrets too. She used to work in PR for a major aircraft manufacturer – a company which had technical problems with its jets and is now facing lawsuits and class actions. Is that what this is about, or is it something more personal?
Chris Ewan is used to crafting light-hearted capers such as his Good Thief's Guide novels, as well as shadowy mysteries like Safe House and Dark Tides. The Interview veers more towards a corporate thriller in many ways, with an urban setting which is unlike many of the author's previous thrillers. In a big building, in a big city, there are always people around even after hours, which offers hope to Kate. Time and again she comes tantalisingly close to notifying someone of her predicament, only for Joel to smother all hope with his constant threats of violence.
Each effort Kate makes is increasingly inventive, and ever more dangerous. Eventually, she's putting her body and her health on the line, and all the while Joel keeps appearing and disappearing, keeping potential discovery at bay and talking on his mobile to someone. He has surveillance set up everywhere too, and Kate never knows whether or not she's being watched. The glass is smash-proof, the phones and computers don't work, it seems there's no hope of getting out.
Unless, of course, the recruitment consultant Maggie, who's waiting for Kate in the pub over the road comes across to find her. Or, there's her brother Luke, who works in a nearby hospital. Maybe he'll sense there's something wrong when she's not in touch that evening. But does Kate want to bring them into contact with Joel, who has a gun, military training and a deadly look in his eye?
Slowly, you'll be drawn into the tragic story of Kate's life before the interview, and start to see some reasons why she's here, but you'll be pulled a long way into the novel before the picture becomes clear. Along the way there's all sorts of ultra-tense action as Kate tries everything from fighting and smashing her way out to swinging from a rope in the elevator shaft. It has a breathless, claustrophobic air to it, you can feel the blows Joel rains upon her, suffering her injuries with her, and there are times you'll think her heart is going to stop, and yours with it.
Where I wasn't quite as engaged was the with the 'why' of it all. The legal shenanigans and skullduggery of Kate's former employer are there in the background, a driver somehow, but it seems a little vague and out of touch for most of the book and I didn't fully care about it.
But when you're reading a thriller like this, sometimes you've just got to go with it. CM Ewan certainly has a talent for writing immersive action and I did fully care about Kate's predicament. There's no way I could have helped her answer Joel's employment questions, but I was full of suggestions on ways to get out of the building, many of which she attempted and that made me feel a part of things well beyond the interview itself. Fantastically tense crime fiction to read in your armchair or on a journey.
Pan Macmillan
Print/Kindle/iBook
£7.99
CFL Rating: 4 Stars