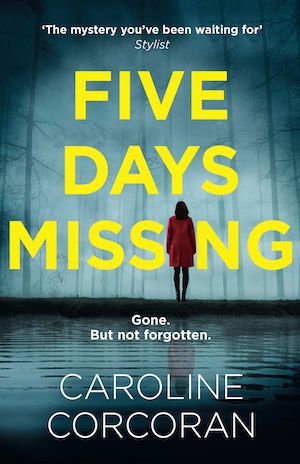 Romilly has just given birth to her first child, a baby girl. Time for her and husband Marc to celebrate. But when he arrives at her room in a hospital not far from their home in the north west of England, cute yellow helium balloon in hand, Romilly is nowhere to be found and the baby is crying pitifully for her mother.
Romilly has disappeared and Marc is convinced that he knows the reason why. His wife's mother suffered from postpartum psychosis after Romilly's birth, and he believes Romilly is suffering from it too and could be about to kill herself. Meanwhile, at an unnamed lake in France, a woman who has recently given birth is wading ever deeper into the water…
From the above, you can tell that Five Days Missing has quite the opening and as the story unfolds Caroline Corcoran works her socks off to keep us wrong-footed at every end and turn. Because, as in the best of crime novels, everything is not quite as cut and dried as it first appears to be.
Hold on to your hat (and deduction skills) because the narrative ducks and dives, altering viewpoints so often that it can leave the head spinning. We hear things from Romilly's perspective, then Marc sticks his oar in, interspersed with juicy morsels from Romilly's best pal and co-worker Steffie before the merry-go-round turns again and the picture scrambles once more. Each of the narrators seems eager to offer their version of events – but who, if anyone, is actually telling us the whole story?
This novel is a bit like one of those really difficult jigsaw puzzles that seems near-impossible to put together. Yes, the bits are all there, but getting them to fit properly is a devil of a job. Five Days Missing is not one of those novels where you have permission to just sit back and enjoy the ride. There's an awful lot to get a handle on, and the reader has to work to keep everything in order.
Marc, who is the manager of a music store and plays in a band, has to put his life on hold to look after the baby girl he has named Fleur. Thankfully the couple's friends rally around and he soon has a robust support network in place, ably organised by Romilly's older sister, Loll – a woman who likes to have her own way, and who was 10 when her mother had Romilly, so she's almost been a surrogate mum to her little sister. Loll remembers the psychosis in vivid detail and backs up Marc's theory. She wants her brother-in-law to have quality time with his daughter and takes over all dealings with the police. But is she being really helpful, or really controlling?
Corcoran orchestrates an unsettling vibe that, added to a deep-seated sense of claustrophobia and unspoken secrets, makes for unnerving reading. The problem is, none of the characters involved are particularly likeable so that you may feel not that bothered about their fate. Be patient, though, and you'll be rewarded because it all changes as the author ramps up tension and the stars align for a humdinger of a denouement
If you're hankering after a well-crafted psychological thriller, then add Five Days Missing to the 'to be read' list forthwith. Yes, there are moments of frustration that may make you feel like you're banging your head against a brick wall but there are also some clever plot flourishes that ultimately offer recompense. The central theme of postpartum psychosis is also handled well and with sensitivity, which is to the author's credit.
For more crime novels with missing persons at their heart, try Before She Disappeared by Lisa Gardner or CL Taylor's The Missing.
Avon
Print/Kindle/iBook
£2.99
CFL Rating: 4 Stars