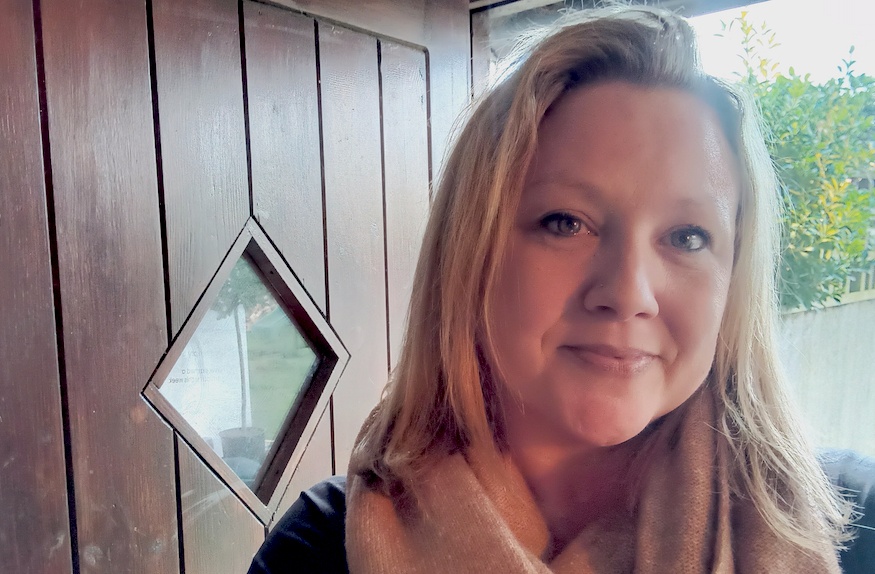 Sarah Sheridan arrived on the scene early last year with The Convent and has quickly become a popular and prolific thriller writer. Centred on the exploits of an inquisitive nun called Sister Veronica, it has been followed by two sequels and a standalone novel. On 21 February 2022, Sarah's fifth thriller will be released by Bloodhound Books and The Girl in Bed Three marks a new turn for the author. This standalone is a darker psychological thriller with a protagonist who is a victim but is also not quite what she seems.
So we decided to sit down with the author and find out more. It's a fascinating story that takes in teaching art, PhD research, dog breeding, children's books, religious cults and crime fiction, of course. Let's meet Sarah Sheridan.
Can you tell us a bit more about yourself and how you became a crime author?
I live in rural Northamptonshire now with my partner and children, and have lived in London and Buckinghamshire in the past. I taught art in secondary schools for 13 years before doing some research at the Open University, during which time I wrote a series of children's books around a character called Davina Dupree. Now, I'm hugely enjoying dividing my time between writing crime fiction books and breeding dogs. The crime genre was always one I'd wanted to write in, and when Sister Veronica – the amateur sleuth in my first three mystery books – arrived in my head three years ago, everything just took off, especially when Bloodhound Books took her and I on. Very fortunately, it has been going from strength to strength with Bloodhound ever since.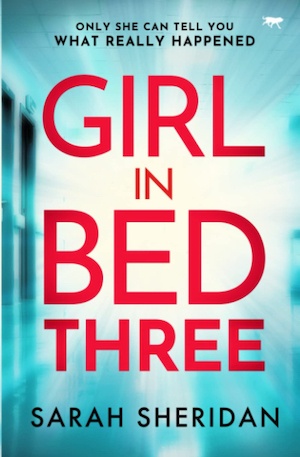 What are crime fiction lovers going to love about Girl in Bed Three?
The psychological web that the main characters are entangled in, the twists and turns, the pace and the darkness!
Sophie's a complex character – can you tell us a bit more about her and how she developed?
With Sophie, there is always a tension going on between what is in her head and the reality of the world around her, and also with how other people want her to be, and how she portrays herself. Who is she, really? That is ultimately one of the overarching discoveries we make as the book goes on… I think she embodies character traits that we all have, the inner and the outer, and how these can be in conflict with one another. But with Sophie, things get taken to a whole new level.
What were the main themes you wanted to talk about here, and why did they interest you?
There are definitely themes of control, manipulation, secrecy in there. I think that because I taught art to children in a religious sect – or cult as some people call it, which I wasn't part of, they just needed an art teacher.
I became fascinated by the interplay of power that some people feel the need to assert over others, the motives for this, and the tactics which they use to do this. These can range from using threats, to brainwashing, to enforced isolation, to banishment, and much worse. There are definitely parallels to be drawn here with what I learned about children being hidden and silenced by the Catholic church during my time researching at the Open University. I think that in my books I feel compelled to highlight these themes, but not in a preachy way as the stories are also intended to grip and entertain. More in a way that draws attention to what can happen when you take someone's personal freedom and right to truth away.
This is a little bit of a departure from your Sister Veronica series, but it's similar in that it deals with a child who is emotionally displaced. Tell us more about the similarities and differences.
I think you've hit on a good similarity with both Sophie and characters in the Sister Veronica series being emotionally displaced. The experiences I had when doing research for a PhD will have had a big impact on this theme, as I was exploring the secrecy and silencing experienced by children of Catholic priests. These children are often lied to and hidden, so that the appearance of celibacy can be upheld by the Catholic church. Both Jamie in The Convent and Sophie in Girl In Bed Three have been affected by institutional or cult-like manipulation, for the purposes of others' gain. I'd say that the differences in these two books lie in the plots and also the personalities of the characters.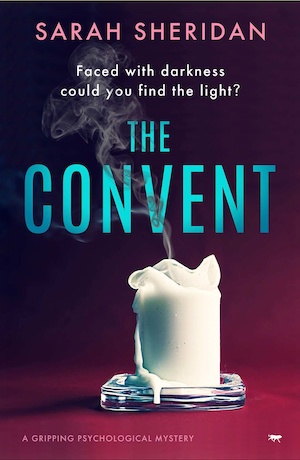 Do you have more Sister Veronica novels planned, or are there other areas that you want to explore in your thrillers?
Sister Veronica arrived in my head as a fully formed character and it was an absolute joy to write the three books about her. I definitely plan to have her investigating more crimes in the future. But at the moment I'm immersed in writing more psychological thrillers. I'm particularly interested in the masks that people wear in public, and the true intent that they can hide inside themselves, and how this can result in complex plays of manipulation and subterfuge, and other darker consequences…
What other crime authors are you reading, whose writing do you find inspiring, and why?
Ooh so many! I read a lot of Agatha Christie books when I was growing up, and also enjoyed PD James, Colin Dexter and Ruth Rendell. Now I love books by Ann Cleeves and Alex Lake, and one of my favourite authors of all time is CJ Sansom; what a genius. I just can't get enough of the way he weaves his intricate plots together, his eye for detail and his stunningly drawn characters. Especially Shardlake.  
You've been a crime author for just over a year now. What has the journey been like so far?
Absolutely amazing. A total thrill of a ride. I can't believe it's only been a year since The Convent came out, as so much has happened since, with The Disciple, The Tormented, Devil's Play and now Girl In Bed Three also being published. I feel so lucky that a group of readers have really connected with the books, and ask me whether more Sister Veronica's are in the pipe line – which they most definitely are. Along with a good few more thrillers!
What's next for Sarah Sheridan?
I have a new psychological thriller called Such A Perfect Family coming out with Bloodhound Books this August, and I've also just signed a new three book contract with them. So the next few months will involve a lot of ideas and writing, as well as plenty of chocolate and coffee.
This article is brought to you as supported content. Find out more about Sarah and her books here, and order a copy of Girl in Bed Three below.