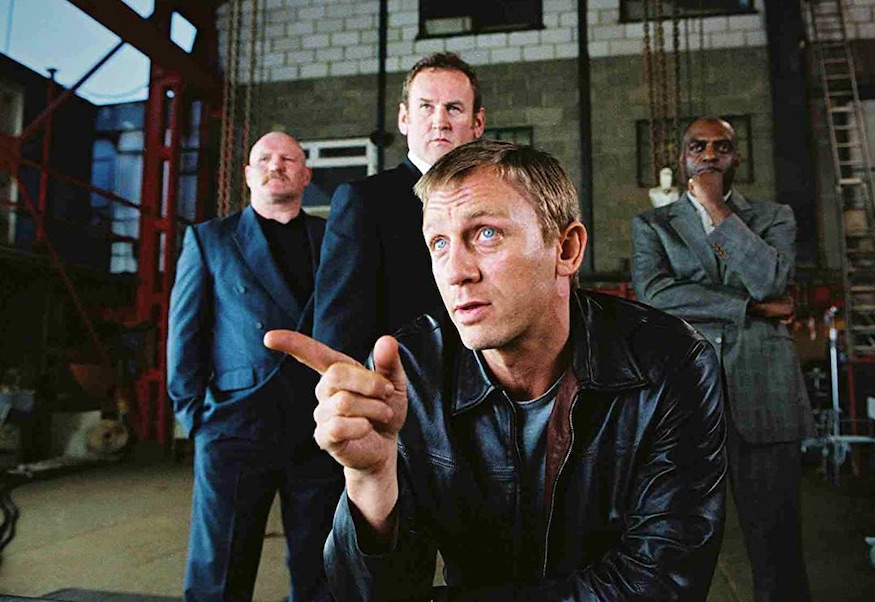 With Duckworth Press issuing a 20th anniversary edition of Layer Cake, we asked Brit Grit expert Paul D Brazill to slice it up for us…
"You're born, you take shit. You get out in the world, you take more shit. You climb a little higher, you take less shit. Till one day you're up in the rarefied atmosphere and you've forgotten what shit even looks like. Welcome to the layer cake, son." – Eddie Temple, Layer Cake.
The 1980s was the loadsamoney decade. The era of greed is good and going for it. By the time the 90s dawdled along, London's young guns had already grasped the bull by its horns and crashed into any number of china shops, flashing their cash, getting their way by hook and, with regard to Layer Cake's protagonist, very much by crook. 
"Everyone wants to walk through a door marked 'private.' Therefore, have a good reason to be affluent."
JJ Connolly's Layer Cake was first published in 2000 by Duckworth Press but it is set in London in the 1990s. And it is very much a 90s London novel. As of its time as Moloko, Portishead, Brit Pop, Cool Britannia, celebrity chefs, This Life or YBAs.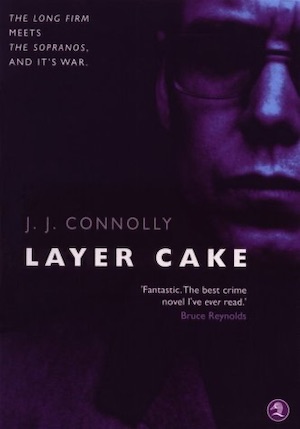 Layer Cake's unnamed narrator is a successful young drug dealer who has plans to ditch his life of crime once he reaches the ripe old age of 30 and live the life of a gentleman of leisure. Of course, things don't go to plan. Once a shipment of ecstasy is hijacked, everything turns pear-shaped for our anti-hero as quickly as spit disappears on hot pavement. Violence, double-cross and triple-cross invariably ensue.
The plot is tight and twisty, but one of its main strengths is its rich and varied cast of lowlife characters, such as the short-fused Mr Mortimer; The Duke – the cokehead leader of a criminal gang known as the Yahoos; The Duke's psychotic and equally as coke addled girlfriend Slasher; a smooth and smart conman known as either Billy Bogus or Cody Garrett; Klaus, the leader of a group of German neo-Nazis; 'Crazy' Larry Flynn – a gangster with a penchant for strangling rent boys; and a Doberman called Mike Tyson.
JJ Connolly's debut novel could well have been received a cult classic for crime fiction connoisseurs, for fans of Derek Raymond's Factory novels or Ted Lewis perhaps. Or it could have been seen as a well-regarded but obscure London noir like Gerald Kersh's Night and the City, or James Curtis' The Gilt Kid. But it burst into the mainstream with rave reviews from all sorts of respectable square joints such as The Times, The Guardian and The Literary Review.
The novel has a lot in common with the all-mouth and well-cut trousers stylings of the mockney gangster capers popularised by film director Guy Ritchie in the 90s. So it's no great surprise that the 2004 film version of Layer Cake was the directorial debut of Guy Ritchie's erstwhile producer Matthew Vaughn. Starring future Mr Bond, Daniel Craig, the film did pretty damned well on its own terms, too, focusing on some of the supporting cast of characters and giving us a fistful of great performances – particularly from Colm Meaney, George Harris and Michael Gambon.
Enjoyable as the film version of Layer Cake was, it didn't quite capture the voice of the novel – a John Lydon/Peter Cook sneer mixed with a fatalistic sigh of resignation. Layer Cake is brash, vivid and blackly-comic but it is at least as much about the argot as it as about the aggro, peppered as much with laddish badinage – ladinage – as it is with bullets and birds. The language is also quite arch, telling the tale in an off-kiler, askew way. Now, 20 years on from its publication, the book still seems breathlessly fresh.
We waited a full ten years until Connolly followed up Layer Cake with the splendid Viva La Madness, which saw Layer Cake's protagonist attempting to lay low in Jamaica until Mr Mortimer arrived to drag him back into a life of crime.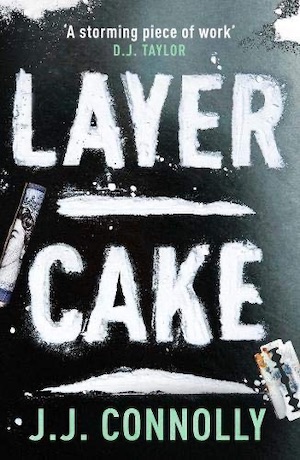 In October 2011, I interviewed JJ Connolly for my blog, and I asked about the long wait for the sequel to his debut novel.
PDB: We've been waiting for Viva La Madness for ten years, why so long?
JJC: I was working on films, traveling, messing around, getting in and out of trouble, having fun. Two years ago I decided I better stop messing around and sat down and finished Viva. I'd been working on it – on and off, more off than on, for almost ten years, since I finished Layer Cake, in fact. I got distracted, but distracted in a nicest possible way, in some nice places, with some nice people.
Then Connolly seemed to go underground again for another decade…
Well, it's now the 20th anniversary of Layer Cake's publication and this special edition has a very tasty new cover along with a revealing and intriguing afterword from Mister Connolly himself. A republished version of Viva la Madness is on its way too, as is a Viva la Madness television series from Sky TV, starring no less than Jason Statham.
So what next for JJ Connolly? Maybe the hat-trick? When I interviewed him in 2011 he said:
"I want to write another book with the narrator from Layer Cake and Viva la Madness, to complete a trilogy. I like the voice."
So, in the words of Moloko, the time is now …
Paul D Brazill was born in England and lives in Poland. His books include Gumshoe Blues, Man Of The World, and Guns Of Brixton.