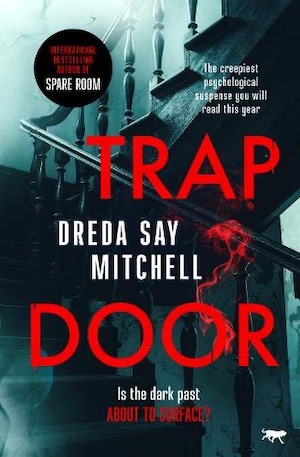 Written by Dreda Say Mitchell — While many of Dreda Say Mitchell's earlier novels have focused on London's ganglands and young characters in that setting, her recent standalone novels have shifted to psychological thriller territory. But she's not a writer who wants to create stories about young women who have disappeared and are victims. Instead, she's making them the heroes. We saw that in Spare Room, and Trap Door is her latest novel, bringing with it plenty of page-turning tension, angst and something slightly creepy as well.
The set-up feels very contemporary. Rachel is a young Londoner who is finding it hard to land steady, well-paid employment in this age of the gig economy. She's squatting at the house of a friend and has a debt advisor helping her sort out unpaid bills, so when she's offered a management consultancy role that she isn't really qualified for, she leaps at the opportunity. The debonair Michael Barrington reckons she has the initiative and can develop the skills she needs on the job, and soon she's installed in her own office in a converted workshop in the East End of London. It's swish and the money's good… or so she thinks.
You'll get the feeling things are off-kilter with Rachel pretty early in Trap Door. The job is too good to be true and she doesn't really know what she's doing. Then there's the milk incident. She makes a cup of tea in the office kitchen, takes a sip and spits it out. The milk is sour and it's put her in a spin. Michael and his PA, Joanie, try to calm her down, but when they taste the milk it seems to be fine. Meanwhile, back at the house share, her friend Jed's housemates want her out. They're baffled by her weird behaviour, such as hanging ropes out of the window and filling the bathtub with cold water in the middle of the night.
Adding to Rachel's shakiness is the fact that she shouldn't really be in debt at all. She comes from a wealthy family and her father could easily bail her out. But she doesn't want him to know she's struggling and, early on at least, there's little indication of why. Rachel is carrying with her a secret internal trauma, and her gradually revealing that to the reader is part of the novel's intrigue.
The other part comes from what's actually happening to her at work. A week or so in, she has the rug pulled from under her. She's sent to work in the systems room in the basement, which is accessed by a trap door. There, she's the only female employee and is surrounded by men sitting silently at screens, watched over by Keats, who only communicates via instant messaging and, being a weird coder, wears a bandana over his face at all times.
The zinger is that the building she's in used to be a Victorian sweatshop. A century ago, a fire occurred there – killing dozens of workers who'd been locked in by the owner. This sets Rachel's imagination running wild, and evokes memories of her first love, Philip, who died in a fire a decade ago. Is that tragedy linked to her current predicament?
Trap Door is a pacy and accessible read – great for your commute and suitable for young adults as well, although there is a little violence here and there. It effectively brings to light a whole range of contemporary issues faced by millennials – insecure employment, low wages, unaffordable rents, reliance on parents… At several points during the story you'll be asking, 'Why doesn't Rachel just…' because ways out seem quite obvious. While there are plot reasons for her not making the logical choice, sometimes these do feel a bit flimsy.
However, like any good thriller there are twists and turns aplenty as it becomes clear that Michael Barrington isn't all he seems and nor, for that matter, are most of the characters Rachel encounters. Some will betray her, but she'll also find allies in unlikely places and face terrible danger, with flames once again closing in around her.
Also try Inborn by Thomas Enger. Read our interview with the author here.
Bloodhound Books
Print/Kindle
£0.99
CFL Rating: 3 Stars