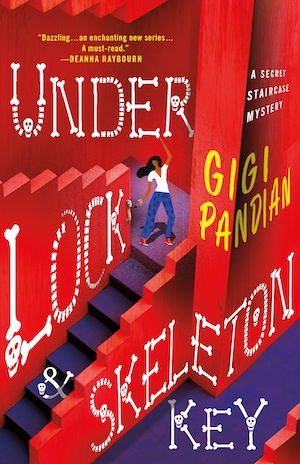 Set in San Francisco's Bay Area, Under Lock and Skeleton Key is the first book in a new series of cosies called the Secret Staircase Mysteries from San Francisco-based author, Gigi Pandian. She has previously won both the Agatha and Anthony awards, and is known for her Treasure Hunt and Accidental Alchemist series, so this new title is definitely worth a look.
The story revolves around Tempest Raj, a character of mixed Scottish and Indian heritage. She's also the latest in a long line of Raj stage magicians, and her personal and family history will come to play in the story. Tempest herself is an illusionist, and relies on her athleticism, storytelling ability and capacity for misdirection to perform her shows.
If you recognise that these might be the very skills to solve what is known as an 'impossible crime', then you are very much on the right track. Her aunt died on stage in a gruesome incident and her mother disappeared five years ago after performing, and is missing presumed dead. Both are the latest examples of what Tempest thinks of as the Raj family curse.
Now tragedy has struck Tempest's own career and she is back from Las Vegas living at her family home in San Francisco licking her wounds and wondering how she can get her career back on track. What the papers call negligent over-reach Tempest maintains was deliberate sabotage and her chief suspect is her pushy ex-stage assistant and look-alike, Cassidy Sparrow. Cassidy has always been resentful of her low billing and Tempest can't help feeling that Cassidy would step in to her shoes if one of her stunts went badly wrong in public.
Tempest's father runs The Secret Staircase Company, which he started with Tempest's mother, Emma, before her disappearance. Relying on Darius' carpentry skills and Emma's knowledge of magic, the company was a great success, designing and installing all manner of quirky architectural features from hidden rooms to intricate locks and sliding bookcases. Since, Emma's disappearance the company has struggled to get work, though they have a current project – restoring a set of secret rooms in a local house.
When Tempest goes to visit her father at work, she is witness to an impossible crime – so-called as it supposedly can have no rational solution. This one is a locked-room mystery. One of the rooms to be renovated has been sealed for two centuries, and when it is opened for inspection a fresh corpse slips out. Tempest is the first to recognise it as Cassidy.
Hit by the realisation that Cassidy might have been mistaken for Tempest herself and scared that this might have been another example of the Raj family curse at work, Tempest is dismissive when the police arrest Cassidy's Vegas-based boyfriend. She decides to investigate herself, reconnecting with Ivy, her childhood best friend, now employed by Darius, and an expert in impossible crimes and the career of their most famous practitioner, John Dickson Carr.
Skeleton Key has several mysteries to solve – Cassidy, Emma, what happened in Vegas – but its main theme is recovering from a set back, finding yourself and the importance of family and found-family. Along with Ivy, The Secret Staircase Company employs other unusual characters who might not fit in elsewhere but have found a place where they belong together. Plenty of space in the novel is given over to exploring and understanding all the different relationships. The plotting suffers a little bit, perhaps as a result of the emphasis placed elsewhere and there are also some gaps. The police, for example, are introduced after the discovery of Cassidy but then barely feature.
The ending is left open, and might be a source of frustration for some, but might also be tantalising for those who find it an enjoyable start to a fresh new series.
If cosy crime is your bag, be sure to take a look at our reviews of Richard Osman's novels The Thursday Murder Club and The Man Who Died Twice.
Minotaur Books
Print
£27.77
CFL Rating: 4 Stars